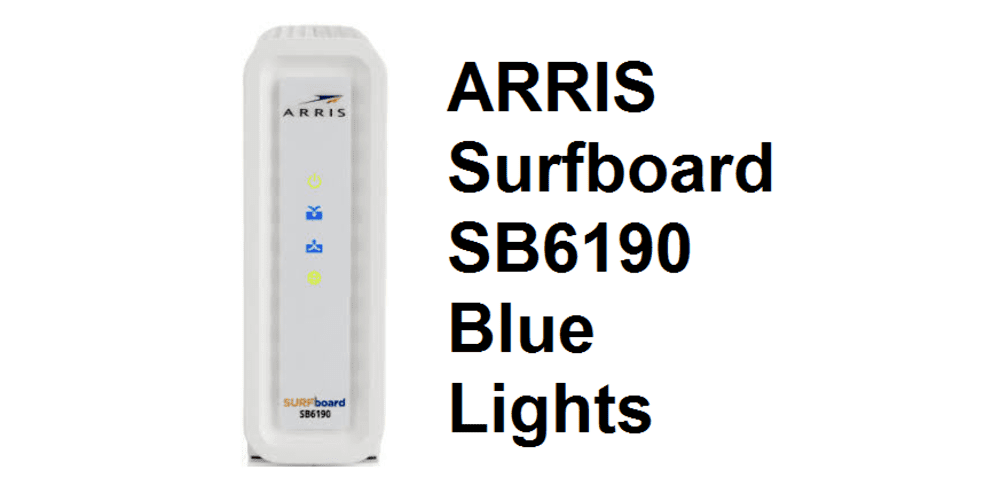 With this fast-paced world, the need for the internet has become essential, which means modems have become the ultimate staple for every office and home. The modems are designed to transmit internet signals and help establish an internet connection for different devices. Everyone wants to have hands-on the top-notch modem that promises durability and high-performance rate.
In the same vein, Arris SURFboard SB6190 is an amazing option with its high capacity. This modem is the ground-breaking device that has been integrated with Gigabit. Investing in a modem is a better option rather than paying the internet service provider on a monthly basis. The modem has a very captivating design, but people have been wondering about the blue lights. So, let's tell you about it!
ARRIS Surfboard SB6190 Blue Lights
What Is That Blue Light?
If your Arris modem is working and operating normally, all the buttons, such as power, send, online, and receive LEDs will be blue (it can be green in some cases as well). In addition, if the channel light is switched on and is blue, it signals the bonded downstream, which means it's receiving data. It may also signal that the channel connection is sending data.
In addition, the upstream and downstream lights will start blinking blue during the bonding process. Once the bonding process is complete between upstream and downstream, the light will stay solid blue. This sequence is repeated when the user's power on the cable modem. In the section below, we have added additional information about the Arris SURFbaord SB6190 modem. So, have a look!
Performance
The best thing about this modem is efficient performance because it has been designed with higher compatibility with different internet service providers. For instance, the modem is compatible with Cox and Comcast Xfinity. On top of everything, this is one of the fastest and efficient modems out there, which positively impacts the internet speed.
This is not the router-modem combination, which means there is no VoIP or Wi-Fi adapter. But it is essential to acknowledge that there is an ethernet port that can be used to connect an extra router or a computer system. This modem has a fast flow and internet speed. Efficient flow is a suitable option for gamers because it helps in downloading and online streaming.
The modem has high compatibility with multiple PC systems, inclusive of Windows 8, Windows 10. Also, it is compatible with internet systems, such as IPv4 and IPv6. This modem shows the maximum internet speed of 250Mbps, which clearly outlines the strength and power. This modem promises ultra-HD videos in eight upload bonded channels and 32 uploaded bonded channels.
It is pretty clear that this Arris modem is fast and has compatibility with multiple cable internet providers. However, this modem is prone to latency. We are pretty sure that the users will be concerned about the huge size. The bottom line is that this modem is an advanced choice with reliable performance and design. All in all, it is a pretty satisfactory modem!