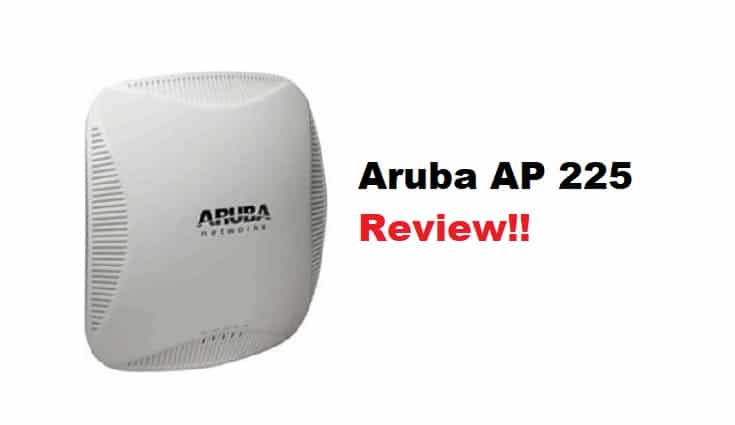 The Aruba 225 is a dual radio access point that provides high gigabit internet speeds and high throughputs across both bands. This access point is an excellent value for large site installations and is easy to manage. Since managing and controlling the network is a feature that you would like in your network system, the Aruba 225 AP is a great option to meet your needs.
The Aruba 225 access point has grown in popularity in recent years, owing to its intelligent built-in features and excellent network performance. As a result, to delve deeply into the AP's specifications and features, we will provide a thorough Aruba AP 225 review.
Aruba AP 225 Review:
Specifications:
In terms of access point specifications, this AP operates at both 2.4 and 5GHz frequencies. With its Wi-Fi 6 technology, you can easily communicate with clients that support the 802.11ac and 802.11n protocols. The Aruba 225 access point has incredible data transmission rates thanks to its Wi-Fi 6 technology, which allows clients to communicate with the network more easily. High-speed performance and a dependable network connection are just two of the benefits that the Aruba 225 AP provides; rather, the two 10/100/1000 Ethernet network interfaces with load balancing support and incredible transmit power have significantly improved this access point's network game.
When it comes to networking devices, integrated antennas are a huge plus. These aid in the distribution of better internet signals throughout clients and the environment. Having said that, the Aruba 225 AP's 6 integrated omnidirectional antennas ensure that internet flow is smooth throughout your area. Furthermore, the 802.11ac protocol supports 256-QAM modulation. This means that clients enabled with TurboQAM benefit from a 33% increase in maximum data rates. This feature makes it an excellent and versatile option for both small and large businesses.
Radio Features:
Aside from all of the integrated goodness and supported protocols, the Aruba 225 AP's highlight is dual radio frequency support. Before you wonder what makes dual-band technology so unique, let us walk you through the features it provides.
The Aruba 225 unit supports Dynamic Frequency Selection, which aids in preventing signal distortion from interference, which is one of the most common threats to network devices. Not to mention that the unit handles cellular device interference and prevents it from interfering with the access point's signal strength by utilizing Advanced Cellular Coexistence. Furthermore, the Maximum Ratio Combining feature ensures that the receiver's performance is improved and optimized. These radio features cover everything a user can think of.
When it comes to radio frequency performance, every user is aware that variations in bot frequencies can sometimes cause performance and range issues, but the Space Time Block Coding feature ensures that the range and capacity of the access point are increased so that every client can attach to either radio without experiencing constant interruptions. Furthermore, the Low Density Parity Check aids in optimized throughput across radios for increased network reliability and stability.
Speed And Hardware:
There is no doubt that the speed of the access point will be compromised due to the high-efficiency integrated features and Beam forming technology, but let us look at some of the throughput rates that this access point provides.
You can expect great speed and a stable connection with a throughput of up to 1.3Gbps across the 5GHz radio and 600Mbps across the 2.4GHz radio. Aside from the incredible gigabit speed at the wireless connection, the access point does not disappoint with an incredible 1.9Gbps throughput across the gigabit Ethernet ports. As a result, the AP is an excellent choice for optimizing internet performance for your business.
Speaking of the hardware specs, it consists of six integrated antennas and a DC power input. There is also a USB 2.0 port and two gigabit Ethernet ports for high-speed wired connections. The access point can be easily installed on a drop tile ceiling or mounted using the two mounting brackets included with the unit. The interactive LED display on the access point allows you to easily monitor the connection and power status of the access point.