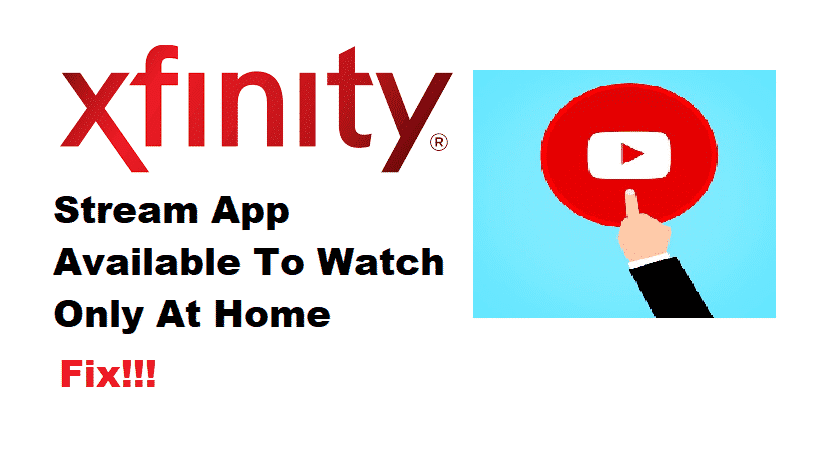 Comcast is a famous company that manufactures telecommunication products. They use the trade name 'Xfinity' for their telephone services and cable modems. The devices from this company are known to have a lot of features in them. These help the users enjoy their services and stay at ease.  One of these features is the Xfinity Live TV.
This can be used to access movies and shows through an internet connection no matter where you are. While that is the case, you might sometimes get a few problems with it. One of the most common ones is the Xfinity Stream App available to watch only at the home. If you are getting this issue then here are some steps that should help you in fixing it.
How to Fix Xfinity Stream App Available to Watch Only At Home?
Use Mobile Application or Laptop
The Xfinity Stream App is used to get access to all the content available to you. You should note that this will only work if you are connected to the internet network provided by Xfinity. This can be through both an ethernet connection or a wireless one. If you are trying to use this service at your friend's house or by connecting to some other internet then it will not work.
The only method to access this service outside your home is through either the mobile application or by accessing the online portal through your laptop or computer. You can use these devices to then get access to and watch all the content that you have recorded or that is available on your app. The only way to get more content is by connecting to the Xfinity connection.
Update Application
If you are still unable to get access to your files through the application then it might be running on an older version. Most errors are usually fixed by the company through a newer update or patch file. This is why it is extremely important that you run your application on its latest version. To fix your error message, you should update the application through the app store.
You should also try to reboot your device after the update. This will help your application in replacing all of the files. Alternatively, the error might be from the newer update. You can confirm this by checking the forums of Xfinity. You can easily find a list of software updates from there that are stable and have no problems.
Re-Login Application
Another common reason for this error message is that your device had a problem while signing in. The most likely reason for this can be that there was an interruption in your internet connection. Considering this, you should sign out of your account from the application. After this, log back in but make sure that your internet is stable. If you are using a wireless connection then move in closer to your router. This will ensure that you do not get any problems while logging in to your account.