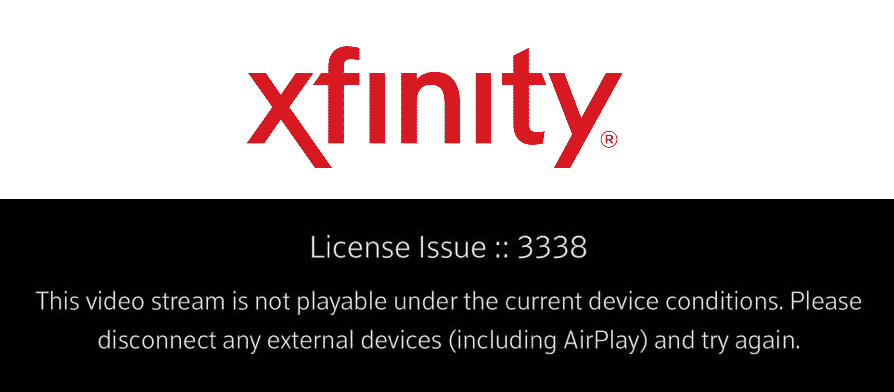 Xfinity Stream is one of the best ways to watch your favorite channels, series, and movies over any device according to your preference. The best part is that you can pretty much access it from anywhere as long as you have the access to your Xfinity Stream app credentials. However, some users have reported encountering a problem while trying to play Xfinity Stream App videos from one device to another.
The error message reads as "License Issue:: 3338." It further says "The video stream is not playable under the current device conditions. Please disconnect any external devices (including Airplay) and try again."
Xfinity License Issue 3338
This error message usually appears when a user is trying to connect their mobile device, iPad, or tablet to a television or some other device and when they are trying to play the Xfinity Stream App video playing on one device to another device. Typically, the users use Airplay to watch the video on another device. Alternatively, many users try to use an HDMI cable to watch the video on television or some other device.  This issue has been continuously reported for many years now and it seems that many people are still encountering this error.
The reason for facing the license issue 3338 is that Comcast doesn't support casting at all. It does not want the users to cast Xfinity Stream App from one device to another. Comcast has deliberately blocked the access and you simply cannot do that. If you want to watch the Xfinity Stream app, you have to play by Comcast's rules and you have to use a compatible device.
Many users have tried finding a fix for the issue. However, there is no fix for this issue as it is a restriction enforced by Comcast. The only way this can change is if Comcast decides to relax the restriction and allow casting of the Xfinity Stream App from one device to another.
For now, the best you can do is to use the compatible devices for the Xfinity Stream App and enjoy the service on one of those devices. If you are wondering about the supported devices, Xfinity has provided in-depth details about the devices that it supports. For Android devices, it has the minimum requirement of Android 4.0. As for the Apple devices, the Xfinity Stream App has a minimum requirement of iOS 12.0 or later. Xfinity has also clearly mentioned that the Xfinity Stream App does not support AirPlay.
Xfinity has also provided a list of devices that are not supported by the Xfinity Stream App. These include Android TV, Nook devices, Windows tablets and phones, and Apple TV. Xfinity has also clearly mentioned that the users are not able to stream their programs outside of the US. However, if the users have downloaded some programs previously and they have them stored on their devices, then they can watch them anywhere offline, even while they are in other countries.
The bottom line is that there is no working around Xfinity License Issue 3338. It is a restriction imposed by Xfinity and it does not allow any kind of casting of the Xfinity Stream App.