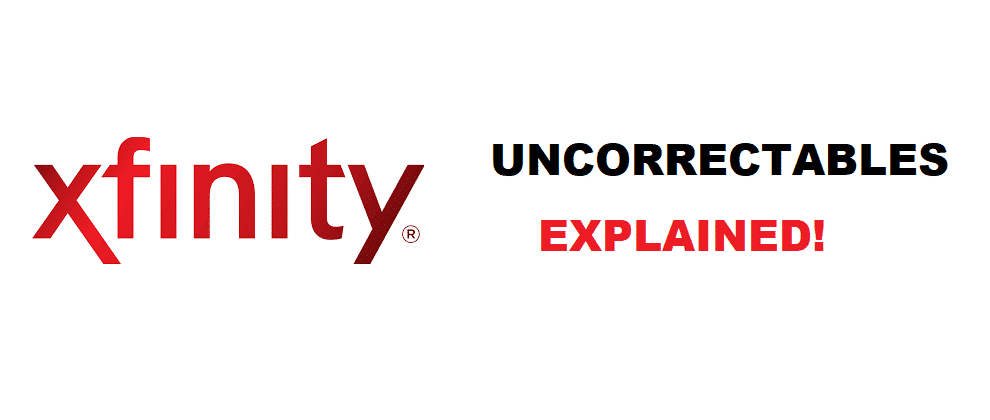 It is common among internet lovers that their internet speed sometimes works great and, in a few moments, slows down to the extent that websites take minutes to open. It is because of the excess of uncorrectable received to your computer. Xfinity provides internet to their customer, but the bad aspect of this service is when their client faces uncorrectable, which hinders the smooth functioning of the internet.
In the piece, we will discuss the best possible way to do Xfinity uncorrectables away from your work and entertainment. It will provide you resourceful knowledge that will cement your internet availability.
Ways To Fix Xfinity Uncorrectables
1. Does Xfinity Uncorrectable Generate Due To Modem?
It not surprising that uncorrectable is generated due to device connectivity. And the device that connects the internet with your computer or cell phone is a router. If you have a router other than the Xfinity router, it will supplement the Xfinity uncorrectable, and you will face the internet accessibility issues. So, keeping in mind this condition, you should change your router with the Xfinity. Through this, you will be more likely to get uninterrupted internet.
2. Does Xfinity Uncorrectable Occurs Because of Damaged Wiring?
Suppose you have old wiring in your house and faces Xfinity uncorrectable while the router is working well in other places. Then, it is undoubtedly due to the pathetic condition of your wires. Our advice is to call a technician who can evaluate the situation of wires installed at your home. And he tells you that the issue is with wiring then being quick to get it fixed because these wires can damage your other devices.
3. Should I Reboot The Router?
Indeed, it is the most workable methodology if you see Xfinity uncorrectable in the log memory. Internet is a daily life thing, and without it, you cannot complete your office work, get any entertainment, and do the academic assignment. Therefore, take your router to unplug all the cables from the back of the device and then re-plug it. Your router will start rebooting itself, and within minutes your internet comes on track.
4. Call the Xfinity
Xfinity uncorrectable is now becoming a repeatedly occurring issue for the Xfinity subscriber and is frustrating. But Comcast does not let their customers face issues to the extent that they will cancel the service. They have a 24-hour customer support facility that takes your calls and gives you pieces of advice to sort out the issues relating to the internet. Get your cellphone out, dial Xfinity customer care center, their representative will ask you the problem. Explain to him you are confronting Xfinity uncorrectable issues. They will reboot your system online or send a technician to resolve the issue.
Conclusion.
In a nutshell, Xfinity uncorrectable is the standard issue, and most people want to get away from the problem. This article has discussed all the possible information related to Xfinity uncorrectable that will assist you in problem resolutions. But if you find anything tickling in your mind, let us know in the comment box. We will get you in the meantime.