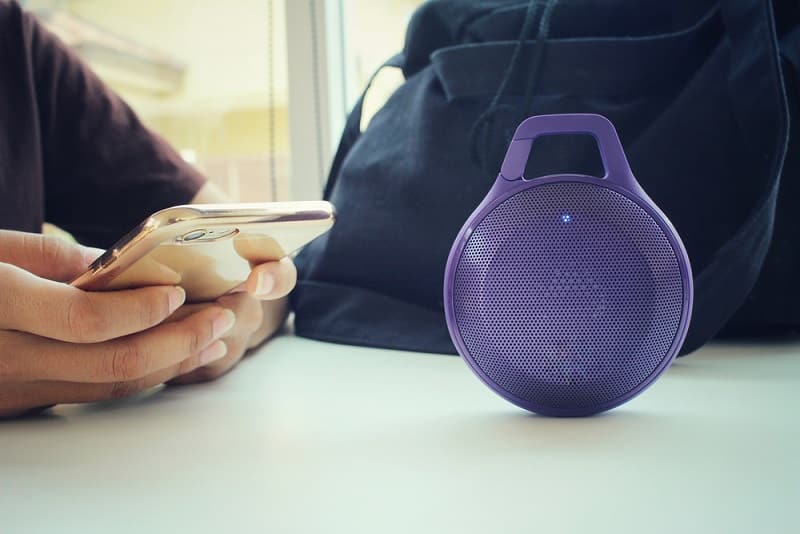 Bluetooth speakers are a great way to enjoy your favorite radio program, music title, or enjoy hands free conversations while driving your car without having to install an excessive amount of wires. But what are some of the different types of Bluetooth speakers that are available?
Bluetooth speakers are an electronic accessory that has been gradually gaining momentum due to their ability to offer high quality sound without having to deal with a lot of messy wiring. Additionally, there are many benefits to using Bluetooth speakers and different purposes for using this type of device, one of which is traveling safely on the road while talking on your cell phone.
Bluetooth speakers allow you to connect high quality audio to any music device without having to use wires. This makes it very easy to listen to superior quality music from anywhere and at any time.
Another benefit is the ability to talk on your cell phone or listen to music in your car without having to deal with complex speaker configurations. Additionally, there are many different types of speakers to choose from that serve your needs at home, in your car, outdoors, or on the go. Plus, you can use many Bluetooth enabled devices to connect to Bluetooth speakers.
In this article, we will provide you with a general overview of different types of Bluetooth speakers to give you an idea of the types of speakers being made available on the market.
Bluetooth Car Speakers
There are basically two types of Bluetooth speakers you can use in your car which include audio speakers in place of conventional stereo speakers and Bluetooth speakers you can use for hands free calling using your cell phone. Although these are the two basic types for your car, you will find hundreds of different makes and models to choose from when you shop in your local retail store or online. Let's provide you with an example of each type.
SoundLink Bluetooth Speaker
This is a portable Bluetooth speaker by Bose you can use just about anywhere, including your car. The speaker is very compact and easily pairs with your smartphone, tablet, or laptop PC. It comes with a 12V charger that you can connect in your car and provides up to 14 hours of listening enjoyment.
The SoundLink Speaker includes an auxiliary input that enables you to use audio connections from other sources and a USB port that allows you to perform software updates to the Bluetooth function. When you are not in your car, there is an A/C power adapter that connects to any power outlet to preserve the battery life.
Additionally, here is another great option for setting up a Bluetooth car stereo system using the JVC r900bt with an 8-inch tablet device.
Parrot Wireless Bluetooth Hands-Free Speaker
The Parrot hands-free Bluetooth car speaker system is a kit that you can easily install on your car visor. The device pairs with most smartphones using Bluetooth technology. Once you pair the device with your smartphone, you can sync your contacts to the included phonebook.
When you want to make a call, simply browse the phonebook, choose the person you want to call, and initiate the call. When the person answers, continue the conversation while keeping both hands on the wheel.
Additionally, you can use the voice command feature to accept or decline incoming calls. Or, you can easily call someone using the voice recognition feature that is built into the device. Here is a visual demonstration on how the device works.
Bluetooth Speakers for Your iPhone
There is a wide variety of Bluetooth speakers on the market that pair with an iPhone. If you are looking for a great portable speaker that you can take anywhere, the Snugg Bluetooth wireless portable speaker is compatible with any Bluetooth enabled device. It features up to four hours of music playback and is equipped with a Carabina for clipping onto your belt, backpack, or bag.
The Snugg Bluetooth speaker features an internal battery that is rechargeable and is great for hiking with a group, listening in your car, or enjoying music from just about anywhere.
Fugoo Outdoor Bluetooth Speaker for Your iPhone
The Fugoo portable Bluetooth speaker pairs with your iPhone to bring high quality audio anywhere you go. The device is equipped with six different drivers to provide powerful bass and full audio sound. The Fugoo also has an impressive battery life of up to 40 hours and is designed to handle extreme weather conditions and is water resistant. This makes it ideal for outdoor activities, pool environments, your bathroom, or just about anywhere else where you desire high end quality audio.
The Fugoo also doubles as a speakerphone and is offered in three different versions which include the Fugoo Style, Fugoo Tough, and the Fugoo Sport. Each speaker contains two drivers that are full range along with two bass radiators, and two tweeters. All three versions are designed for outdoor environments and can be used in your home as well.
Here is a cool video that provides a hands-on demonstration of the Fugoo at the Consumer Electronics Show (CES) 2014.

­
More Outdoor Bluetooth Speakers
Another popular Bluetooth speaker that is used in outdoor environments is the Turtle Shell 2.0 which comes in a variety of cool colors and is built with a water resistant rugged shell. One of the interesting features of the Turtle Shell is it does not sport a shoe box shape and instead, has a triangle type construction which provides room filling sound that is omnidirectional.
The Turtle Shell is equipped with Hi-Fi audio and connects with your tablet PC or smartphone, as well as any other Bluetooth enabled device. The speaker is capable of streaming audio at a distance of up to 32 feet on 16 hours of battery life. It also doubles as a speaker phone, contains standard camera capability, and a built-in microsphone for holding conversations with Siri. The Turtle Shell is also designed to work with a variety of other accessories and includes a USB port for recharging the battery.
The following video provides you with a hands-on demonstration on how the Turtle Shell Bluetooth speaker works.
Keep in mind that the information we have provided here only scratches the surface of what is available on the market in terms of Bluetooth speakers. If you want to learn more about some of the top Bluetooth speakers on the market, there is a great review site that will provide you with reviews on the top ten Bluetooth speakers currently on the market for 2014. Overall, Bluetooth speakers are a great investment that is worthwhile to learn more about. Bluetooth speakers provide you with hassle free ways to enjoy high quality audio and hands-free conversations.