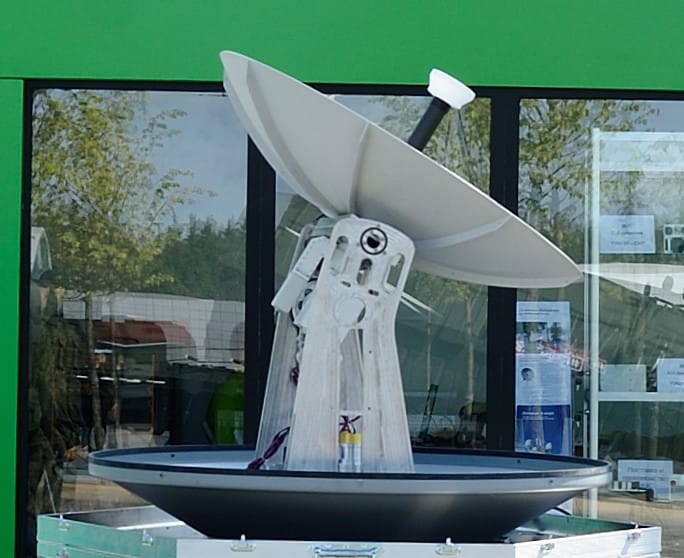 VSAT is a technology that represents another option for Internet connectivity in extremely remote areas and distant field locations. But, what exactly is it and how does it work?


If you live in a remote area, then you are aware that there are a limited number of options when it comes to telecommunications and Internet connectivity. This is especially true for field operations which are required to function in remote areas such as at sea, in the field, and in distant locations such as on oil rigs and utility services.
In terms of options, satellite communications represent the answer for most people in remote areas and one of the forms of this type of communication is known as VSAT which stands for Very Small Aperture Terminals. VSAT is specifically designed for remote locations and is a more cost effective alternative to conventional satellite communications services such as HughesNet, Dish Network, and others.
If you are unfamiliar with VSAT, the information in this article will provide you with a general understanding of what VSAT is, how it works, and some of the purposes for which it is used.
VSAT Defined
Very Small Aperture Terminal (VSAT) is technology that is commonly referred to as a private earth station. The earth station is designed to transmit and receive data signals via a satellite signal. VSAT includes the term "very small" which refers to the size of the antenna on the VSAT dish.
The antenna typically measures about four feet in diameter and has a low-noise converter attached to it which receives the satellite signal, and a Block Upconverter (BUC) that transmits the signals for the radio waves. The antenna can be positioned on the ground or it can be mounted on a rooftop.
VSAT is designed to serve both businesses and individuals and involves the use of specific technology and devices that are designed to facilitate effective telecommunications and Internet connectivity. A VSAT connection is established through the use of the antenna system described above. Your PC or mobile device communicates with the antenna and then the antenna uses the transceiver components to send and receive signals from the satellite.
The sky satellite communicates with a station-based PC on the earth by sending and receiving signals. The station-based PC acts as the hub for the VSAT system and communicates with the end users of the VSAT configuration.
When the system is comprised of multiple users, in order to establish communications with one another the data must be transmitted to the station-based PC which sends the signal to the sky satellite. The satellite sky transponder then forwards the data transmission to the end user's VSAT antenna and finally to the end user's device. In addition to data transmission, a VSAT system can also handle voice and video.
VSAT can be used by both home users who sign up with a primary VSAT service and by private organizations and companies that lease or operate their own VSAT infrastructure. A main advantage of VSAT is it provides companies with complete control over their own communications infrastructure without having to depend upon third party sources. You can also receive telephone reception at a higher rate of speed than if you use a conventional Internet connection.
The Anatomy of a VSAT Star Network
Typical VSAT satellite communication networks consist of more than one user, especially if the network is designed to accommodate military operations, workers at sea, corporate entities, or remote field workers. The VSAT network provides organizations with more control over their own network communications without having to rely on other companies or middleman type of setups.
VSAT communication systems which accommodate multiple users are commonly known as a VSAT Star network. A Star network is configured through the use of multiple remote VSAT antennas which are dispersed throughout designated locations and then controlled by the central hub PC. The hub also is equipped with a central antenna which is connected to the central office for the organization using a VSAT system.
The complete VSAT configuration including equipment is provided by a VSAT service which leases the satellite connection from a satellite provider. The VSAT service provider monitors the central hub plus, they may have other customers which offsets the cost of the equipment and the lease of the satellite connection. This also means that the central antenna constructed at the hub may serve many remote VSAT antennas depending upon the number of customers.
VSAT can also use mesh topology in which one terminal transmits data to another terminal using a satellite as a hub. This reduces the need to establish an uplink site.
Star and mesh topology can also be used in conjunction with one another. This is achieved by establishing multiple uplink sites that are centralized and connected together to create a multi-star architecture. The advantage of this configuration is it costs less in terms of network maintenance and it reduces the amount of data that must be transmitted through one or more uplink sites.
The following video talks more about the anatomy of a VSAT network.
Different Purposes for VSAT
VSAT satellite communications can be used for both individuals and organizations due to its capacity to provide small private networks or larger networks which require multiple VSAT antennas. The costs associated with VSAT implementation can be on a pay as you go basis. This means if the VSAT network is going to eventually grow, you can leverage scalability by implementing the necessary equipment in small steps to reduce the cost impact.
Different applications which utilize VSAT satellite communications include point-of-sale systems and ATM banking systems which are capable of using wireless technology and individual Internet connectivity or Internet access for larger organizations. VSAT is also used for police surveillance, database monitoring and access, environmental purposes, military operations, customs responsibilities, field work, disaster and emergency relief, travel and tourism, mining and explorations, news agencies, agricultural purposes, and ship operations at sea, to name a few purposes.
In the event it is necessary to deploy VSAT satellite communications for voice or video, then it is necessary to use a larger antenna and acceleration equipment to pick up the speed of data transfer. This added equipment coupled with the fact that VSAT can be implemented quickly, makes VSAT communication a viable alternative when other terrestrial communications are not possible or they would be too complex to design and implement.
Creating a Wireless VSAT Connection
Regardless if you are an individual using a VSAT system or an organization, most users desire to make their connection wireless. So the first question that always comes up is how to create a wireless connection with VSAT and whether or not you can use a conventional wireless router.
The answer to this question boils down to capacity of the VSAT satellite communications system. For example, some VSAT service providers offer connections that have a higher capacity or throughput and, in this case, it is necessary to choose a wireless router which is capable of handling a higher capacity connection. This is especially true for larger organizations that deploy VSAT communications systems.
On the other hand, if you are a residential user, the chances are that the VSAT service delivers a normal capacity connection. In this case, you can configure your home network with a typical router which is designed for residential use.
The following video provides additional information on VSAT installation.
Pros and Cons of VSAT
Although VSAT has been widely used for some time now, like anything else there are advantages and drawbacks to using this type of technology for communications and Internet connectivity. Let's take a look at some of the pros and cons of VSAT.
Pros
Instant Infrastructure: VSAT is quick to install, has a relatively low upfront investment, and per minute operating costs that are low and allow VSAT service providers to offer rates that are affordable.
Easy Network Management: Network management is a lot easier since VSATs are both scalable and flexible. If new sites need to be added or an existing site must be relocated, installation can be carried out independently which reduces delays and the probability of errors.
Access to Recovery Systems: VSAT technology provides a reliable architecture on which to build recovery networks. This makes a recovery solution immediately available should a terrestrial network become incapacitated for any reason.
Broad Coverage: VSAT networks can leverage broad satellite coverage to reduce the cost of multiple networks, as opposed to resorting to complex development of other satellite solutions. This allows digital information to be transmitted more cost effectively and efficiently via low cost architecture and more powerful systems.
Security: VSAT systems are quite secure. This is because there are typically two private layer networks. This type of technology acts as a Virtual Private Network (VPN) that fosters secure communications.
Affordable Cost: The pricing for VSAT is quite affordable since there are minimal overhead costs for the provider networks. This is because the architecture allows providers to serve the same content to literally thousands of different locations without the investment in additional infrastructure.
Cons
Latency: VSAT technology uses satellites in geosynchronous orbit. This type of data transmission has a minimum delay of approximately 500 milliseconds for each round trip. This can present a problem with applications that require consistent transmission back and forth such as gaming applications.
Environmental Conditions: Like other satellite systems, the weather and other environmental conditions can have an impact on the quality of the signal. The upside is it is not as noticeable as services such as Dish Network or DirecTV. VSAT can still have a weak signal though since it is dependent upon the size of the antenna, frequency band, and the power of the transmitters.
Clear View of the Southern Sky: Since VSAT requires an outdoor antenna, it requires the location to have a clear view of the southern sky in order to make contact with the satellites. Sometimes a structure such as a skyscraper with an unusual roof or other type of location can be an issue.
How to Acquire VSAT
One of the largest VSAT networks consist of more than 12,000 sites which are administered by Spacenet and the United States Postal Service. Some of the companies that utilize large VSAT networks include Walgreens Pharmacy, Wal-Mart, Taco Bell, Ford, General Motors, and many others. VSAT is used to transmit data such as sales orders and figures, service bulletins, international communications, and other types of data and communications.
Satellite providers that provide two way communications sometimes offer VSAT services. These are companies such as Bluestream, TM, Wild Blue, SatLynx, StarBand, and many others. Additionally, satellite providers that offer high speed broadband Internet to rural areas typically use VSAT technology as well.
Conclusion
VSAT and the benefits it provides are being recognized in both the public and private sector. Many financial institutions, healthcare organizations, educational institutions, rural telecommunications providers, and other entities are using VSAT as a means to increase standards across many different fields.
This is accomplished using interactive data, system control and data distribution, broadcast data for commercial networks, and business video applications. VSAT technology has been in use for more than a decade and currently there are more than one half million systems operating in over 125 countries worldwide.