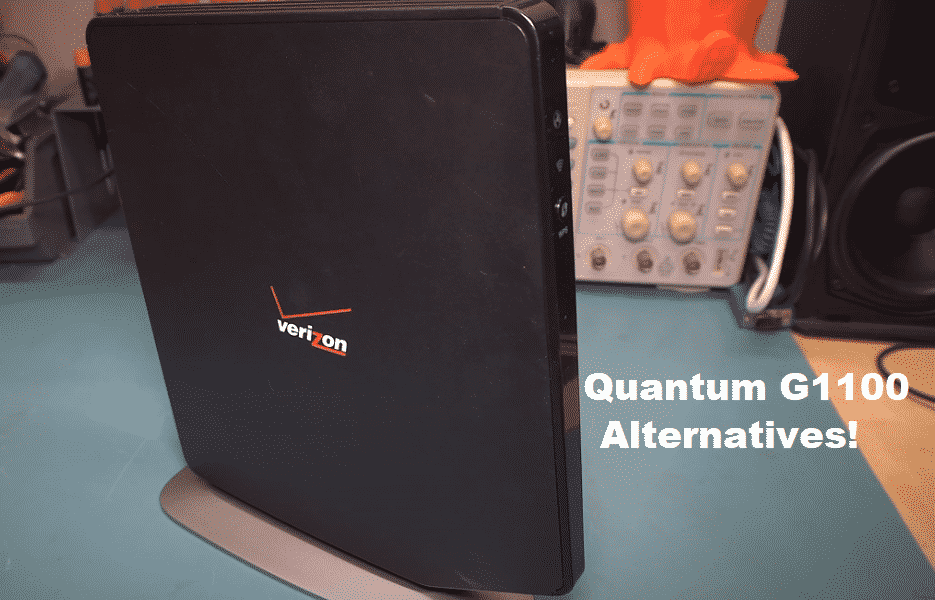 Verizon is the strongest network in the USA and has coverage in several other countries across the world. Verizon offers some of the best services within the USA including Cellphone, Landline Telephone, Internet, and Cable TV subscription.
Fios by Verizon is one such service that allows you to enjoy the best experience with all these services. Fios allows you to have high-speed internet, Telephone, and TV subscription over a single Fiber-optic cable.
The G1100 is the best thing that you can get to support all this sort of communication over a single Fiber optic cable. It is the right gigabit router that can handle all the bandwidth and speed that is needed to make it work for all sorts of data traffic needed for your TV, Internet Devices, and Telephone. It is pretty slim and compact and you can fill it up in pretty tight spaces as well.
The aesthetics are amazing on this one and a completely black body makes it look like the best piece of tech out there in the market. If you are looking for some alternatives to the Fios Quantum G1100, then the options are pretty thin. A few alternatives that might be worth considering are:
Verizon FiOS Quantum Gateway Model G1100 Alternative:
1. NETGEAR RBK 50
If you prefer performance over aesthetics then you should definitely go with the NETGEAR RBK 50. The Mesh Wi-Fi system is the perfect thing that you can have for all sorts of Wi-Fi needs. The device is pretty great to handle the communication load for multiple devices that you are looking to get the coverage for on your Verizon Fios network.
The coverage is pretty great, and with a better processor, more RAM memory, and support for all sorts of ethernet cables as well as the best Wi-Fi system out there, you will be getting the right bang for your bucks that you would like to spend for the router.
The NETGEAR RKB 50 is a performance-oriented device and it is considerably larger than the original G1100 that you are looking to replace. So, you will have to make sure that you have the right space to house the device. It doesn't look that bad, but it is quite bulky so you will have to add a little more weight to the place you have your router installed or you can hide it behind some shelf and it will still work all the same, fast and stable.
If you are looking to get it going for those extensive needs such as online gaming, some high-end graphics need or large downloads. Also, if you want to stream some HD content across multiple TVs around your place, then you should definitely be going for the RBK 50 as this is an investment that you will not have to look back upon.
2. NETGEAR X4S
NETGEAR is simply the best thing that you can have to handle the Amazon Fios and they support all that communication as well. If you are not after those extensive applications and just need to have something that can get the basic coverage going for you, then this might be the perfect thing for you to have.
NETGEAR X4S is the perfect thing with dual-band support on the Wi-Fi and four antennas to cover the house for you. Not only that, but it can also help you cover up to 2.53 Gbps easily over the fiber optic cable. You just have to get it installed and optimize properly so that you can have the perfect use for your Verizon Fios subscription.
The router got a pretty aesthetic design and if you are looking for something that can fit in the same space as the G1100 then you should definitely consider this one. The price tag is also pretty attractive and that allows you to enjoy the perfect router on your Fios network without having any sorts of problems.
This can be the best cost-friendly alternative for you to have to run with your Fios network that is not quite expensive and can also handle the traffic that is needed for the multiple devices that you might be having at your home. The processors and RAM on this router are pretty amazing so you get perfect speed and stable connectivity.