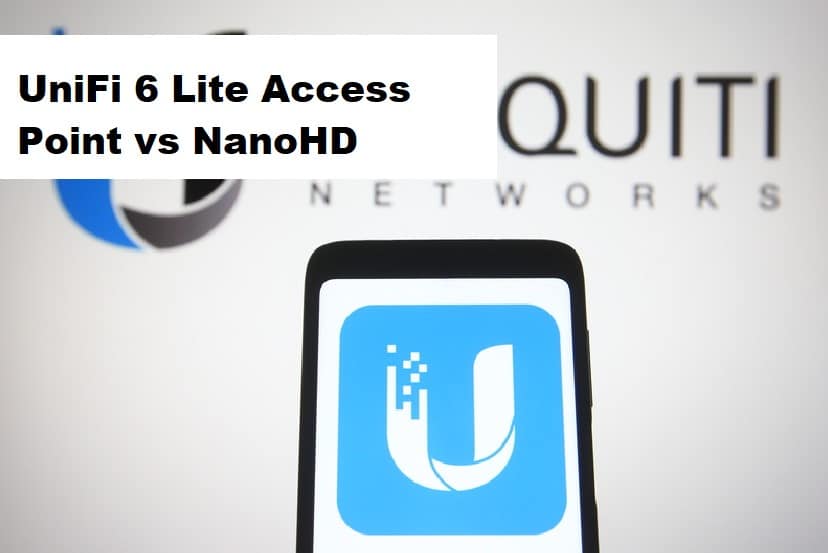 Ubiquiti has become a popular name in the internet and networking industry, and its popularity increased when it started offering cloud networking devices. Similarly, they have designed an array of Wi-Fi 6 devices and access points. So, with this article, we are sharing the UniFi 6 Lite Access Point vs. NanoHD comparison to help you out!
UniFi 6 Lite Access Point vs NanoHD
UniFi 6 Lite Access Point
This is the first Wi-Fi 6-based access point designed by Ubiquiti, which can be easily controlled with the help of an UniFi controller or the app. Since this is a Wi-Fi 6 device, it improves the internet performance and efficiency during the high-density wireless network ecosystems. It promises a maximum speed of over 176Mbps, and the average speed is around 30Mbps. In addition, when the internet speed is optimized, it will be around 60Mbps.
These internet speeds are tracked on the 2.4 GHz wireless band, but on the 5 GHz band, the internet speed can be over 300Mbps. The 2.4 GHz and 5 GHz has two-by-two configuration, and it's pretty reasonable if you consider the price of only $99. It has a premium build as there is metal construction, which leads to higher durability. In addition, the metal promises an improved heat sink. In addition, there are various skins available for customizing the access points.
It comes with a mounting bracket, and there are pre-drilled holes, which makes it extremely easy to install. It has an 880MHz CPU, which makes it extremely fast, and has 256MB internal storage, promising seamless installation of firmware upgrades. It can handle more than 300 concurrent clients, and there is a 2×2 MIMO configuration available. When it comes down to the design, it weighs only 300g, which makes it easy to handle.
It has a channel width of 20/40/80, which makes it convenient to extend the wireless network. The best thing about this access point is that it supports Wi-Fi 4 and supports internet throughput ranging from 6.5Mbps to 300Mbps. On the other hand, the internet throughput is around 6.5Mbps to 866Mbps on Wi-Fi 5 band. As far as Wi-Fi 6 is concerned, the speed can go over 1.2Gbps, which is pretty amazing. In addition, there is an Ethernet gigabit port to create the wired internet connection.
UniFi NanoHD
This is one of the well-designed wireless APs available on the market and is known for its saucer-shaped appearance. It can be easily integrated on the ceiling or wall, and there is a circular LED indicator that shines when the access point is connected to the internet. The LED indicator is installed under the circular canal that's around the middle section of the AP. The design is exceptional and has a smaller footprint, making it an easy-to-integrate option.
It has a minimalistic design and weighs only 10.6 ounces. The device has a matte white finish and is made from plastic. The upper part is made from plastic, while the bottom side is made from zinc alloy, promising easier heat dissipation. The narrow LED canal is wider and shines white when the access point hasn't been configured. On the other hand, the LED shines solid blue when the device has been connected to the network and is operating normally.
However, the LED will flash in blue color when it's trying to locate the access point. The port area is easily accessible, and you will be able to reset the unit with the help of a reset button. In addition, there is an Ethernet gigabit port with 802.2af configuration, promising a high-speed wired connection. There is a mounting kit that comes with the device, which makes it convenient to install the access point. The mounting kit includes the backing plate, mounting bracket, screws, and nuts.
This is an indoor access point, but there are no ventilation ports, which means it can get overheated, so put it in a well-ventilated area. It has been designed with Uplink, which is a well-known mesh technology and helps set up the Wi-Fi system. It is important to add that a wired UAP unit will only be able to support four wireless access points (downlinks). In addition to this, it supports the fast roaming feature, which means you can connect remote devices without re-authentication.