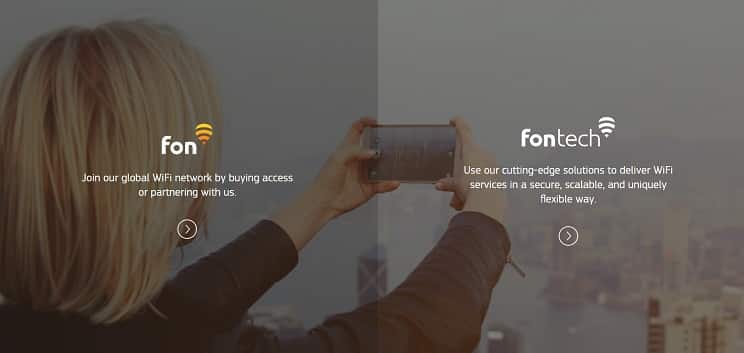 It was not too long ago that wireless hotspots were not as common as they are today. Since then, companies such as FON have been striving to increase the availability of public Wi-Fi networks.
FON Wireless is also known as Fonero and is a company that specializes in making wireless networks more widely available using a dual-access device capable of delivering Wi-Fi over a broadband connection. FON was launched in Madrid, Spain, is based in the UK and is a not for profit company with branch offices in the United States, France, Brazil, Japan, and Germany.
How It Works
In order to participate in FON and be a part of the FON community, you must own the La Fonera+ router. This device is designed to provide a wireless access point using your broadband connection and special Fonera software that is built into the device. This enables FON members to share some of the bandwidth with other FON users.
The La Fonera+ router allows you to provide community Internet access and in return, you can use FON hotspots by other members as well. The whole idea is for FON members to participate in building a global Wi-Fi network to share their broadband connection in exchange for broadband access to other FON access points throughout the world.
Becoming a member of FON is a simple process. All you need to do is purchase a FON wireless router and plug the device into your broadband Internet connection. Or, if you live in a location where there is access to Telco, all you have to do is sign on with a Telco partner to become a FON member. Telco Systems provides solutions that allow network carriers to create high quality carrier grade networks.
Without a doubt, you are probably wondering why people would be willing to share their broadband Internet connection with all of the security concerns that surround wireless network connections. Although this is a legitimate concern, the idea of creating a global Wi-Fi network with the ability to use any FON access point in return, has proven to be quite popular. In fact, some FON users have established a FON Wi-Fi hotspot and have earned money by charging for access to the wireless access point via PayPal.
Two Wi-Fi Signals
The Wi-Fi hotspot itself is comprised of two separate Wi-Fi signals that are dedicated to a specific purpose. One signal is yours to use privately and the other signal is meant to be shared with other FON members. Since each signal is dedicated, security is never a concern. Plus, a global Wi-Fi network is established where all contributing FOM members can connect for free.
FON also partners with a variety of leading mobile and Internet providers such as Netia, Proximus, T-Mobile, and many others. If this is the case, the FON software and features will come preinstalled in the DSL/Cable modem so there is no need to purchase a separate FON router.
In terms of broadband speed, the use of a FON device will not slow down your Internet connection since the two signals are separate. The traffic that uses your private signal is prioritized. Plus, the home signal is separate from the guest signal and is protected by a firewall.
International Access
When it comes to international access, FON access is the result of a partnership with AT&T and FON in Madrid Spain. As part of the deal, AT&T customers are able to access overseas hotspots that are part of the FON network. Plus, FON customers are allowed access to AT&T hotspots which include more than 36,000 hotspots in public locations throughout the United States.
The partnership represents an effort by FON to further expand its global Wi-Fi network while making it easier for AT&T customers to remain connected while traveling abroad. Unfortunately, the partnership for expanded services is offered at a substantial cost since it requires AT&T customers to add a minimum of 300MB of global data to their existing wireless package which can be an additional cost of as much as $60 per month. As part of the package, AT&T customers are allowed data usage of up to 1GB before being billed for any additional use of data that exceeds this limit.
For customers that do not mind the additional fee, international AT&T wireless hotspots can be accessed using the AT&T Wi-Fi International App for iOS and Android. AT&T has a similar partnership with Boingo Wireless which also has the same package requirements. International access to FON through AT&T is the result of a $2 billion dollar deal to access a portion of the spectrum from Verizon Wireless in an effort to aid the rollout of AT&T 4G networks.
Here is a video that discusses how you can get free Wi-Fi access from any FON hotspot.
Setting Up and Identifying FON Wireless Networks
Currently, more than 600,000 FON community members are sharing their connection with other FON participants. As part of the expansion, FON also partnered with BT to expand the Wi-Fi service in the UK. The project is an effort to simplify wireless access and make the FON networks easier to locate and identify.
You can automatically connect to a FON network using your mobile device and by installing the appropriate app from either the iPhone App Store or the Google Play store. All you have to do is download the app and enter your username and password. The app will automatically identify the nearest FON hotspots and then log you in.
If you already have the app installed, you must look for the connection in the list of available hotspots. The name of the connection will be something like FON Wi-Fi, FON_Free_Internet, and BT Wi-Fi with FON, or other. Then you simply open your browser, enter your login credentials when the login screen appears, and connect.
Although FON is easy to set up, it appears differently than conventional wireless networks. This is because the two different signals are separate so they will appear as FON_AP which is the FON community connection and My Place which is your private connection that is protected with WPA (Wireless Protected Access) encryption. The network key is located on the FON router and your FON account is setup on the FON website.
Access Pass
A FON Access Pass allows you to connect to a FON Wi-Fi hotspot for a specified amount of time. The passes are offered in increments of 25 minutes, one hour, one day, or five days. Once you purchase the pass, any minutes you do not use will be credited to your account and will not expire until you decide to use them.
La Fonera+ Router
The La Fonera router is small and compact and offers pretty good strength in terms of the Wi-Fi signal. When you log onto the FON website, you can find a map of FON Wi-Fi hotspots that is updated on a frequent basis. Most of the hotspots are located in metropolitan areas and surrounding neighborhoods but, in recent years, availability has been improving.
There are two different FON routers to choose from when you sign up for FON.
Fonera: The Fonera is a compact wireless router that is suitable for personal use and for offering a publicly available signal that you share with other FON members. The cost of the Fonera is $49 and the device is small enough to fit in the palm of your hand. The router is compatible with the 802.11a/b/g/n standard and is equipped with a high quality antenna and WPA encryption. It can also be used as a Wi-Fi signal booster as well.
Fonera for Business: FON can be offered in a professional business environment for a one-time cost of $69. The device is compatible with the 802.11a/b/g/n standard and offers WEP, WPA, and WPA2 encryption in addition to firewall protection. There are three different Ethernet ports which include two for the Local Area Network (LAN) and one for the Wide Area Network (WAN). FON members can log into the public signal with their FON credentials or their Facebook account. FON for Business is suitable for businesses of all sizes.
The following video will provide you with more information on FON for Business.
In terms of a money back guarantee, the FON website does not provide a whole lot of information on its Refund Policy. However if you visit the Legal Terms page, the terms for FON Access Pass refunds is outlined on this page.
Customer Service is also rather limited to a page where you can contact FON using the Customer Service form.
FON Currently Working with Qualcomm for Wi-Fi Expansion
In an effort to increase the number of compatible routers, FON has been working with Qualcomm to integrate FON in Qualcomm chipsets. The partnership is an effort to reach a goal of more than 35 million wireless hotspots by the end of the year 2016. This will make it easier for router manufacturers to make their products FON compatible by integrating the technology in their routers.
Also, as part of the expansion, FON has been working with Qualcomm on developing new and innovative products which include a customized router. The router will add to the current collection of dual-purpose routers offered by FON on its website. Additionally, FON and Qualcomm have partnered to create the Gramofon which uses a Qualcomm chipset to add a social music feature to the router.
Qualcomm Ventures which is the investment fund for Qualcomm is currently participating in an investment venture worth $14 million. The venture also includes Deutsche Telekom and Google and is an effort to continue to expand global Wi-Fi networks.
When FON first launched, the company focused on expanding Wi-Fi hotspots throughout Europe before it initiated wireless coverage to include Latin America and Asia. Currently, more than 12 percent of households throughout France, the UK, and Belgium are FON members and offer wireless access to other FON customers. The improved coverage was made possible via partnerships between FON and Deutsche Telekom, BT, Belgacom, and Softbank.
During 2014, FON increased its focus on offering wireless access in the United States through the roaming agreement it signed with AT&T described earlier in this article. The latest router device was introduced to the market in October of 2014 with a new deal established to provide free wireless access to areas in Brooklyn, New York. In an effort to encourage residential customers to offer FON hotspots, the company is offering one thousand free routers on a first come first serve basis to residents of New York City.