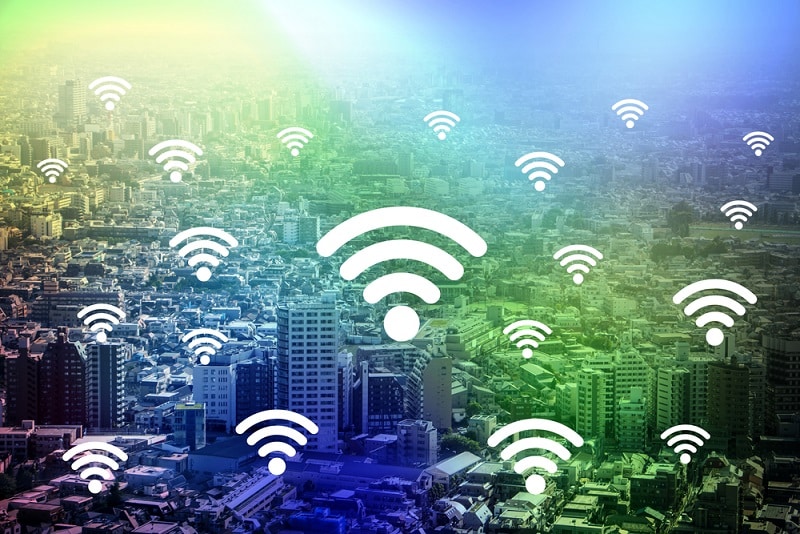 Back in 2014, ipass predicted that by 2018 there would be one public hotspot for every 20 people on earth. That's a lot, especially when considering that there's still developing countries where Wi-Fi penetration is mostly limited to a few urban areas.
The trend shows no signs of abating. In 2015, according to infonetics, wireless local area network (WLAN) equipment revenue broke the US$5 billion milestone for the first time. Much of this growth reflects the accelerated adoption of IEEE 802.11ac wireless access points (WAPs — not the Wireless Application Protocol) and routers as the 802.11n standard is superseded. Other salient points: prices for gear in 2015 continued to decline, U.S. educational consumers (i.e., schools) remained a strong end-market for gear and the three top WLAN equipment manufacturers by revenue were Cisco, Hewlett Packard and Ruckus.
Today's centrally managed WLAN architectures rely on interactive WAPs — it's the reason why over 7 million were sold in 2015. This contrasts with the fact that initially WLAN deployment was based on autonomous WAPs that were treated as stand-alone elements in the network. Centralized WLAN architectures have the advantage of enabling network administrators the capability to manage multiple WAPs across a network's hierarchical structure.
WAP Basics
A WAP sends and receives data to nearby mobile devices using either a 2.4 GHz or 5 GHz signal. The WAP in turn communicates with either a server or a WLAN switch/router/controller over hardwire Ethernet cable, which in turn connects to the Internet. A common point of confusion concerns WAPs and wireless routers. Although WAPs and wireless routers overlap many of the same applications, WAPs provide no firewall and no native protection from malware or phishing from the Internet; network address translation (NAT) routers do (sometimes). WAP hardware includes radio transceivers, antennas and firmware (i.e., ROM chips).
Many people who use the Internet at home have a wireless router, which also serves as a WAP, provided to them by their ISP. However, some homes have "dead spots," areas where the signal provided by the router can't reach. To remedy this problem, many set up WAPs to extend wireless coverage. What many people don't realize is that most WAPs are "half duplex" — meaning they transmit and receive alternately — and thus can only use half of the bandwidth available. Conversely powerline WAPs, like telephones, are "full duplex" and transmit and receive data simultaneously from a router. Powerline WAPs connect to a router by using a send/receive pair from a building's copper wiring feeding an electrical outlet. Distance between a WAP and the mobile device affects connection speed, as does network congestion caused by multiple users on the same bandwidth.
Below is a Networking 101 video on WAPs from Cisco:
TDD vs. FDD
Half duplex systems save bandwidth, true, but at the cost of speed. To emulate full duplex communication, time division duplexing (TDD) is used to separate transmit and receive functions across the same bandwidth. TDD is particularly useful when an asymmetry of data rates exists (as is the case with web browsing, downloading emails, streaming videos, etc.). On the other hand, frequency division duplexing (FDD) uses different carrier frequencies to transmit and receive data and is true full duplex communication. FDD is obviously a better choice over TDD when considering relatively symmetric data flows such as two-way voice and Skype applications. FDD uses at least twice as much spectrum as TDD and requires adequate bandwidth separation or "guard bands" between transmit and receive channels. With ever increasing data speeds and usage of SmartPhones and tablets, one can readily see why frequency spectrum today and in the future is at a premium.
Since the days of Marconi, the main impediment of attempting to transmit and receive over the same frequency is overwhelming interference. However, recent developments in self-interference cancellation technology may mean "wireless full duplex" will be available for mobile wireless devices in the near future. Santa Clara-based Kumu Networks claims to have "perfected self-interference cancellation so a receiver will hear zero noise from its transmitter and thus receive external signals without impediment." If so, this revolutionary 'Holy Grail' breakthrough will have far-reaching implications for the rollout of 5G wireless and next generation WLAN over the next few years.
Public WAPs aka Hotspots
Perhaps you've noticed the following trademarked logo posted outside of your favorite coffee shop or grocery: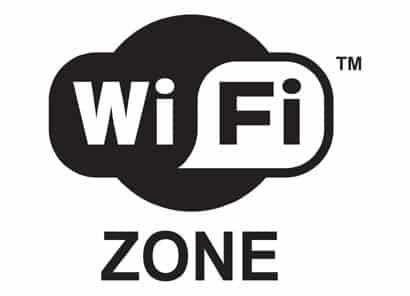 Image Source: Manolo Gómez on Flickr
This sign denotes that the business or establishment has a Wi-Fi "hotspot," or WAP that provides Internet access to mobile devices like Smartphones, tablets and laptops. Note that some businesses may charge a subscription for usage although the trend, at least for nationally franchised businesses, is to provide Wi-Fi for free. Free Wi-Fi is a godsend for congested cellular networks as it relieves pressure on overcrowded bandwidth frequencies.
Even though many places have secured Wi-Fi (meaning one needs a code to access the network), with a bit of ingenuity and luck one can piggyback onto unsecured networks by knowing where to look. For example, lower-end roadhouse motels (not top dollar hotels like the Four Seasons) have free Wi-Fi for the simple fact that it's easier to offer it gratis than to deal with the hassle of tech-challenged guests trying to fathom how to access the network. Merely pull into a motel's parking lot as close to a room as you can and start searching with your mobile device or better yet, with a Wi-Fi analyzer app. Another likely place is a good-sized mall; wander from store to store and the odds are that one will find a network to access. Even gas stations/convenience stores in the hinterland sometimes offer free Wi-Fi, so fill up, buy a snack and browse the web whilst taking a break from driving on the road.
Coda
One would be remiss not to mention security (or lack thereof) on an unsecured WAP. The lack of security is the tradeoff for convenience at a public hotspot. Anyone on a shared network is vulnerable to divulging usernames, passwords and web activity to others using the same network. Public hotspots with transient traffic such as airports are particularly tempting to identity thieves and other black hats looking for bank accounts, credit card numbers or sensitive private information.
So take the following precautions:
1. Don't enable file or printer sharing or remote log-ins. Turn off network sharing and network discovery. For directions on how to do this, click here.
2. Make sure your firewall is enabled.
3. Use Hypertext Transfer Protocol Secure (https not http) when accessing websites and Secure Sockets Layer (SSL) for accessing web email clients.
4. Turn Off Wi-Fi when not in use.
5. Use a Virtual Private Network. One can drop a pile of money for one with all the bells and whistles but for us people with limited bank accounts and incomes, there are free ones that provide limited protection against black hats. Beware of those VPNs that sell user data to third parties. According to bestvpn.com, here are the best free VPN services: