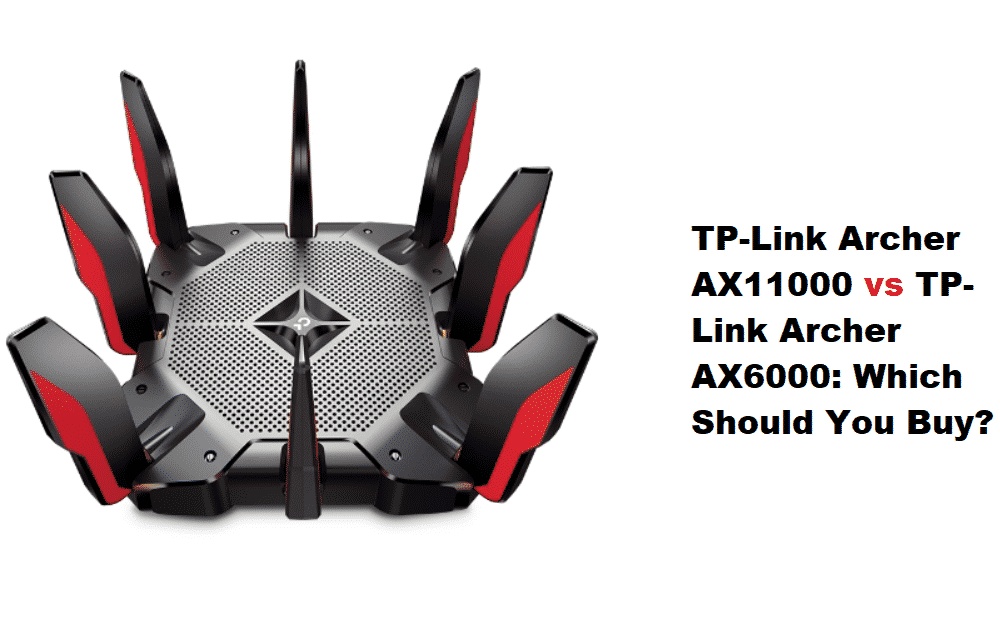 If you have been using a stock router then you should upgrade this with a new one. Devices like TP-Link Archer AX6000 and TP-Link Archer AX11000 come with tons of newer features that can be used. Additionally, these are better than standard routers in almost every way. If you are confused between the two devices, then going through the comparison provided below should help you in selecting which router will suit you better.
TP-Link Archer AX6000 vs TP-Link Archer AX11000 Comparison
Archer AX6000
TP-Link Archer AX6000 is one of the most famous routers of the brand. TP-Link is mostly known for its networking products, as these come with tons of features. These ensure that the user can stay comfortable in their homes while they are using their connection. Considering this, the TP-Link Archer AX6000 also comes with features designed to ensure smooth streaming.
One of the best thing things about the router is that it comes with dual-band technology. This allows people to use two different frequency channels at the same time. The 2.4 GHz channel is a slower network, but it has a much higher signal range. Additionally, the signals coming at this frequency are stronger which makes them difficult to block.
The only downside is that the overall speed carried in this frequency channel is slower when compared to 5 GHz. On the other hand, while 5 GHz bands might carry a higher speed, the signals have a shorter range, and these are also quite weak. Luckily, you can configure and set up both of these networks and then choose one that you want to use on your router. The user can also switch between these whenever they want to which makes the feature amazing.
Other than this, the Wi-Fi standard used on TP-Link Archer AX6000 is Wi-Fi 6. This is a newer technology that allows people to utilize a much higher speed even when using a wireless connection. The only problem is that your ISP should have a package that has speeds above 3 Gbps. If that is not the case, then the difference between the performance of your current router and TP-Link Archer AX6000 might not be as noticeable.
Archer AX11000
The TP-Link Archer AX11000 router is another famous router from the same brand. When it comes to comparing this model with the Archer AX6000, the first thing that you should note is that both of these routers are from the Archer lineup. However, the major difference between the two products is that the TP-Link Archer AX11000 is made for gaming.
On the other hand, the TP-Link Archer AX6000 is designed for people using internet services at their homes or offices instead. Having the same lineup means that there will be tons of features and specifications that will be similar on both of these devices. However, when it comes to the main features, you will notice that TP-Link Archer AX11000 focuses more on getting the best possible speeds.
Even the latency you get on this router is reduced for the best performance when playing games or streaming data. When looking at the features of the AX6000 model, you will notice that these are more focused on comfortability. Both of these routers use the same lifetime security pack from TP-Link that ensures your network is kept private.
Additionally, you can set both of your devices using the application from this brand. This has to be installed on your mobile phone and you will then have to create an account. However, once this is done, you can then continue configuring the router and access all of its features. Make sure that you consult the manual or go through a guide before trying to change a feature that you are unfamiliar with. This should not only help you in setting up the router properly, but it will also help in preventing problems.
Conclusion
These are a few key differences between both these devices that should help you choose one over the other. Just make sure to keep everything in mind during your purchase, and you'll be sure to make the right choice for your setup.