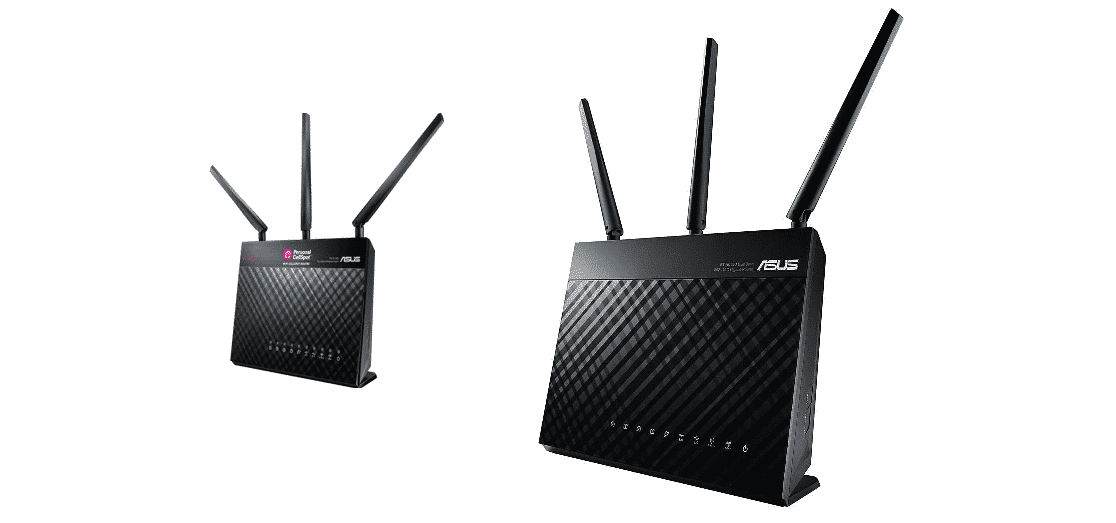 The need for uninterrupted internet signals is essential to everyone. Over time, multiple internet technologies have been launched, such as wireless and wired internet. When it comes down to wireless internet connection, routers and modems need to be top-notch to ensure strong internet signals and strengthened reception. If you've been looking for modems, we are comparing TM-AC1900 and RT-AC68U in this article, so that you can make an informed choice!
TM-AC1900 vs RT-AC68U
TM-AC1900
This is the brainchild of T-Mobile, and it comes complimentary with the CellSpot Wi-Fi calling feature. There is a plethora of high-end features and excellent performance. This is the standard Wi-Fi router that can be used to connect laptops and phones with the internet for data transmission. The router is designed with support for three-stream setups when it comes down to 802.11AC.
The router will offer a top speed of 1,300Mbps with a 5GHz band, and in the case of 2.4GHz, the speed will be topped to 600Mbps. There are four GB LAN ports, one WAN port, one USB 3.0 port, and a USB 2.0 port. These ports can be used to connect external storage devices, printers, and cellular modems. The router is easy to set up and install.
That's to say because you need to turn on the router, connect the WAN port with a modem, and you will be able to access internet signals. Once you connect it with the modem, Wi-Fi calling will be spectacular. The interface is pretty streamlined and has a wide range of features. The features include a built-in VPN server, home network settings, visual network map, and QoS features.
On top of everything, the router offers support for IPv6. The router is designed to offer four Wi-Fi networks (two for 5GHz and 2.4GHz, each). There are no dual-WAN features, so you won't be able to connect second WAN ports. There is a special T-Mobile Evolved Packet Data Gateway technology that optimizes better Wi-Fi calling.
It has been seen that the router prefers the internet bandwidth for cell services. However, you will need to configure the QoS feature. It is essential to note that this is a redesigned router and is suitable for people who need a router without complying with monthly subscription fees. On top of everything, Wi-Fi calling is perfect with this router.
RT-AC68U
This router is designed by ASUS, which signals zero compromises on the internet speed. It wouldn't be wrong to say that it's a premium router with a sleek design. This router has surely devised its name as a positively-reputed router with high-quality. The best thing about this router is that you will be able to play your video games and stream Netflix at the same time, in 1080p.
On top of everything, this router is designed with customization features and top-notch performance. The best thing about this router is the easy-to-navigate firmware to ensure there are no compromises on quality and performance. The router has a very sleek n-band design with tall and black wafers. There are three six-inch antennas and blue status lights.
The black front is textured, and it surely reflects the chic image. These status lights are conveniently accessible. As far as power is concerned, there is an easy-to-access switch. Overall, the router has a small size, but antennas make it look bigger. The router has a quick internet setup that connects the device to the router through ethernet cords.
The users need to create the SSID so that you can connect to the internet. It is suggested to secure the Wi-Fi network with a password. As for the firmware, it has a very easy interface with a blue and gray color palette. Overall, the interface is pretty attractive, and all settings are labeled for your ease. The vanilla firmware is easily customizable.
With advanced settings, you will be able to make changes in firewalls and URLs. In addition, you can block some sites, such as Tumblr, social media networks, and adult websites. Once you use this router, you can use the AiCloud mobile app to access and maintain the network. The app is readily available for iOS and Android users.
As far as the performance is concerned, it tends to meet and exceed your performance expectations. There is a Wi-Fi chip in the router that enhances the internet speed by 30Mbps. As for the downsides, the cloud sync is heavy on the pocket, and speed will slow down below five feet.