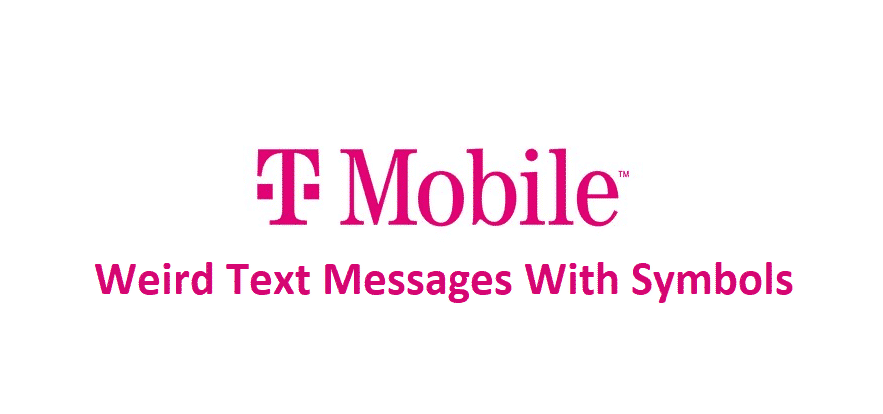 The ability to send text messages to communicate through your cellphones has pretty much revolutionized the cell phone experience. Smartphones have made it even easier to send and receive text messages. Not only you can easily type the text messages with the user-friendly on-screen keyboards, but you can also dictate them and send them in a hassle-free manner.
T-Mobile is considered to be a highly reliable service provider with great support for text messages. Most of the users have had a great experience with the network and are enjoying its high-quality services. However, some users have reported experiencing a weird situation while receiving text messages from others.
T-Mobile Weird Text Messages With Symbols
According to some users, when someone sends them a text message, it does not appear in understandable easy to read English. Instead, the messages are often filled with weird symbols and signs. Many of the users who reported this issue also reported that they did not face this issue with everyone who sent them text messages.
The issue was only isolated to a few numbers. And in a vast majority of the cases, the users who were sending them messages had iPhones.
If you are facing this issue, there are a few things that you can try to fix it. They are mentioned below
The first thing that you can try to fix the issue of getting text messages with weird text and symbols is making sure that the language of your phone is set to US English. You can do that by going to the settings of your phone and then going to the language and then switching it to US English.
Another thing that you can try to fix the issue is making sure that you do not have a misconfigured Access Point Name (APN). Check the APN and set it to default. It may help you get rid of the issue.
In some cases, clearing the cache and data of the messages app resolves the issue. Clearing the cache and data of the Messages app gets rid of the errors that may have accumulated in the app. So go to the settings of your phone and clear the cache and data of the Messages app. Now check if the issue is resolved.
In some rare cases, the users reported that the issue was resolved after they changed their cellphone. So if you are facing the same issue of seeing weird symbols and signs in text messages, then changing your cell phone can be a potential solution. However, it is not guaranteed to fix the issue.
Many users have reported that they had tried all the steps mentioned above and tried various other things as well but the issue did not get resolved. However, after a few weeks or months, it got fixed on its own. So if you are facing this issue and you are able to somehow make it work with receiving text messages with symbols and signs; wait it out and the issue will most probably disappear.