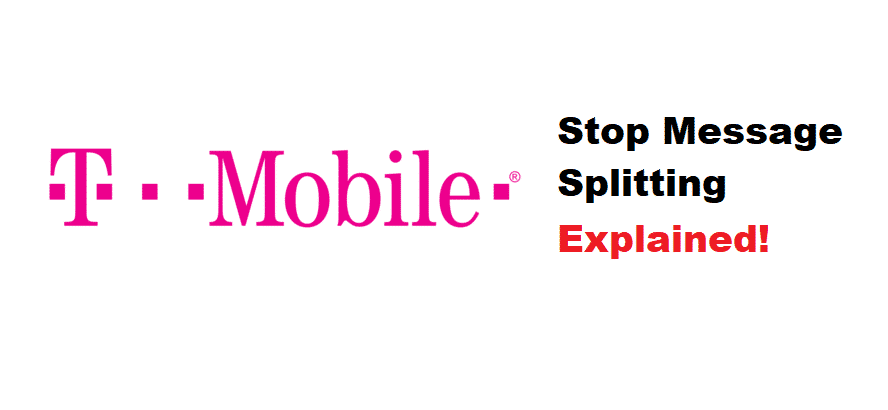 If it was your first time receiving split up messages then you must be thinking that the sender is making no sense. However, if you decide to be a little less judgemental then you will get that it's an issue with your service causing this problem.
How To Stop Text Messages From Splitting In T-Mobile?
T-Mobile Text Message Splitting
Text messages splitting up is a common issue and it sometimes happens because of issues like character limitation. For example, if T-Mobile supports only 160 maximum characters and the message you are supposed to receive is longer than the limit, then it will be broken into more than one message.
The thing that is even more confusing is, these split up messages will not be numbered according to their series and it will be very hard to relate where the message links to the previous part. However, you can make guesses by putting up characters together to make a word, but this is not always the solution.
Moreover, there is a rule that the text message with characters more than 918 will be converted into an MMS message.
6 Easy Steps To Troubleshoot The Problem
It is quite hard to figure out why Tmobile is having this problem, however, you can try out some easy steps of troubleshooting on your phone to instant resolve this problem. It is better to let your phone auto combine the text messages that are coming in split form through the Tmobile.
First of all, you must go to the Settings of your phone
Now select the option Application in your setting.
In the Application menu, you will see your messaging app. Now select the messaging app.
After selecting the Messages app, you will find More Settings.
Tap on More Settings to read text messages which have a further option to auto combine the messages.
Once you select the auto combination option your split up messages will combine automatically into a single message.
However, if your phone doesn't have an option of auto combining the split-up messages then you can try the alternative solution.
Alternative Method
Go to the settings of your phone and tap-select the application option.
Once you have selected the application option you must go to your messages app.
In your Messages app if you check More Settings then you will find a Clear Cache option.
Clear all the cache so that your message application can work better.
However, if this option doesn't work as well, then you must Uninstall your messages application or Force Stop it if it's a default application.
After force stopping your messages application, you will have to reset your phone so that your messages application starts working again.
The Reset option lies in the Backup And Reset option in the Settings menu.
Keep in mind that you will lose all your data by Resetting your phone so make sure to take all the important data out of your phone.
Hopefully, this blog helps you in resolving your T-Mobile message splitting problem.