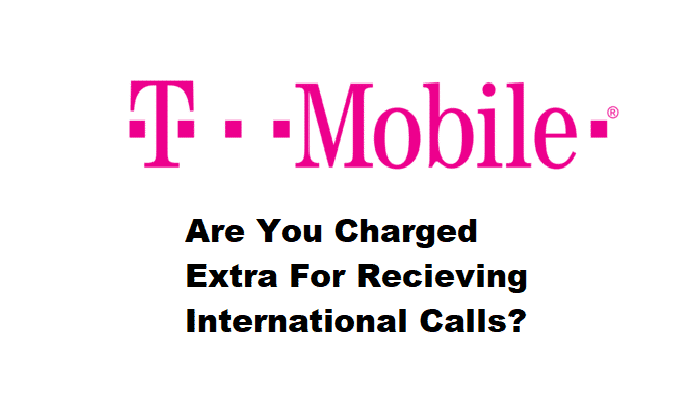 T-Mobile is a popular telecommunication company that extended its services to not only countries in Europe, but in the U.S as well. In fact, they actually have the biggest 5G network in the U.S.
Apart from having a huge number of users in the U.S, they recently acquired Sprint which used to be another popular company. Apart from giving great deals and subscription plans to customers, they also have a store for buying Samsung, Apple, LG, and One Plus smartphones. What's even better that they also include smartphones in some of their subscription plan.
Are You Charged Extra When You Receive Incoming International Calls Using T-Mobile?
As already mentioned above, T-Mobile is a very famous telecommunication company in many countries including the U.S. Hence, most users use to subscribe to their prepaid or postpaid plans in order to be able to make calls. However, there is one question that revolves around many T-Mobile users.
They wonder whether they will be charged extra money if they receive an international call. As most companies do charge extra for this service, these users are left concerned. Through this article, we will be answering this question in detail.
For all of you who are wondering the same question, the answer is that it mostly depends. The reason for this is that T-Mobile extends its services across many countries. As a result, their services may differ according to your region. Another thing that plays a role in this is your subscription plan. T-Mobile offers a number of subscription plans, each having different prices and giving you different perks.
In case you are living in the U.S, then you will most probably not have to worry about getting charged extra for international calls. Unfortunately, you may be charged extra if you are on a prepaid plan which will charge you individually for minutes.
Similarly, in Canada and Mexico, you should be on a Simple Choice NA Plan or any other T-Mobile One plans, which should make international calls free of charge. However, if you are on a very old Simple Choice plan, then you will be charged the global rate of 20 cents per minute.
Lastly, if you are in any other (Simple Global) country and receive an international call, you will be charged with the same Simple Global rate of 20 cents per minute.
The Bottom Line
This article has all the information that you need in order to know whether you will be charged extra when you receive an international call. If for some reason, you still don't know whether you will be charged, you can simply contact customer support and learn more about this.
T-Mobile has also made a dedicated official page where they have shared information about international calls and when charges will be applicable. We also recommend taking a look at that for more information regarding the subject.