An integral part of the Internet of Things (IoT), Smart light bulbs communicate wirelessly with internet-connected devices. Of course, these aren't old school incandescent bulbs or even CFL lamps; they're LEDs that typically use apps from a smartphone, laptop, tablet or dedicated controller. Remember that not all LED lamps are Smart bulbs.
A LED Primer
First, let's examine why you need LED lighting technology. Their ultra-high efficiency is not diminished by shape or size, unlike fluorescent lighting. They can reach full brightness in under a microsecond. They're easily dimmed (without voltage reducing dimmer switches) and radiate little heat. Since LEDs are solid state components, they're considerably more shock resistant than fragile incandescents or CFLs. As their use has become more widespread, LEDs now cost much less than when first introduced. The exceptionally low energy consumption of LEDs (90% less than incandescents) is complimented by their Methuselah-like service life: they can operate in excess of 50,000 hours (5.7 years) or 50 times longer than an incandescent bulb.
Another huge advantage is that LEDs can be cycled on and off as often as needed. Turning incandescent bulbs and CFLs on and off drastically reduces their service life. In fact, since LEDs can cycle on and off millions of times per second, they can serve as wireless transmitters and access points for the internet. Moreover, they easily attach to printed circuit boards. This versatility opens up endless possibilities – ever considered using your light bulb for a loudspeaker? The Sengled Pulse delivers Bluetooth quality sound with JBL speakers and can be dimmed.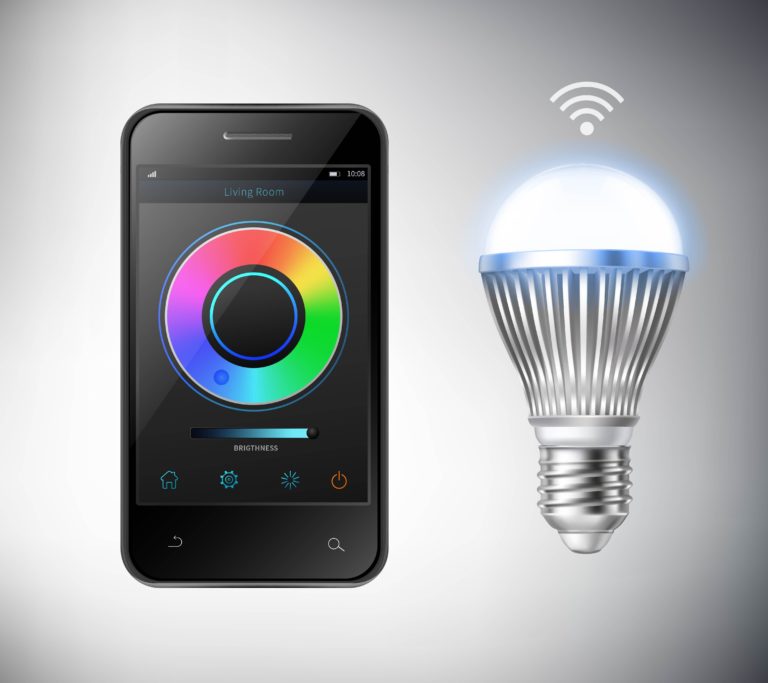 Speaking of Versatility…
Beyond dimming or even using your lighting as a sound delivery system, many people want to come home to a house full of light without leaving them lit for hours with nobody at home. Brands such as GE Link Bulbs and Belkin WeMo LEDs let the user control home lighting by scheduling illumination at times during the night hours to give the impression that the residence is occupied – a handy feature when residents are on vacation or spending extended time away from home. Sync all the home lights together through a hub to control them with a single app.
With Smart light bulbs, users also have the option of emitting light of a designated color without using color filters. These aren't mere rainbows; for example, the Flux Smart LED light bulb provides a spectrum of 16 million+ hues. Simply select the desired color from the color wheel in the lamp's app. LEDs have the reputation of delivering "cool" white lighting (e.g., a correlated color temperature or CCT of 5,000 – 6,000 Kelvin) as opposed to the "warm" lighting commonly associated with platforms such as high pressure sodium (HPS) lamps. Yet LEDs can be easily adapted to any color temperature. They can set the mood at Christmas parties (think red and green lighting). Or use LEDs as accent lighting to "wash" walls with low intensity illumination, thereby changing the surface's color.
CCT does matter: light helps regulate a body's melatonin production and a body's circadian rhythms. The C Sleep Smart bulb by GE helps suppress melatonin levels in daylight hours while increasing them at night when bedtime approaches. It starts in the morning as a "cool" (7000K) light, then gradually changes into "warm" color temperature (2,500K – 4,000K) as evening draws nigh before dimming at bedtime. No hub is required.
A Smart Lighting Setup
Below is a brief CNET Video demonstrating a smart lighting setup for a home:
Specialized Smart Light Bulbs
The combination of electronics with lighting platforms has spawned a proliferation of ingenious products. Consider this list of "Gee, I wish I would have thought of that" light bulbs:
The SmartCharge LED bulb provides a battery backup that kicks in automatically whenever power goes out. It fits the standard Edison screw connector, emits light for up to 4 hours without recharging and recharges whenever the current is on. Incredibly, the bulb can be turned off and on from the wall switch even during a power outage. It's one of the simpler LED lighting options available: no app, internet connection or rewiring needed. Radiating 650 lumens of light (comparable to a conventional 60-watt incandescent), it uses 8 – 11 watts with a CCT range between "warm-yellow white to cool blue-white (2700-5000K)." Note that the SmartCharge cannot be dimmed.
Using Bluetooth technology, the BeOn Smart bulbs have the usual capabilities available from apps (even a one "tap" to turn on all the house's lights) but also have built-in microphones that "recognize the sound of your (home's) doorbell… and turn on in response… (even) in a sequence –  upstairs first, then the stairway, then the living room  –  to (give the appearance that) you're making your way to the front door." Likewise, these Smart bulbs recognize the sound of the home's smoke, radon or carbon monoxide alarm. They even "learn" the lighting habits of the home as lights are turned off and on. Using the 'Away' mode, they utilize these off/on sequences automatically to give the impression that your home is occupied. These are 13 watt lamps with a brightness of 800 lumens and a CCT of 3,000K.
You may be one of those who gripes about Wi-Fi coverage in your home. Complain no more; the Sengled Boost bulb serves as a Wi-Fi repeater/extender, boosting the signal to the far reaches of a home by using the power of a light socket. No unsightly wires or power outlets are necessary. Unfortunately, there are a few consumer beefs about the product. For one, turning off the light switch kills the repeater – the app is needed if one wants to turn off the light without losing the Wi-Fi signal. Also, as of January 2016, the product doesn't use the latest Wi-Fi protocol (802.11ac)/5.0 gH. Only older 2.4 gH networks are compatible with the Sengled Boost. However, by daisy-chaining a few of them, one should be able to direct the signal to where it's needed. Note these bulbs only dim by using the app, not with wall switches. They emit 550 lumens with a CCT of 3000K.
Coda
If Smart bulbs are your first foray into IoT, know that there are a variety of wireless standards that can run all the gadgets in your home. Keep it simple: use devices that are compatible with each other. A SmartThings hub runs SmartThings-compatible products. Same for Wink. Also consider how you plan to control these devices. Consumers typically use smartphone or tablet apps to ride herd over a home's appliances. One recommendation for an iPhone is the Apple Homekit, which also provides Siri voice control. Other starter kits to consider are Nanoleaf Smarter Series and Philips Hue. The most versatile hubs appear to be Samsung SmartThings and Wink hubs (see below), which are compatible with numerous home automation protocols. For a more in-depth look at smart hubs, refer to this article from securitygem.com.