What is Google Fiber? It's a fiber to the premise service (FTTP) combining internet and cable TV in a blisteringly fast 1,000 Mbps (1 Gbps) broadband connection. Depending upon location, optional features include "fiber phone" service, the Network+ Box (a gigabit router specked to the latest WLAN protocol of 802.11a/b/g/n/ac), a two terabyte (equivalent to 2,800 CD-ROMs or 440 DVDs) DVR and one terabyte of cloud storage.
Following a frenzied competition of over 1,100 communities vying to be the first to host the service, Google Fiber (GF) launched in the Kansas City metro area in February 2010. Subsequently expanded to include Austin and Provo in April 2013 and later Atlanta and Nashville, GF looks to next conquer San Francisco, San Antonio, Charlotte and Raleigh-Durham. According to the company, the service even has the "potential" to be implemented sooner rather than later in American megalopolises like Chicago and Los Angeles. When considering where to implement GF the company evaluates factors like franchise agreements, the community's local topography and existing utility networks.
Below is the current schedule (plus applicable taxes and fees) for GF service plans as of 8 May 2016:

| Plan | Gigabit + TV | Gigabit Internet | 100 Mbps Internet¹ | Basic Internet² |
| --- | --- | --- | --- | --- |
| Internet bandwidth (download) | 1 Gbps | 1 Gbps | 100 Mbps | 5 Mbps (0.004883 Gbps) |
| Internet bandwidth (upload) | 1 Gbps | 1 Gbps | 100 Mbps (?) | 1 Mbps (0.000977 Gbps) |
| TV service included | yes | no | no | no |
| Construction fee | none (with 1 year contract) | none (with 1 year contract) | none (with 1 year contract) | $300 |
| Monthly recurring fee | $130 | $70 | $50 | Free³ |
| Storage included | 1 TB Google Drive | 1 TB Google Drive | ? | None |
| | 2 TB DVR (8 Tuners) | | | |
| Hardware Included | Network box | Network box | Network box | Network box |
| | TV box | | | |
| | TV remote control | | | |
| | 8-tuner DVR | | | |
¹ Not available in Austin or Provo
² Available only in Austin and Provo
³Not in perpetuity. In KC, which no longer has the Basic Internet tier available to new subscribers, "Basic Internet at $0/month is guaranteed for up to 7 or 10 years per address… depending on when (a subscriber) signed up for service and whether (a subscriber) live(s) in a house, apartment, or condo."
Google Fiber TV Box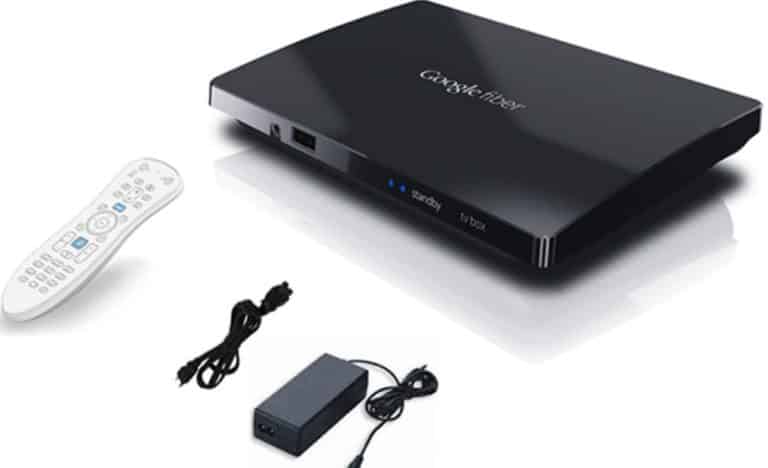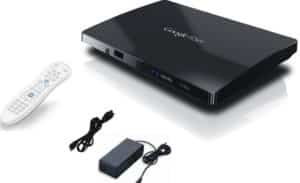 Images Source: Google
Google and the Google logo are registered trademarks of Google Inc., used with permission
From High Speed to Warp Speed Overdrive
The megaspeeds GF offers, even at the 100 Mbps tier, mark a tremendous improvement over the average broadband speeds readily available to most American consumers. Although many urban areas in the U.S. have made recent impressive strides in improving broadband download speeds, for years the nation was considered a laggard in providing high speed internet access. As of March 2015, with an average broadband (not mobile) download speed of 34 Mbps, the U.S. had moved ahead of European nations such as Germany and the United Kingdom. Still, at 27th of 199 countries, America is far behind industrialized Asian countries like South Korea and Japan which boast average download speeds of 84.31 Mbps and 60.49 Mbps, respectively. Not coincidentally, both nations have inherent advantages of high population density and relatively small geographical areas, which lowers infrastructure costs and ensures a viable subscriber base.
Speed Tests and Ease of Use
A tech-savvy GF user notes, "Few content providers (are) able to serve content at speeds (which) Google Fiber is capable." Nor can most wireless devices take advantage of GF's speed. On the other hand, GF's broadband allows for a plethora of simultaneous applications with no service degradation. No longer will a gamer be kicked offline just because Mom starts up a YouTube vid or streams a movie.
Google TV uses a new standard called Multimedia over Coax Alliance (MOCA) that allows the network box to interface with TVs using a building's existing coax cable. Additionally, MOCA utilizes a 100 mbps ethernet connection to a modem that serves as "wireless range extender." By using both IR and Bluetooth signals for communication between the network elements, there's no need for a direct line of sight in order to adjust volume or change channels on the TV.
Another convenience is the account management tool, which allows the user to "open any port… without Google blocking it… as long as (the connection is not used) to host commercial servers." And you can use the GF app to make your smartphone a remote for the TV.
Who Has the Fastest Horse and the Best Mousetrap?
Google Fiber's two main FTTP rivals are Verizon FiOs and AT&T U-verse. Both offer triple-play communications including broadband internet, VOIP and IPTV. However, perhaps hamstrung by their regulated rate-of-return, monopolistic legacies, Verizon (formerly GTE) and AT&T (acquired by SBT/Southwestern Bell, the last standing RBOC) have proven less than adept at rolling out signature cutting-edge telecom products. Websites such as Consumer Affairs and Att Complaints and Reviews bristle with consumers complaining of shoddy service, deceptive business practices and exorbitant billing rates.
Moreover, not all customers have true FTTP.  Some subscribers have fiber to the node (FTTN), with copper used for "the last mile" to the customer interface. Other infrastructure deficiencies include mitigating "internal network management factors" and  limited "device capabilities." Hence, even though U-verse's High Speed Internet 1000 (1G) advertises speeds up to 1,000 Mbps, AT&T issues a YMMV disclaimer that "actual customer speeds… are not guaranteed." Quantum, the top tier FiOS broadband product, claims speeds up to 500 Mbps. Naturally this boutique product comes at a premium: $300 per month (one year promo rate is currently $270/month). Other details in the fine print include a two year contract with a $165 ETF, a "setup" fee up to $150 and modem with WiFi costing $199 upfront (or $10/month). Given the rate schedule shown in the table above, it's little wonder cities across America clamor for GF. As a Kansas City resident says, "You will be hard-pressed to find a more valuable set of options for internet and TV than what Google Fiber offers."
Watch TV Anywhere
Like its competitors, GF has over 200 basic channels available plus optional movie, sports and Spanish language packages which potentially adds dozens more channels to your TV lineup. And like U-verse and FiOS, GF's 'TV Everywhere' allows subscribers to watch television programming on their mobile devices at home or away. In fairness, U-Verse/DirecTV is probably a better choice for the rabid football fan since they offer on-demand SEC and NFL Sunday Ticket programming.
GF HD content is reported to be at least comparable to its competitors, with "crystal clear" images.
Note that "Google Fiber mobile apps run on Android devices running 4.1 Jelly Bean or later and on all iOS devices running version 6.0 or later."
What to Expect When Google Fiber Creates a  'Fiberhood'
See video below:
Herein is where most complaints about GF arise: utility construction. Landowners cite property damage to lawns and landscaping, trespassing, traffic congestion, failure to remove construction debris and blockage of storm drains.
Caveat Emptors
Remember the one year commitment to GF shown in the table above? Think about that if you're a renter and want (or have) to move when your one year lease is up. The commitment starts when the service is hooked up to the residence, not when it's ordered. The interval between ordering GF and its hookup can anywhere from three to six months. As alluded to previously, wireless speed is only as fast as the slowest connection. Also, users have reported system stability issues (i.e., frozen screens and remotes). Incredibly, there are also reports that GF remotes can't be used in dark rooms. There are also gripes that the GF system no longer has the capability of streaming music and files from home computers. And, as of November 2015, if the movie channel AMC or some PPV events are absolutely necessary for your household, GF is not an option.
Coda
Google Fiber is, like the core search engine product, a subsidiary of the holding company Alphabet and retains much of the entrepreneurial spirit on which its parent was established in 1998. Innovative, environmentally responsible and quirky, the company exudes a vibe much different from the staid branding of its buttoned-down competitors. What's more, GF is less expensive than FiOS or U-verse, especially at higher speeds.
In less than 20 years, Google has created an enviable brand. Let's hope that the company can solve the issues surrounding GF. Consumers want a viable option to the apparent indifference shown by telecom and cable providers. When one considers the price and speed Americans pay for internet access, we can only hope that the competition offered by Google will improve the service offered by others.
Save
Save