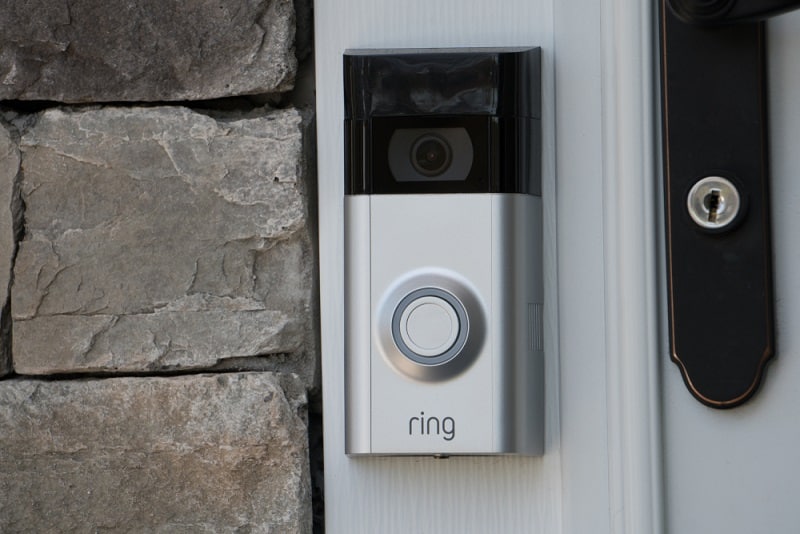 Wireless doorbells are handy gizmos. They're like microwave ovens; once you have one, you'll wonder how you got by without it. A de rigeur part of today's smart, connected homes, they do more than just announce a visitor at the door. Thanks to Wi-Fi, a wireless doorbell can serve as a virtual keeper of the castle while offering a number of bells and whistles, if you'll pardon the phrase. We explain below.


Locked and Loaded
Perhaps the most important job a wireless doorbell can do is lock and unlock doors. By releasing a door's electric strikes using wireless signals, a home/business owner can remotely admit a visitor at the push of a button. One need not be a locksmith or an IT wizard to install a wireless doorbell with a locking system. A magnetic lock system—as opposed to an electric strike lock system—is even easier to install. For a primer describing differences between the two, see here. Kits, some using keypads, are available from Amazon.com.
Take for example Toledo Lock's Electric Magnetic Door Lock ESX-600 & Wireless Buzz-In Remotes system. Compatible with proximity door entry keypads, this complete magnetic lock system comes with a remote control set consisting of electronic buzzer, on/off switch, batteries (optional—supplies power to keep door locked in case of a power outage), digital timer and alarm. The buzzer includes a power supply kit and cable. Incredibly versatile, they work on virtually any door—even sliding glass doors. This electromagnetic lock system is rated at 600 lbs with low 12 DCV power consumption.
Tubular Bells
Of course, not everyone wants to rewire their premises just to enjoy the benefits of a <ahem> wireless doorbell and a home intercom system. Old school doorbells are typically incorporated into a building's wiring system, creating an electrical path from button to chime box. While almost all legacy doorbells are capable of only one tone, modern wireless doorbell systems can easily use more than one chime box. They even offer a privacy feature, going silent on command. If protection from intruders is not a paramount issue, then a number of options are available to the home or business owner, such as customizable chimes, remote access and self-limiting radio frequencies.
Thanks to the extended frequency ranges of today's wireless doorbell—which can span over 300 feet—they're versatile enough for a variety of applications. Most any large space can avail the convenience of a wireless doorbell: warehouses, office buildings, large multi-floor homes, farms/ranches, etc. For locations with multiple entries, they can be especially helpful since a wireless doorbell system can include multiple receivers homed to the same frequency. Use a different-sounding chime to identify an specific entry point when visitors announce their arrival. Moreover, frequency range can be extended with a bridge or add-on.
Always Home
Since there's an app for everything these days, naturally there's a wireless doorbell app. Integrated into a home security system, a wireless doorbell app can announce visitors to the homeowner even when he's a continent away. One such example is the Ring Wi-Fi Enabled Video Doorbell, which includes two "stick up" outdoor security cameras enabled with bidirectional audio and Wi-Fi chimes. A truly comprehensive home security system, the cameras also serve as motion detectors that can send alerts via Wi-Fi to the homeowner. Solar panels are even available to keep the cams' batteries fully charged. Ring cameras can clearly identify visitors (or intruders) during nighttime hours.
A more standard choice is the Ring Video Doorbell Pro. This Amazon #1 Best Seller features 1080p wide-angle HD video, night vision, two-way talk and is motion-detection activated. Note that it requires an existing hardwired doorbell. Apps for both products are available on Android and iOS devices; an app for the Wi-Fi Enabled Video Doorbell is available for Windows 10.
This JBTech video explains the Ring Pro product in detail:
Others Chime In
For those seeking "just" a wireless doorbell, there are plenty of choices to consider. Below are several products available on Amazon:
From Dakota, there's the Alert DC-1000 and the Alert LH-2500/DCR2500.
The DC-1000 has a range of up to 1,000 feet and a selection of 16 separate tunes for chimes. It consists of a wireless push button, which operates on one "C" cell battery, and a base unit which requires three "C" batteries. The UT2500/DCR2500 kit includes a transmitter (UT2500) and receiver (DCR2500) with a range of over 2,000 feet. Both the transmitter and receiver come "pre-paired" from the manufacturer.
This video gives a brief overview of the UT2500 from Guardline:
Jacob Jensen Wireless Doorbell
For those wanting a sleek and elegant product, the Jacob Jensen Wireless Doorbell System features adjustable volume with five melodies and a range of up to 450 feet. Weather-proof and easy to install, it comes with a coding system to ensure no other wireless devices interfere with the doorbell signal. Additional bell pushes and chimes can be added on.
Again from Guardline, everything you need to know about the Jacob Jensen Wireless Doorbell:
Consumers seeking a product with brand recognition can opt for this portable wireless doorbell/door chime and push button. Operating on three "AA" alkaline batteries, it features three chime melodies, three visual alert icons, adjustable volume and an operating range of 250 feet. This wireless doorbell works with up to six transmitters, meaning that it can assign a single chime at six different locations, and it can be paired with motion detectors and other accessories. Range extenders for larger homes are also available.
Here's an overview of the RCWL300A1006 from the Honeywell Store:
Coda
As are many other items found in today's connected home, smart wireless doorbells like the Ring Wi-Fi enabled video doorbell are an integral part of the Internet of Things (IoT). As such, these products are essentially computers with IP addresses  and passwords. Thus, they're vulnerable to hacking and can be turned into wireless access points. Read this to protect your privacy and help prevent your device from being used as part of a DDos botnet attack.