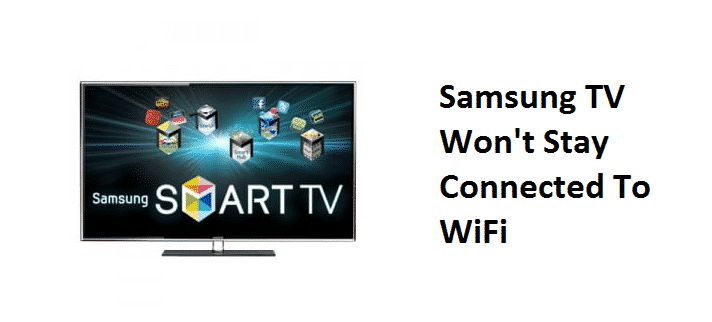 Samsung has become an electronic staple for every household. It doesn't matter if you've to buy a TV or a refrigerator with smart features, Samsung is the ultimate choice. Over the years, Samsung Smart TVs have gained popularity for huge screens and vivid graphics. On top of everything, their internet connectivity is top-notch. Samsung Smart TVs are designed with Wi-Fi connectivity features that settle with advanced tech paradigms.
On the other hand, there have been complaints about people not being able to establish an internet connection on Samsung Smart TVs. So, in this article, we have outlined the troubleshooting methods and a set of solutions for optimizing the internet connection. Have a look!
Samsung TV Won't Stay Connected To WiFi
1) Firmware
If you've used Samsung phones, you'd have an idea about regular updates. Similarly, Samsung releases firmware regularly. With this being said, an outdated firmware can lead to internet connectivity issues. The outdated firmware will adversely impact the configuration settings, leading to slow internet connection or connection drops.
2) Bugs
Ever since the Samsung Smart TV launch, there have been complaints about default bugs in smart software. This bug would corrupt the configuration settings and cause network issues. In this case, you'll need to reset the configuration settings to optimize the internet connection.
3) Address Block
Every device has a unique address that it utilizes to establish an internet connector with a router. However, these addresses are sometimes blocked by internet service providers or users. If this is the case, your Smart TV won't connect to the internet unless the address is unblocked. If you weren't behind this address block, contact your internet service provider.
4) DNS Settings
If your DNS settings aren't correct and have errors, the TV will have a hard time establishing an internet connection. In addition, it can cause a connectivity conflict between router and TV. If this is the case, you need to manually change the DNS settings to release internet connectivity. While changing the DNS settings, change it from 8.8.8.8 to 8.8.4.4 for a robust internet connection.
5) Restarting
If your Samsung Smart TV is showing connectivity errors, restarting the TV will fix the corrupt settings. For the proper restart, switch on your TV for five minutes and take out the power cord directly. Let the TV rest for at least half an hour and switch it on for establishing a streamlined internet connection.
6) Internet Power Cycling
There are high chances that your Smart TV is perfectly fine but the internet signals can mess up sometimes. It is suggested that you power cycle your router and modem. For power cycling, take out the power cords of modem and router, wait for at least one minute, and switch them back on.
7) Hard Reset
If your Samsung Smart TV is showing internet connectivity issues, hard resetting the TV will probably fix the issue. For hard reset, follow the below-mentioned steps;
Press the power button on remote
Keep pressing the button until the TV switches off, and Samsung logo comes on
Let go of the power button and error will be fixed