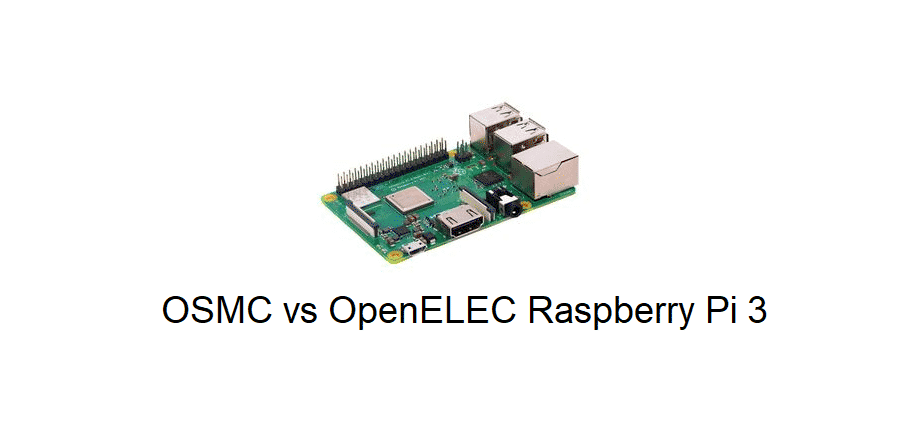 Raspberry Pi is small chipboard manufactured by the famous company Raspberry Pi foundation. The devices have been improved throughout the years and have now been equipped with lots of features. You can use these low-cost boards on your television, computer, or even a monitor. These can then allow users to control their display using any standard type of mouse and keyboard.
Their overall size is so small that you won't even notice that a device has been installed on your system. These Raspberry chips are capable of allowing users to access and learn different programming languages. Which includes both Scratch as well as Python.
You should note that the Raspberry Pi 3 can run on up to 3 operating systems, out of which OSMC and OpenELEC are the best options. If you are also using this device and are confused about which one to go for. Then this article should help you in deciding which one will be better for you.
OSMC vs OpenELEC Raspberry Pi 3
OSMC Raspberry Pi 3
While OSMC was originally built on the same platform Linux as the other operating systems. Some things make this OS unique when compared with the others. OSMC allows users to turn their device into a media studio which can then be used for their learning and programming usage. Although, you should keep in mind that this OS was originally made to be used by all the different types of hardware.
It was then changed later on to work only with support to Raspberry Pi 3. Due to this, OSMC works more like an accrual operating system when compared to the other systems. You can run a bunch of programs on it and perform different tasks which cannot be done on OpenELEC. This makes the OSMC a unique OS that can run other software on it as well as Kodi at the same time. You can find the list of supported programs by this operating system by taking a look at its specifications.
This also shows the process to install it on your device. You can easily use the automatic installer provided by the company to begin the installation process. This takes out all the complex procedures of having to configure all the files. The only requirement for you is to select the main language and then just accept the terms and conditions. You can then start enjoying the OSMC operating system on your Raspberry Pi 3.
OpenELEC Raspberry Pi 3
OpenELEC looks like a similar OS to OSMC at a first glance but there are major differences between these two. OpenELEC is a small system made on Linux that was built for scratch just to be used on the Raspberry Pi 3.
Although that was the case, you can still use it on several other platforms as well. These include Cubox, We Tek, and even some Intel-based systems. The OS is extremely simple to use and you can use Kodi to learn programming skills without any problems.
Though, users cannot use any other applications on their system aside from that. One other downside of choosing the OpenELEC over OSMC is that the procedure to download it can be quite confusing for some people.
You have to visit their website, where the download link is given. You can unzip the picture given there and then open it up on your system. It shows the procedure to download the OS as well as which version your device will support. People who do not have any prior knowledge about installing systems like these can find it difficult to follow these around.
Considering this, if you are also having any issues then it is better that you follow a guide given online. This will help you out in configuring all the files. The only upside of using this system over OSMC is that OpenELEC is notably faster in performance. This is because the system only has to run one single program for its users while the other allows for multi-tasking. In the end, it is up to you to decide which one will be better for your use.
If you want to only use Kodi then OpenELEC is the best option for you. However, if you want to work on other projects along with your programming then OSMC will be better suited for you.