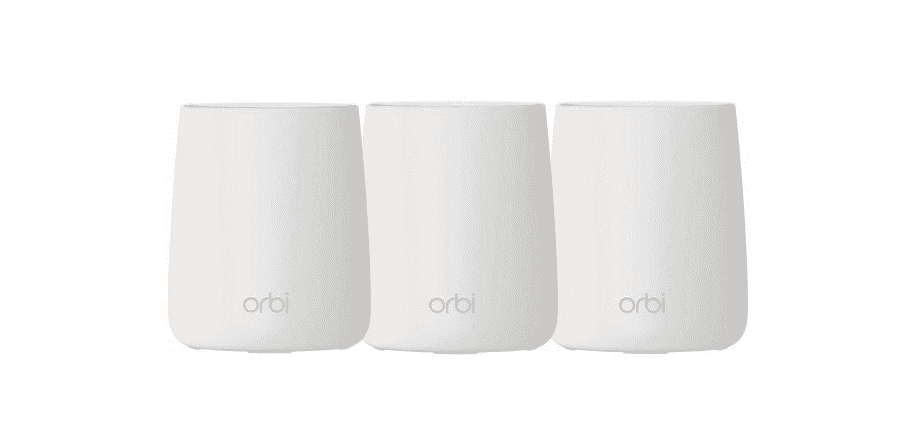 Orbi develops some of the best options out there when it comes to having the right internet equipment. Orbi is basically a series from NETGEAR that is for state-of-the-art routers and whole-house Wi-Fi systems.
These are some of the best routers that you can possibly get your hands on in the market and these will help you out perfectly in making things work for you in a better manner. These routers are not only the right choice for having best service and network coverage for your Wi-Fi with optimal stability, but there is a lot more to it.
These routers also have the best speed on them, and there are tons of additional perks that you can enjoy.
Most of the Orbi routers are Gigabit routers and that will help you in making the best use of your internet speed. These routers are simply best, and there are some of the best systems that you can find on the Orbi series.
If you are looking for the best possible router from Orbi series, here are a few of the top options and a comparison between their features so you can make a decision that will suit your needs perfectly.
Orbi RBK23 vs RBK22 vs RBK40 vs RBR50 vs RBK50
ORBI RBK23
ORBI AC2200 also known as the RBK23 is a whole house mesh Wi-Fi system from the NETGEAR that is truly amazing and the best choice for anyone who is looking to get their hands on something that can really get the job done and has some of those bells and whistles attached to it as well.
RBK23 is basically a combination of 3 devices that include one router and 2 satellites that you can also call Wi-Fi boosters in layman terms. These 3 together ensure that you are getting the perfect edge of networking on the router.
Coming to the performance part, these are simply the best possible router system that you can get out there in the market. The top data transfer speed on the RBK23 is 2.2 GBPS that is enough to get you an ample speed for the whole house's needs that you might have for all different sort of purposes including the gaming, streaming HD videos and a lot of other stuff.
Simply put, you can manage multiple high-end devices on the same router and Wireless system without having any such problems at all. The tri-band mesh technology ensures that you are getting the perfect edge of networking throughout the place as it creates a strong network that is not easy to go down.
With RBK23 installed, you will forget what having weak Wi-Fi signals or interruptions on your network feels like. As long as your ISP is providing you good speed and there are no issues on the network from their end, you will have absolutely nothing to be worried about and you will be enjoying the right experience. RBK23 covers up to 6000 sq. feet and that is pretty much enough for any household.
The design on these devices is simply aesthetic, high-end and you will have the right vibes just by taking one good look at these routers. The best part about ORBI series is their design and from the materials used to ensure these devices feel premium and are durable, you will get a white design with blue lights on top that will glow when the system is operational and you will be enjoying the perfect aesthetics, no matter where you have placed the router.
RBK23 will make you want to place your router at some place where it is visible instead of hiding the router away like you have done otherwise with some other networking solution available in the market.
RBK22
If you are awed by the features that you are getting on RBK23 and want to save some bucks as well, since you don't necessarily need such huge area coverage from your Wi-Fi network, then RBK22 would be just the perfect choice for you to have.
RBK22 is basically based on the same AC2200 Wi-Fi system from NETGEAR and allows you to enjoy true perks of networking at an affordable rate. The pricing is less, and that is not an issue for most of the users as you will be getting access to all the premium features that are pretty much the same as you are getting on the RBK23.
In addition to all that, the RBK22 system also supports the network speeds up to 2.2 GBPS and that is pretty much enough for all sorts of needs you have. This is a Tri-band mesh system that makes sure that the communication between all your devices is being done optimally and that you never have to face such issues with the network stability, weak Wi-Fi signals or slower internet speed due to excessive traffic on the network.
In short, as long as you are getting the right internet connection and service from your ISP, there are no issues that you will have to be worried about.
The main differences that you get on RBK22 from the RBK23, is that there is one satellite less and you will get 1 router and 1 satellite. Another difference that you will be getting on this system is that you will be getting 4000 sq. feet of coverage instead of 6000 sq. feet that you get on the RBK23 system.
Yet, if you don't go with the numbers, 4000 sq. feet is more than enough. Actually, it is more than average household in the US and you don't need such huge coverage space either, unless you are living on some ranch or a farm and you want Wi-Fi connectivity across the property.
So, you can get the RBK22 system instead and enjoy a premium Wi-Fi experience that will meet all your needs and provide you a seamless experience with Wi-Fi connectivity round the clock. The design is pretty much the same, and you get that perfect build quality and right aesthetics that are on RBK23.
RBK40
RBK40 might look the same for you as RBK22 if you are not in for technicalities. It is also based on AC2200 NETGEAR internet system, but the major changes that you are getting are under the hood. Basically, if you talk about the similarities, there are multiple that will cause you to have a confusion. There are 2 devices in the RBK40 system as well, that are one router and one satellite for optimal connectivity.
That will ensure that you are getting a stable internet connection all over the place. Yet, there are some other changes under the hood that you will need to know about before you can make a purchase decision. The Wi-Fi mesh system also provides the optimal network coverage for 4000 Sq. feet that is pretty much the same as RBK22 and that is all that will matter to a normal user.
Yet, the price for RBK40 is comparatively lower than that of RBK22 and that is for good reason. The main difference is between the router and on RBK40 you will be getting the ORBI RBR40 router and RBS40 satellite.
Both of these routers and the satellites are comparatively of older model and they can offer a speed of up to 400 Mbps for data transfers over the Wi-Fi network. This way, if you are not looking for such high speeds, as you only need some basic Wi-Fi connection to meet the daily needs of internet like some light streaming or internet browsing, then the RBK40 system would be just the perfect choice for you to have.
Except the speed, there is not many major differences. The Tri-band Wi-Fi system has the support for 1 2.4 GHz frequency and 2 5 GHz frequencies to ensure that you are getting the perfect edge of network stability and a strong networking experience round the clock. This way, you can keep all the devices connected to the Wi-Fi network simultaneously and there is nothing that you will have to be worried about.
There are also four 1000 Mbps Ethernet ports each on the router and satellite both so you can connect those devices wired through an ethernet connection that you need better speed for.
RBR50
RBR50 is a Tri-Band router that is from the AC3000 series. It is the next gen router that offers a lot more than any ordinary Wi-Fi router that you can get out there in the market. There are no satellites included, so you might have to compromise a bit on the network coverage at times. Still the network coverage is not that bad either and it can easily cover an area of 2000 sq. feet.
That might be slightly lesser than the other networking systems like RBK40 or RBK23, but it is ample to power the Wireless networking needs of a small/medium sized place without causing any major problems at all.
Not only that, but there is a lot more to it. The router can support the networking speeds for up to 400 Mbps on the Wi-Fi and that is pretty much right to cover all the needs for your home.
There are also 4 Ethernet ports on the back of the router, that will get you a data transfer rate of 1000 Mbps so you can connect the gaming PCs or those devices that need more internet speed to work optimally.
The router is designed in a vertical shape with round structure that will make it look like a high-tech gadget that you can place on any of those shelves out there and enjoy a perfect aesthetic experience with the designing.
The convenient cable placement design at the back of the router will make it easier for you to manage all those cables and avoid the clutter as well. The tri-bands work simultaneously so you can connect all different sorts of devices on the network at the same time.
Not only that, but there is a lot more to it and you will be enjoying the capability to add up to 3 satellites with the router if you need to extend the network coverage area for your Wi-Fi system.
RBK50
RBK50 is the best possible system and you can call it the most prized gem of their Orbi series from NETGEAR. This is basically a system that got all the different perks and features that one can need to get the job done for them.
The RBK50 system comes with one router and one satellite and this Tri-band mesh system can support the data transfer rates of up to 3 Gbps that is more than the network or data transfer speed you can get on any other option out there.
That will ensure that all your high-speed internet needs are met properly and you don't have to feel any such issues with the internet speed as long as you are getting the appropriate speed on your connection from your ISP.
In addition to all that, the Tri-band capability of this system ensures that you can connect all the different devices with both 2.4 GHz and 5 GHz that will make your whole connectivity experience a whole lot better.
Moving forward, the system is capable of covering the area of 5000 sq. feet on its own that will be more than enough for any household.
Yet, if you feel like you are getting some low signals in some corners or you might want to extend the coverage area for your Wi-Fi network, you can get up to 2 more satellites installed with this system and that will make the whole experience a lot smoother for you. Overall, this mesh system would be just the perfect choice for you to have.
These are some of the best networking options from NETGEAR and Orbi series never disappoints. These routers and internet systems are simply best in all terms ranging from the right connectivity, coverage area, speed and aesthetics.
You will have to make a decision based on what your needs are and which of these systems will fit the needs right for your internet connectivity experience.