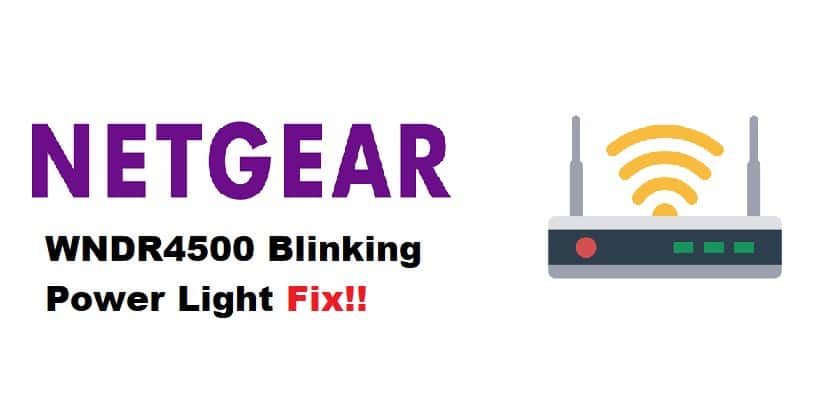 LED light displays on your routers and modems can be very useful in diagnosing any problem with your device. Oftentimes, you may not be able to interpret an issue if it isn't for the LED lights on your broadband devices which tell you why your device is behaving in a certain way.
Having said that, many users have passed a query regarding the NETGEAR WNDR4500 blinking power light. Therefore, this confines your situation to a power-related issue. If you are also wondering about the fix to this problem.
Troubleshooting NETGEAR WNDR4500 Blinking Power Light:
Corrupt Firmware:
The most important component of your broadband devices is the firmware. It ensures that your device runs smoothly and that necessary operations are performed more efficiently. According to the NETGEAR WNDR4500 user manual, your router's power light blinks because the firmware is corrupted. This is common when your firmware is downloaded but not installed in your router due to power issues.
TFTP Client:
TFTP client is helpful when your router fails to perform due to issues during the firmware update. Therefore you can use the TFTP client to install the firmware on your NETGEAR WNDR4500 manually.
The TFTP process for uploading your firmware can be a bit longer so it is recommended to visit the NETGEAR site for an elaborated procedure. Make sure you follow it step by step for recovering your firmware.
Hard Reset Of Your Router:
When nothing seems to work, a factory reset can help to narrow the scope of the problem. If you have tried everything to get the blinking power light to go away but have been unsuccessful, consider performing a hard reset on your router.
To achieve this purpose, locate the reset button at the back of your router and press it using a paperclip. Hold the button for 10 seconds and release. Now your router will reboot itself. Wait until the router gets stable and now your router has been restored to its factory settings.
Disconnect Your Power Cable:
It might not be as complicated as it sounds. Sometimes your router might get in a constant boot loop which causes the blinking power light on the router. Make sure that the cable that you are using to connect your router to the power adapter is in good working order. In addition to that, do not use power strips or power extensions to connect your power adapter. Make sure that your adapter is firmly and properly connected to the router's port.
Contact NETGEAR Support:
If none of the solutions works for you, you should contact NETGEAR customer support and ask for technical assistance. It is conceivable that your router is facing hardware issues. Ask for a technician to look into the issue or ask for a replacement.