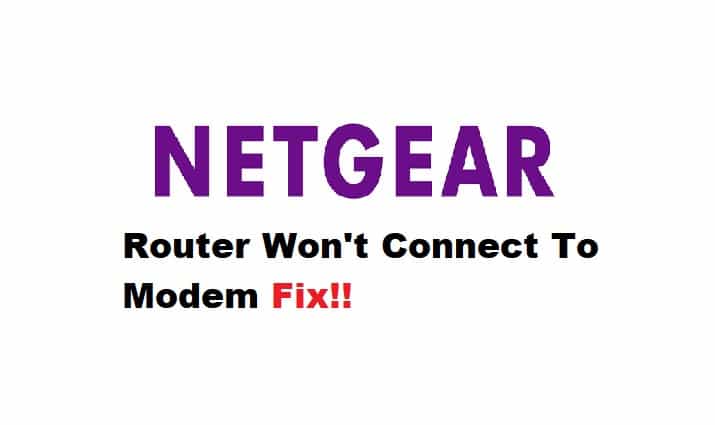 NETGEAR routers and modems are an excellent way to improve your overall networking experience. Because NETGEAR is constantly striving to improve its internet services for its customers, there may be some common issues that can be easily resolved by following simple troubleshooting steps.
Having said that, NETGEAR has received a large number of inquiries about the NETGEAR router not connecting to the modem. As a result, if you're reading this, we're assuming you're dealing with a similar problem. As a result, this article will compile all of the steps required to troubleshoot the problem.
NETGEAR Router Won't Connect To Modem:
1. Restart Your Router And Modem:
Many modem/router problems can be resolved simply by restarting the router. This simple step allows your router to clear cache and temporary memory, allowing it to run more efficiently. Having said that, all you need to do is disconnect your router from all cable connections, including the power outlet, and wait nearly 10 seconds for the device to remain in a dead state. Then reconnect all of the connections and wait for the router to stabilize. This should resolve your problem.
2. Damaged Internet Port:
Another reason for the modem issue is sthe port connecting your modem and router may be broken. It's an often-overlooked issue, but it could be one of the reasons your router isn't connecting to the modem. Connect your Ethernet cable to the internet port and check to see if the respective LEDs light up. If not, try another cable and check the LED status again. If the LEDs do not light up, your problem is due to a damaged or defective internet port. You can contact a NETGEAR representative for technical assistance.
3. Cable Connections:
Another method for determining the problem is to inspect the cable connections. If you have a wired connection, make sure none of the cables are damaged, especially the one that connects your router to the modem. You can also change the cable if the problem is with the modem or router or the cables you're using to connect. Disconnect and reconnect all connections. Check that they are hand-tightened and in their proper ports.
4. Router And Modem Connection:
If you are wondering about the correct cable connection to make between your router and modem, here is a guide to connecting your router to the modem correctly.
Power off the router and the cable and let them rest for 3 seconds.
Now connect the Ethernet cable to the WAN port located at your router. The other end of the cable should be connected to the LAN port of the modem. Make sure the connections are firm.
Next, power on your modem and wait for the LED light to turn on.
Power on your router and wait for it to get stable.
Check to see if the LAN lights are lit. This ensures a successful connection.