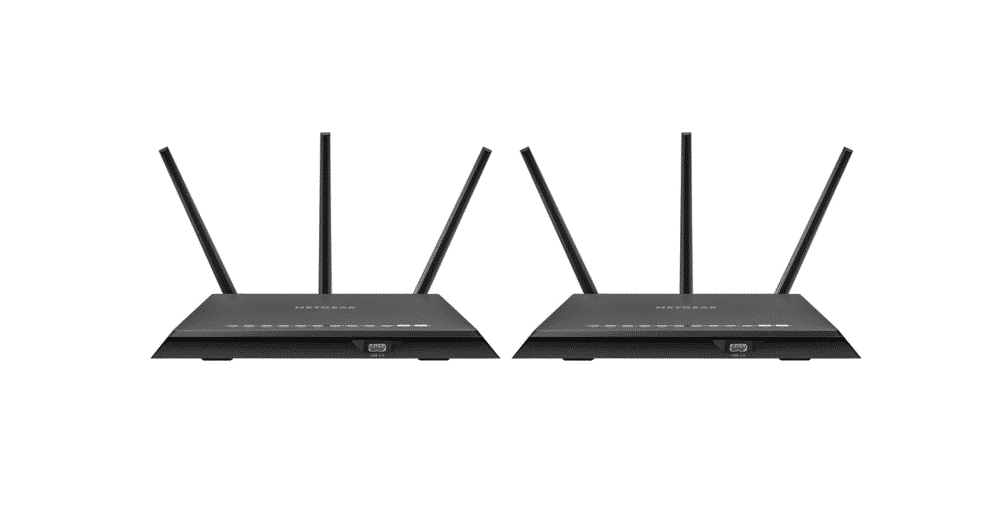 NETGEAR is one of the top brands that you can go-to if you are looking for high-performance, premium networking experience for all the different sorts of needs you might have. NETGEAR is exceptionally good with the routers and modems and their routers exceed the expectations and can easily outperform any other major networking equipment manufacturers when it comes to that.
In addition to all that, you also get to enjoy the right stability, a premium firmware to be used with these router and modem along with the right hardware that will enhance the complete experience for you that you are getting on this router.
NETGEAR has Nighthawk series of routers that is a flagship series that allows you to have the best of design aesthetics and performance in a single place. They are too good to be true, and the features are unbelievable on these routers.
You get r7000 and r7000p, two identical looking models from NETGEAR Nighthawk series that are perfect for all sorts of domestic and commercial applications that you might have. A few key differences and similarities that you must know about them both before making a purchase decision are:
NETGEAR R7000 vs R7000P
R7000
R7000 is the earlier version that gets the best of both worlds. You get three antennas on it for better signal strength and Wi-Fi range along with the perfect design that will make it look like a high-tech device sitting right there on the desk.
The best part is that it suits the gamers perfectly as well who have a thing for aesthetics and want to design their station in the best possible manner.
Moving to the specs part, it got a 1GHz dual-core processor that is the best thing you can enjoy on any premium router out there, 256 MB of RAM supplements the processing and speed flawlessly and you will be enjoying the most seamless experience that you can get on any routers out there.
It is a gigabit router that can support the data transfer speed of up to 1.9 Gbps and you will never have to worry about a thing while you are connected the R7000 with your internet connection.
Moving forward, you also get 5 ethernet ports on the back of your router and 1 USB 3.0 port along with the 1 USB 2.0 port to assist you with all sorts of connectivity needs that you might have. You also get to enjoy simultaneous dual Band support on the router and that way you can make sure that you are connecting all the devices on it without getting any sort of problems or issues at all.
You also get to enjoy the NETGEAR Armor that protects your network from any sort of intrusions and potential privacy attacks and a lot more. In addition to all that, you will be enjoying smart parental controls on the router as well and you can safely install the NETGEAR nighthawk R7000 at your home or office and enjoy all these exclusive features.
R7000P
R7000P is another router from Nighthawk series that looks identical to the R7000 and it is really hard to tell the difference just by looking at them. The design factor is not only the same, but you get the same number of ports on both these routers as well and you will be confused on the factor that what makes them different.
The major improvements are under the hood and that is what would make it the right choice for you to choose R7000P over R7000. While all the processing features are same with the same processor and RAM memory on R7000P as well.
You get to enjoy better speed with the limit exceeded to 2.3 Gbps and that will certainly enhance the whole experience for you. Not only that, but you will also be enjoying the best possible experience as you get Mu-MIMO on the R7000P and it makes the Wi-Fi perform considerably faster on all the devices that you might be using.
MU-NIMO streams to the multiple devices simultaneously, and you will be getting the right speed on all the devices that you have connected with R7000P. Simply put, if you are already using an R7000, it might not be a worthy upgrade, but if you are looking to buy a new router, you should definitely go with the R7000P.