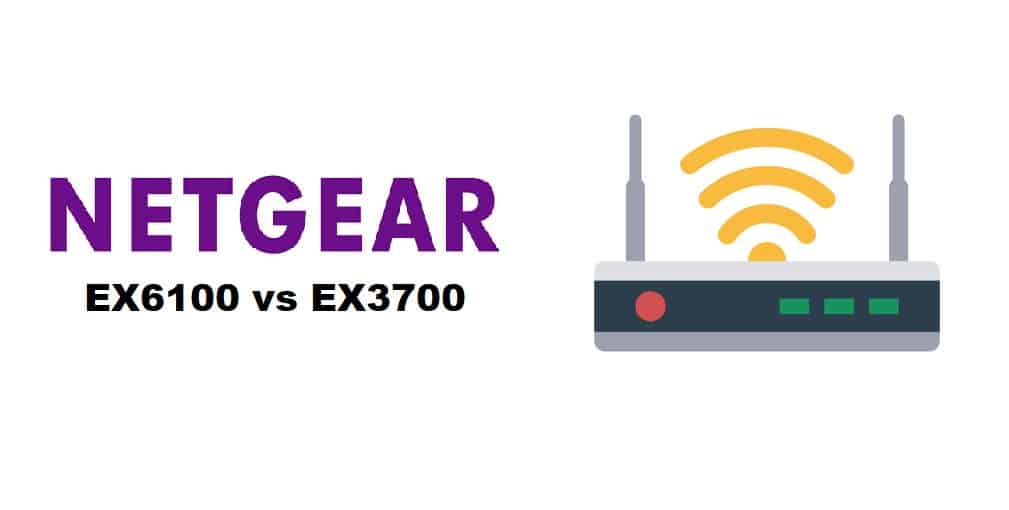 Wi-Fi connections have become essential for every space, be it homes or offices. However, it's common for users to complain about the slow and weak internet signals, and in most cases, it's caused by a farther distance between the devices and routers. For this reason, it's recommended to opt for Wi-Fi range extenders as they help extend the wireless signals to every nook and cranny of your space. So, if you are confused about which range extender to get, Netgear has got you covered with an array of range extenders. To help you make the selection easier, we have Netgear EX6100 vs. EX3700 comparison!
Netgear EX6100 vs EX3700 Comparison
Netgear EX6100
This is an affordable choice for people who are looking for a basic range extender. It's a promising choice for small and medium homes or smaller homes. However, you must remember that there are no USB ports in this extender. It works as an access point or an extender – there is a toggle switch on the side, which can be flipped to operate the unit in the access point or extender mode. In addition to the switch, there is an Ethernet port, power buttons, WPS, and factory reset buttons.
The best thing about this range extender is that it supports the latest wireless technology, 802.11ac. It is a dual-band unit that supports an internet speed of over 300Mbps if you opt for the 2.4 GHz band and around 450Mbps on the 5 GHz band. It has a smaller footprint as it can be plugged into the wall, and there are two external antennas for better signal reception. There are huge LED indicators on the front side, so you can easily keep an eye on the network status.
When you order this range extender, it will come with a chart to help you understand what an LED and its different colors mean. The best thing about Netgear EX6100 is that there is an LED indicator that helps you determine the strength of the network connection. The installation is extremely easy but makes sure you put the extender and router in the same room, or else it will create a dead zone.
On top of everything, the range extender comes with an already set up wireless network. When you connect the extender to the wall outlet, just open the browser-based dashboard, and the Netgear software will configure the setup. In addition, it is a dual-band device, which means you can extend the wireless network on 5 GHz and 2.4 GHz bands.
Netgear EX3700
If you are looking for a push for your wireless network, this wireless range extender by Netgear is a great choice. It's actually available at an affordable rate and offers a reasonable boost to the internet without compromising on the serviceability of the network. It has a slightly bulky design and looks like an AC adapter. There are two antennas on the extender – one on each side. The front side of the extender has a matte silver appearance and has WPS, power, router, and device LED indicators.
The left side of the range extender has a factory reset button, and there are triangular air vents to keep the device cooled down. The best thing about this range extender is that the buttons are easy to push but make sure you don't push the buttons accidentally. In addition, there is an Ethernet port on the right side, which helps create a wired connection.
The range extender has a browser-based setup process, which makes it extremely efficient and simple. In simpler words, you don't need to install any software, and web-based management makes it easier to customize the settings. As far as the internet performance is concerned, the range extender offers 300Mbps speed on the 2.4 GHz and 433Mbps speed on the 5 GHz band. Collectively, the extender offers 750Mbps internet speed.
The Ethernet port has a gigabit configuration, which helps create a high-speed wired connection. It's a reliable choice for people who have space of over 2100 sq./ft., and want to extend the signals to over 80ft of distance. Honestly, it can extend the wireless signals beyond 80ft, but the speed won't be good enough. All in all, it can remove the dead zones in the home!