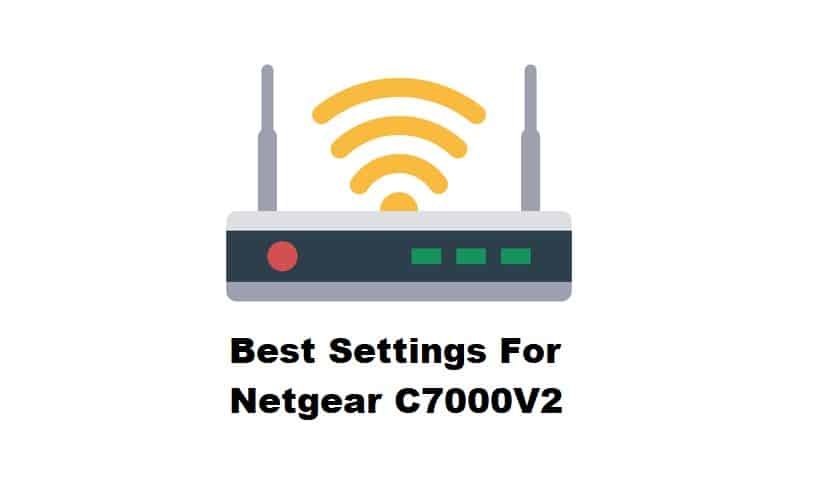 When it comes to using a router/modem combo, the Netgear C7000V2 is one of the finest options to choose from. It features a bunch of benefits that can be used to have a great experience while using the internet.
However, depending on the settings that you have set on your router/modem, you can either have a really bad or great time using the device. This is why it is really important to have the right settings on your router/modem. Through the article, we will be listing some of the best settings that you can have the Netgear C7000V2. So, let's dive right in!
The Best Settings For Netgear C7000V2
1. Changing MTU
MTU or the Maximum Transmission Unit refers to the size of the biggest packet that your router can send. If you are setting MTU on your own, it can be quite challenging. Even though sending larger packets means that you will be sending more data, it can still end up destabilizing the whole network. So, it completely depends on the sort of applications that you are planning to run.
In most cases, Netgear advises that you should always reduce your MTU to a value of 1500-1436, which gives you ideal performance using a VPN.
2. Changing Wireless Channel
Apart from the MTU, a wireless channel is another important setting present in a router which is mainly used to generate wireless signals that avoids any frequency that has interference, making the signal clean. In order to access the wireless channel, you will have to visit the Wireless Settings in your router's menu.
Generally, it is suggested to use channels including 1, 6, 11 because they are the ideal channels that don't overlap. It is also worth mentioning that certain Netgear routers support the feature of dual-band transmission, which is another effective strategy for a clean signal.
3. Updating Firmware
For any router, the firmware installed inside it is responsible for governing all the actions. As Netgear likes to release new updates of firmware every now and then, making sure to be on the latest firmware can help do wonders.
Unfortunately, you can't update the firmware on the Netgear C7000V2 on your own. Instead, you will have to get in touch with your Internet Service Provider as only they are given access to updating your router/modem's firmware.
4. Setting Up Mac Filtering
MAC, or Media Access Control is a technique used to restrict certain network access. Once you enable MAC filtering, most network traffic will be blocked, apart from the particular traffic which is directly coming from an approved MAC address. To access MAC settings, you will have to go to the security tab on your Netgear's router menu.
Even though MAC filtering is mostly used as a security feature, it can also help in improving your network's efficiency by making sure that there isn't any unwanted device that is accessing your network. This results in giving plenty of internet speed benefits because of the bandwidth being equally distributed.
5. Enabling/Disabling QoS
QoS, also known as Quality of Service, is an important feature present in most routers or modems. Depending on your use case, QoS can either end up giving your network performance a boost or a downgrade. This is why we recommend running your network with both the options enabled or disabled.
Try going with the setting that successfully helps your router gives you optimal performance.
The Bottom Line
Wondering what the best settings for the Netgear C7000V2 are? There are plenty of options that you can find on your router's menu which can have a detrimental effect on the performance of your router. These include options like MTU, wireless channel, MAC filtering, and QoS.
Being able to set the ideal options for all these settings can give a major boost to your experience. To learn what best settings for each one of these individual settings is, be sure to give the article a thorough read!