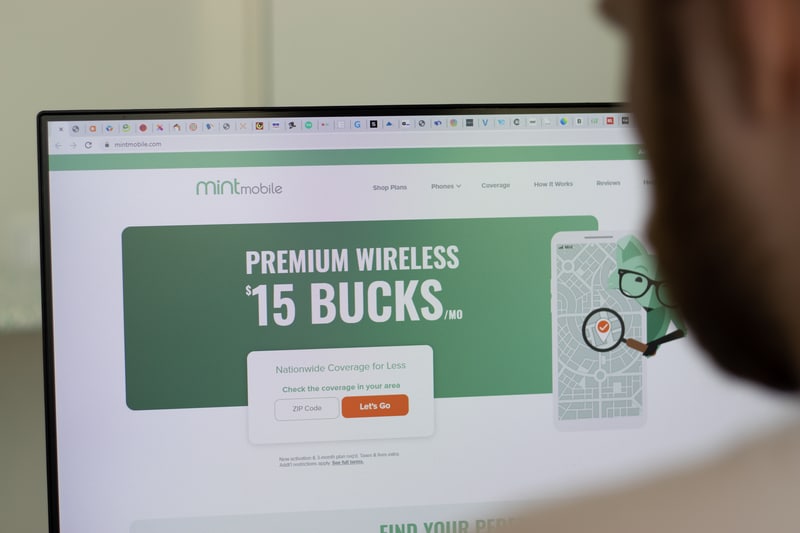 If you're looking for a less expensive alternative to your standard mobile network service provider's heavy data plans, MVNOs like Mint Mobile and US Mobile can be a great fit. These phones use mobile virtual network operators, so you get better operator services while saving money on your monthly data bills.
Because many people are switching to MVNOs due to lower prices, the most common comparison that customers make is Mint Mobile vs US Mobile. As a result, this article will provide a detailed comparison of the two devices and which device is more suitable for all your data needs.
Mint Mobile vs US Mobile MVNO Comparison
Mint Mobile:
Speaking of the Mint Mobile, this device works as an MVNO (mobile virtual network operator). This means that this device does not have a carrier of its own rather it uses the T mobile operator with 5G and LTE to provide you with the best smartphone features at a lower cost. When choosing a mobile carrier service the data plan, to ensure that your streaming, gaming we browsing needs are fulfilled, the coverage, pricing, and features of a carrier should be kept in view.  Having said that, your Mint Mobile supports the T mobile network with an exceptional 5G LTE. You can effectively select from four data tiers, which include 4GB, 10GB, 15GB, and unlimited data packages, into which many users fit. The best part is that these data packages can be purchased at a lower cost than traditional carriers.
Coming to the packages that Mint Mobile offers, you can subscribe to a minimum data plan term of 3 months and your maximum term can hit 12 months. This is very convenient for most users because it includes enough data to cover your overall internet needs. Furthermore, one unique feature that Mint Mobile offers its customers is the flexibility to upgrade a data plan in the middle of the month. If you've already subscribed to a data plan and realize you need more, Mint Mobile has you covered. You can easily upgrade your data plan in the middle by paying the difference, which is a convenient feature for many users.
Talking about the data plans that Mint Mobile offers you can easily select a 4GB data plan for 3 months at 25$ per month, 6 months data plan at 20$ per month, and 12 months data plan at 15$ per month. If you want to select a 10GB plan then you will have to pay 35$ per month, 25$ per month, and 20$ per month for three, six, and twelve months respectively. In addition to that you can also purchase a 15GB data plan with 45$ per month, 35$ per month, and 25$ per month for three, six, and twelve months respectively. It also includes an unlimited data plan, but most users will fit into these data plan terms with a little extra room, making Mint Mobile one of the best MVNO options.
In terms of coverage, Mint Mobile will provide you with excellent coverage in addition to excellent data bundles. Make sure to use Mint Mobile where your T mobile has strong local coverage for the best experience. You can check the Mint Mobile coverage map to see if the T mobile carriers are available in your area.
US Mobile:
Mint Mobile will provide you with one of the best MVNO services but US Mobile is a great competitor to Mint Mobile. This is because of its capability to operate on both Verizon and T mobile carriers; both of which are highly proficient in data speeds and coverage. When it comes to US Mobile, you can get any type of data plan that suits your needs. One advantage that US Mobile has over Mint Mobile is that it offers data plans for all types of users, whether they are casual internet users or heavy internet users. On one of the best carriers in the country, you can select from a wide range of data plans.
One disadvantage of US Mobile is that its data plans are more expensive than those of Mint Mobile. Furthermore, in most data plans, you will be charged an additional fee for hotspot access. Nothing less, US Mobile continues to provide excellent data bundles to meet the needs of all users. That being said, you can subscribe to a one-line unlimited data plan at 45$ per month, with an added 10$ for hotspot access, two lines unlimited data plan will cost you 30$ per line and if you wish to add three lines to your data plan it will cost you up to 25$ per line. Moreover, you can add up to 29GB of hotspot access to every plan for an additional 10$. One thing that is worth mentioning is these data plans include unlimited music, video, and gaming access to its users which is quite a treat for users with similar needs.
US Mobile similar to Mint Mobile offers custom data plans so you can choose what you want and how you want. Apart from these flexible data plans, considering g the amazing speeds of the T mobile and exceptional coverage of the Verizon service it has managed to give its users with amazing internet experience. You can choose between either of the networks and get super-fast speed, consistent connection, and great coverage.
The Final Verdict – Mint Mobile vs US Mobile:
Mint Mobile and US Mobile both use one of the best network operators, but US Mobile supports both T Mobile and Verizon, which is a win-win situation. This means that you will not lose a signal while using either of these networks, as opposed to Mint Mobile, which can experience a sudden drop in data speeds when the network is congested. Though US Mobile is a little pricey, it is well worth the money.