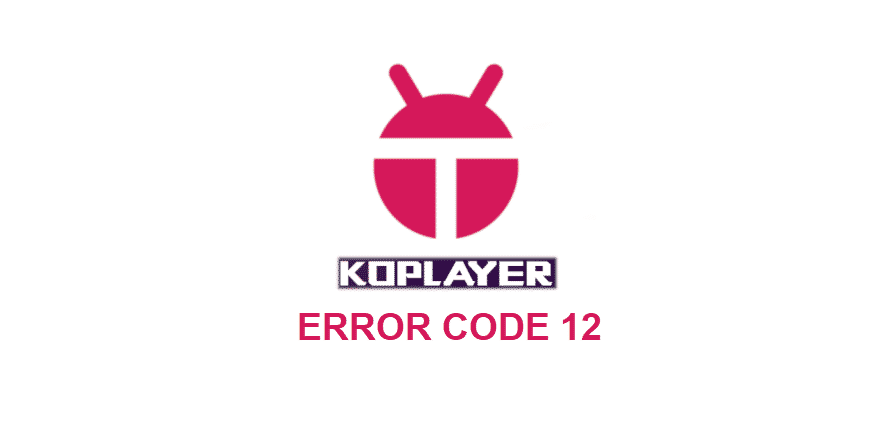 KoPlayer is a famous mobile emulator that is available for both Windows and Mac users. The program gives people the ability to install any mobile application they want to on their computer systems.
You can then proceed to use them however you wish to. Aside from this, there are tons of other features included with the program as well. These included streaming your applications and even recording your usage.
Additionally, the software is completely free to use and you can download it directly from its official website. While the mobile emulator might be amazing, it is important to note that you can also get a few problems with it.
One common one that most people have reported is that their KoPlayer gives them the error code 12. If you are also getting this, then going through this article should help you in finding a few ways that will help you fix the problem.
Koplayer Error Code 12
Update the Application
The most common reason for KoPlayer to show the Error code 12 is that the program is not running the latest version available. Keep in mind that the company behind this software releases frequent updates for their users. These are made to add in new features and also solve problems that were present in the program previously.
Talking about this, most error codes like the one you are getting are from an issue that has already been resolved. Alternatively, it might just be because you are using an older version. Considering this, updating the application should allow you to fix the problem and start using the application again.
Visit the official website for KoPlayer and check their download section to find a list of versions available for this emulator.
You can then download the most recent one, though, keep in mind that you do not select a beta version. These are test versions of the program and can be quite unstable. Trying to use them will most likely cause your device to run into even further errors. Once your program has been completely updated, run it again to see if this fixed the issue.
Re-install KoPlayer
If you are someone who has recently installed the program and has been getting this error right from the start. Then you should already have the latest version on your system. Though, one thing to consider is that sometimes your application can get interrupted when trying to install a program. This can cause some files to become corrupt and will most likely show you similar errors.
This is why the user has to ensure that their program is installed correctly and there are no interruptions with it. You can completely remove KoPlayer from your system and then install it again using the setup file. One recommendation is that you reboot your device once the program has been uninstalled.
This removes all the temporary files and helps the program to become deleted completely. Finally, after the installation for your emulator is done, the user should be able to start using it without any more error codes.
Use Advanced System Repair Tool
Sometimes the problem can be from your device instead of the program itself. There are tons of reasons why the user can get an error code like this. These include issues with your registry files as well as the devices not being updated.
Going through these manually will take a lot of time and effort. Additionally, people who are unaware of these files might have a hard time trying to go through them.
This is why several companies have come up with system repair tools that you can use instead. These will browse through your system automatically and then update any files that had been giving you these problems. This is why it is usually recommended that you download one of these tools instead of doing this manually.
You can download them directly from the internet but make sure that you select a trusted program. Many websites have viruses uploaded on them instead of the actual program instead. One way to ensure that you download the correct application is that either you use a website you already know about. Alternatively, you can check forums to find a link for an advanced system repair tool.