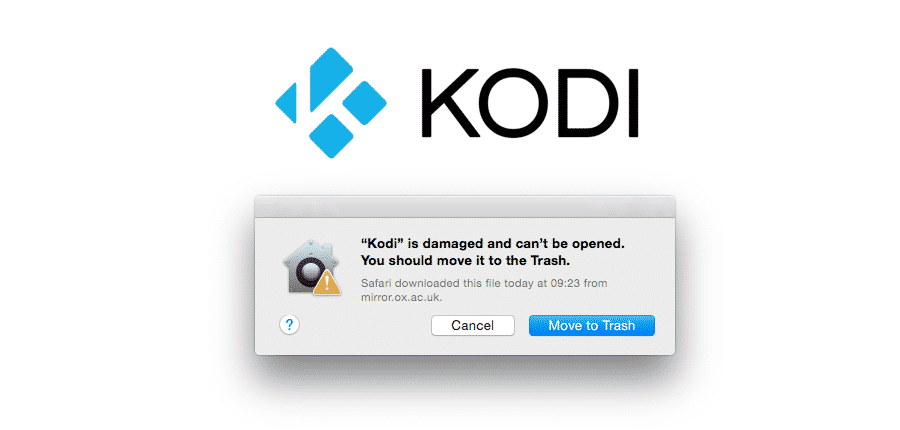 Kodi is the best multimedia platform that you can use on all the devices that you have, it supports a wide range of TVs, PCs, laptops, mobiles and other platforms. The best thing is that you can also install Kodi on your Mac and use it for all sorts of multimedia needs that you might need to.
If you are unable to install it on your Mac and it triggers an error message stating "Kodi is damaged and cannot be opened", here are a few things that you will need to do in order to make it work:
Kodi Is Damaged And Cannot Be Opened
1) Try Right Click
There has been a bug with some of the versions of Kodi and it protects the applications to be directly opening. This is done with the gatekeeper and you need to bypass that in order to make it work.
Instead of double clicking the installer file, you will have to right click on the installer and then click on open. Once you get that done, it will most certainly be working for you and the Kodi application will be installed.
Yet, there is a catch and you will need to always repeat the process in order to make that work. That means, every time you need to open the Kodi application, you will have to right click on it and then click open to open the Kodi application and run it up.
2) Anywhere option
If you want to avoid right clicking every time and need to get it done properly, then you will need to change the settings. In order to make it work properly, you will need to modify the default behavior of the gatekeeper. It is pretty simple and there are not many options that you will need to deal with. Simply put, you will have to enable the "anywhere" option in the gatekeeper.
This will allow you to run all the apps from anywhere in the standard manner. So, you will be able to simply double click to install Kodi on your Mac enabled device. Not only that, but you will also be able to run it afterwards by double clicking on it and that will not cause you to have any problems at all.
3) Re-download
There are also chances that the file you have downloaded might actually be broken and causing you to have this problem. There is not much that you will have to do in this case and a simple re-download will work for you.
Make sure that you have properly deleted the pre-downloaded file from your Mac first. After that, you will only have to download the latest version of your Kodi application from the website. You need to ensure that there are no interruptions with the download, and that you are downloading the Kodi installer from their official website only.
Being open source, there are lots of versions available out there and not everyone of them works properly. Once you sort that out, you will be able to install it without getting any problems.