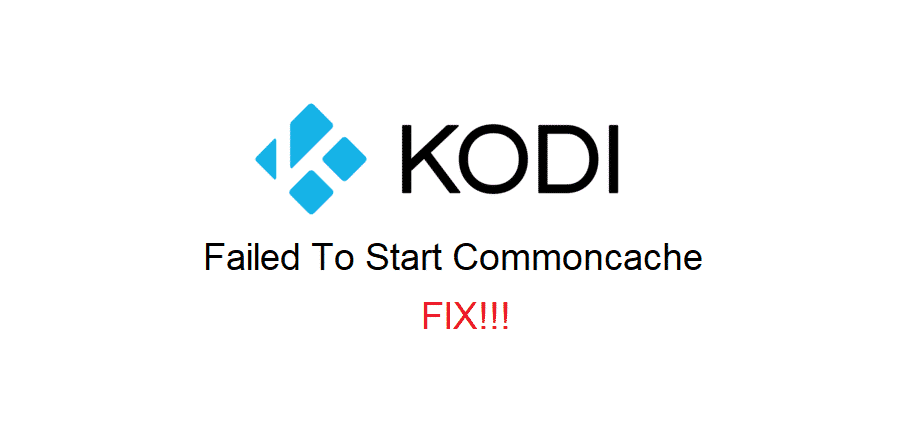 Kodi is an open-source platform and that means, there are certain complications involved as well. With the plugins and other caches you might be using, you can never be sure about getting yourself a plugin.
While most of the plugins are safe and fully functional, some of these plugins might be troublesome for you as well. That is why, you need to be careful about it to avoid any hinderance with your Kodi experience.
Kodi Failed To Start Commoncache
Commoncache is basically the cache files folder where all the commonly used caches are stored for the plugins. This doesn't only save you a lot of storage space, but also makes the operational part of your Kodi a whole lot faster than you might expect it to be working.
If you are trying to load a plugin and you are facing the error message "Kodi Failed to Start Commoncache. Check Log" then there might be something wrong with some of your plugins or there might be some other problem. Rest assured that the problem is software and there is nothing bad on your device. A few things that you can do to solve the problem are:
1) Disable Common plugin cache
First of all, you should follow the instructions to check the logs and make sure you get to the root of this problem. This is not something uncommon and you might come across the problem quite often. That is why, you should know how to properly diagnose the problem.
You should open the settings of your Kodi applications and then go to My Add-ons menu. Here, you will find the common plugin cache option that you will have to turn off. This will be helping you in getting the problem solved for good.
Yet, you need to be mindful about not messing up some other options in the settings and then restarting the Kodi application once so the settings can work again. Once you get it done, the common cache plugin is going to be disabled and you will be able to use your Kodi without any sorts of errors or inconveniences at all.
2) Check Log
Good thing is that Kodi got an error log as well for proper diagnosis. This doesn't only help the developers who are using the open-source platform to develop applications and plugins but also for the end-users to diagnose and troubleshoot any problems that might be causing you certain problems. Checking the error log is pretty simple and there are not many complications involved at that part either.
If you are getting the error with commoncache, you should be accessing the settings and check the error log. It will help you in figuring out what is causing to trigger the error message so that you can fix it up in the efficient manner and not have any problems with the further usage.
3) Check Plugins
You will also need to ensure that you have not installed any such plugins on your device that might be causing you to have the problem. You will have to check for all the plugins that you have installed in the past few days and that will help you in sorting out the problem.
If you find any such plugins that you have recently installed and you are not sure if they are safe or not. You should be uninstalling them and then restart your Kodi application once to get the problem fixed for you. It is recommended to always install these plugins from trusted sources and developers as your whole experience with the Kodi depends on them.
4) Re-install
If nothing so far has worked out for you and you still find yourself in a fix with the error message. Then you should be re-installing the Kodi application. The best way to get it done is to uninstall the application completely once and then restart the device properly.
After that, you will need to download and install the latest version of Kodi from the internet. This will not only ensure that you are getting the latest version of your application on the device but will also clear out any sorts of issues and errors as well. Once you get it done, you should be careful about the plugins that you are installing and that will sort it all out for you.