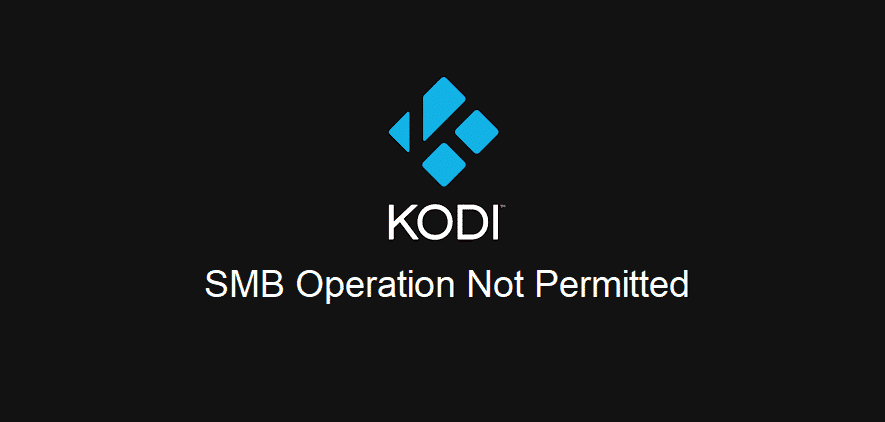 For everyone who has a huge collection of movies, TV shows, photos, and music, would know that it gets hard to manage everything. For this purpose, they often use Kodi, which is the open-source tool for this management.
However, Kodi users often complain about Kodi SMB operation not permitted issue. With this article, we are sharing the troubleshooting methods to get rid of this error!
Kodi SMB Operation Not Permitted Error
1) The Version
If you don't know, SMB is the client-server protocol that is used by Windows for sharing different resources over the network. It is widely available on Windows systems and is pretty easy to set up. However, it's also usable on different operating systems. That being said, if you have the error, keep in mind that SMB V1 is never supported by Kodi.
In case you are using the SMB V1, the error is highly likely to occur. To get rid of the issue, the users need to use SMB V2 or higher for proper functionality.
2) Account
We have already established that users need to use SMB V2 or higher with Kodi. However, it requires the users to have an account with password protection. This is because it doesn't support network browsing anymore. If you don't already have a user account, you need to create the user account with the password.
3) VPN
People often use VPNs to ensure protection from external factors such as cyber threats. However, when you are using SMB with Kodi, using VPN will restrict the performance. For this purpose, if you have switched on the VPN, you need to switch it off. Besides, you don't need to use a VPN with Kodi anyways. In addition to VPN, the users also need to switch off the firewall or protection tools because they can hinder the performance.
4) Media Streaming
If the error still persists, you need to tweak the media streaming settings. In simpler words, SMB operation not permitted error can be resolved by switching on the media streaming. If you don't know how to switch on media streaming, we have outlined the steps in this section;
Open the network and sharing center on Kodu through "All Networks" tab
In this tab, you will find the media streaming option, so click on it
It will show "media streaming is not switched on," so hit the "turn on media streaming" button
Then, press the OK button, and media streaming will be switched on
5) Password Protection For Sharing
The password protection is no needed for Kodi to work properly. However, in the majority of cases, people don't even know how to switch off password protection sharing. In that case, we are sharing the steps that you can follow, such as;
Open the "All Networks" tab on Kodi and scroll down to password protected sharing
By default, it's switched on, so you need to change it to "turn off password protected sharing."
Once you choose the new settings, hit at the save changes button at the bottom of the screen, and the error will be resolved for sure