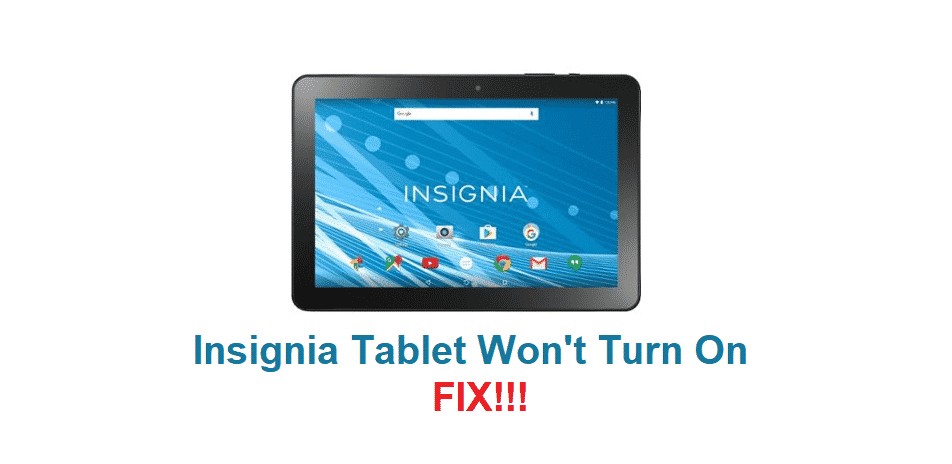 Insignia is a famous brand that is known for manufacturing television. But the company also provides their users with a lot more devices aside from TVs as well. One of the best ones among these is their tablets. These small devices are almost like a mobile phone and you can run all the applications from the play store on them.
This includes playing games, streaming movies and even taking pictures or calling your friends and family. They have a huge lineup that you can choose between and all of them are good.
However, you can still run into some issues with their tablets. One of the most reported problems that you can get is that the Insignia tablet won't turn on. If this happens to you as well then here are some steps that should help you out.
Insignia Tablet Won't Turn On
Check Charging
The first thing that you should check on your Insignia tablet is the charging level on it. Sometimes if your tablet battery dies out while you are using it. It can stay off until you completely charge it back to full. This is why it is recommended that you plug your tablet in for charging and wait for some time.
The process might even take a few hours although, it depends on the model of device and charger that you are using. One thing to keep in mind is that the user only plugs their tablet in with the standard charger provided with the device. Other equipment might give out different current ratings that can damage your tablet. After the device is done charging up, you can then try to start it up again.
Replace Charger
If the problem persists then your charger might have become faulty. This is a really common problem and you can easily get a new charger from a store nearby you. Although, as mentioned above you must get one that is supported by Insignia.
If you are thinking about purchasing a charger from your local electronic store or online. Then you can check your faulty charger and see what the voltage ratings on it are. These can then be used to get you a new charger that has the same requirements.
Reset Tablet
If your device closed on its own while you were using it then there is a chance that its software has become corrupt. Alternatively, there might be a problem with the configuration files of your device. Both of these can be fixed by resetting your tablet back to the factory default settings. However, you should note that this will delete all the data you had on your device.
There is no possible way to recover it once you reset your tablet. Considering this, if you still want to reset it then you can proceed by holding down the volume up and start button of the device. This will bring you to the machine settings.
You can browse through these using the volume buttons and then select factory reset. The process will take some time and your tablet should be up and running without any other issue.