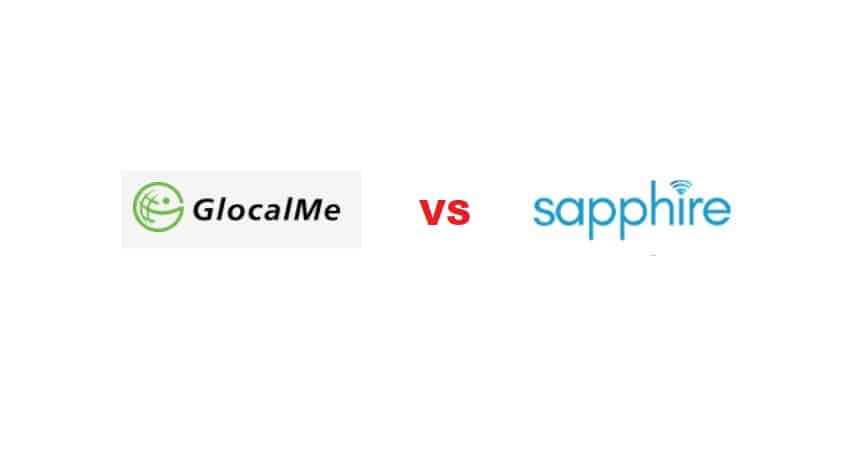 If you plan on traveling or simply have to go out but cannot leave behind important work, it's important to stay connected to the internet, right? The best option is to opt for mobile hotspots, so you can remain connected to the internet while on the go. The mobile hotspots allow the users to connect multiple devices to the internet and are secure as compared to connecting to public wireless networks. In case you want to invest in a reliable mobile hotspot service, GlocalMe vs. Sapphire comparison in this article is a great resource!
GlocalMe vs Sapphire Mobile Hotspot Comparison
GlocalMe
GlocalMe is one of the best choices for people who need a mobile hotspot service and promises the best of both worlds. That's because you can use it without any SIM card as you can use GlocalMe's data plans. Another option is to insert your own SIM card into the hotspot device for connecting multiple devices to the wireless connection. The company allows the users to rent the device or purchase it, depending on the affordability.
This mobile hotspot device promises exceptional 4G data coverage, which means you can be online in around 140 countries. This is a feature-rich hotspot device as it's integrated with a five-inch touch screen for easier customization and settings. In addition, there are built-in travel-oriented apps, such as TripAdvisor and Google Maps, which makes it a great choice for travelers. When you connect to the internet through this hotspot device, you get over 150Mbos download speed.
When it comes down to the internet band, it has Wi-Fi 4 technology that works on the 2.4GHz band, so you can connect over ten devices without internet interruption. It has been integrated with a battery that promises over 18 hours of performance once fully charged. In addition to the mobile hotspot devices, there are various mobile routers and data plans available to help users stay connected to the internet. In case you want to rent the hotspot device, there are authorized retailers available around the globe.
For instance, GlocalMe has designed FirstG, which is one of the most cost-effective ways of staying connected to a wireless connection and can be used in any corner of the world, particularly if you choose your own SIM card. In fact, GlocalMe also has Numen Air, which is suitable for people who want a 5G connection. The majority of hotspot devices weigh less than 190g, promising easier handling and you can use them with domestic as well as international roaming.
Sapphire
Sapphire is another company that's famous for high-end mobile hotspot devices with exceptional wireless internet coverage. It's a promising choice for people who need a flexible wireless connection and you can find a variety of devices for purchasing or renting. In addition, you can select the data packages offered by the company or simply use your own SIM card to enjoy the wireless connectivity for multiple devices at once.
The hotspot devices support the 4G LTE internet speeds, and when you purchase or rent it, you get 1GB of preloaded data, which you can use anywhere around the globe. This mobile hotspot can support over five devices for a wireless connection and there is a built-in battery available. The battery offers twelve hours of constant internet connectivity when it is fully charged.
Contrary to GlocalMe which works in 140 countries, Sapphire's mobile hotspot works in 130 countries. The best thing about this mobile hotspot is that you can manage the device as well as internet data through the companion app (it can be downloaded from the app store). While there is an array of hotspot devices available at Sapphire, Sapphire 2 is the most popular choice that weighs around 140g and can be used with domestic roaming as well as international roaming.
The users can use their own SIM card if they subscribed to the internet plan and want to use it on multiple smart devices, including laptops, tablets, and smartphones. Some of their hotspot devices support a 5G connection as well but they are more expensive as compared to Sapphire 2 as it supports a 4G connection only.
The Bottom Line
Mobile hotspot has become a necessity for many people since they are always on the go and need a reliable internet connection to browse social and attend the work commitments. Both GlocalMe and Sapphire have a promising range of mobile hotspot devices, so which one will you choose?