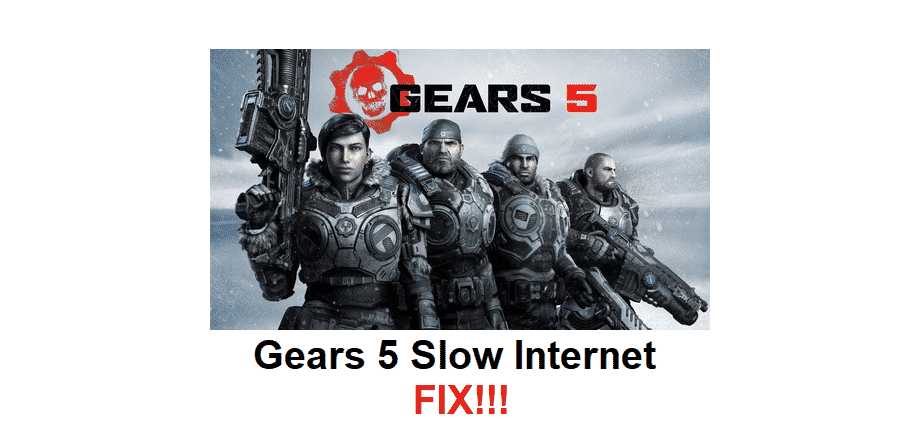 Online gaming has revolutionized the industry and it has made the whole experience a lot more fun. Starting from those LAN parties where multiplayer gaming was only possible through LAN connections, today it is possible to play these games over the internet and interact with your friends worldwide.
Most of the latest, high-end games that are being released support online connectivity and gaming module, but with that, you need to take care of the speed as well. To play these games online, you don't only need to have the right system configuration but also appropriate internet speed.
Gears 5 Slow Internet
Gears 5 is one such latest game that was released in the last quarter of 2019 and it is the latest game of the famous Gears series. The game is pretty cool, yet very high end and available on the latest consoles only. With such a highly optimized game engine, and such HD graphics you obviously need the right internet speed in order to make it work. If you feel like internet speed is slow on Gears 5, that will cause you to have problems like the game lagging, delay in audio, or multiple other issues. Here is how you can fix such problems.
1) Internet Speed
First of all, you should ensure that you are getting the right internet speed. With games such as Gears 5, you cannot expect it to run on a low-speed connection. Make sure that your internet connection is right and fast with stable speeds and that will help you get rid of the problem. However, if your internet plan from the ISP is high end and you are still not getting the right speed, there must be some problems that you might be facing.
Check the internet speed using a speed test application and make sure that you are getting the right speed. If not, you will have to contact your ISP and ask them to help you out of this situation. The ISP will be able to diagnose the bandwidth consumption, speed issues, and all problems of that sort and will be able to provide you with a solution that you need.
2) Ping
Internet speed is not the only thing that might be causing you to face slow speed issues on the Gears 5 but ping also matters a lot. You need to ensure that the ping you are getting on your connection is as low as possible.
If you are getting a considerably higher ping on your network and it indicates in the speed test as well as your game. You will have to check on all the applications that might be consuming your bandwidth and causing you to face this issue. If you are unable to find the problem with any other application, you will have to contact your ISP and state the issue with your ping so that they can help you fix it up in the right manner and you will not have to face this issue on your Gears 5 after this.
3) VPN
One of the most common factors that might be causing you to face such problems with ping is the VPN. You will have to ensure that you don't have any sorts of VPN applications enabled on the device that you are using to play Gears 5 at.
Having a VPN enabled on such a device will not only cause you to face problems with ping and speed, but it will also cause performance issues on the game. You will have to disable the VPN application if you have any of them enabled on your device and that is going to help you get rid of the problem in the right manner.
4) Servers
There are several gaming servers that you can play on. These servers are hosted by the Coalition, developer, and publisher for Gears 5. Choosing the wrong server that is having a higher ping for your device can also be a big problem and you don't want to face that.
If you are facing slow internet problems with any of the servers that you are playing at. Open the servers list and go for the server that has the lowest ping showing on it. This is going to help you fix the problem with slow internet speed on Gears 5 perfectly.