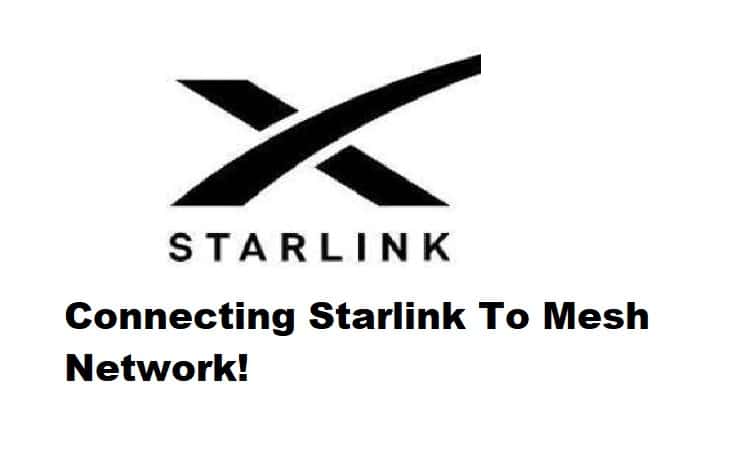 The Starlink Mesh router system is a great way to boost the speed and capacity of your satellite network. The system offers numerous advantages, and connecting the Mesh nodes to your primary Starlink is one of them. This significantly improves the overall range of your network.
Because many users have asked about connecting a Starlink to a Mesh network, it is necessary to provide a complete and proper installation guide for setting up your Starlink Mesh network. So, if you've come here for a similar reason, this article will walk you through the basics of connecting your Starlink to the Mesh network.
Connecting Starlink to Mesh Network:
A Starlink Mesh router is simple to set up, but to create a Mesh network on top of your primary Starlink network you must ensure that your primary Starlink is fully and successfully configured to your home.  Mesh Wi-Fi is not a stand-alone system; rather, it is used in conjunction with a primary base network connection which in our case will be our Starlink network.  Once you've confirmed that your initial Starlink setup is successful, you can proceed with the steps mentioned below to connect your Starlink to the Mesh network.
Choose an appropriate location for your Mesh nodes first. Your system must keep a stable connection with the Starlink and the Mesh router for optimal performance.
Your Mesh nodes should be located one or two rooms apart. Check that there isn't too much scope between them, as this could hinder the connection.
Now that your Mesh nodes and router are in position, you can begin connecting your Starlink to the Mesh system. However, because Mesh nodes are incompatible with the circular Starlink, you must first ensure that you have the rectangular Starlink model.
After you've resolved all of the equipment and compatibility issues, try inserting the Mesh node into an AC power outlet on the wall. Avoid using power extensions or power strips. Make sure the connection is direct.
Now, open the originally installed Starlink app and wait for a few seconds. You can download the Starlink app on your iOS or Android phone from the application store or Apple store.
When the Pair New Mesh Node option appears in your app, click the Pair button.
A Connecting message will appear on the Network screen.
Repeat the process if you have more than one Mesh node until all of your nodes are linked to the Starlink.
The majority of times you will find yourself having trouble finding a way to connect Starlink to the Mesh system if you are having a round dish. Because of compatibility issues, you cannot create a Mesh network on the Starlink round dish. If you have a round dish, you will need to purchase a third-party Mesh system that will sit alongside your round dish and operate on its own. Furthermore, if you are configuring your Mesh system for the first time, you are likely to encounter some errors; therefore, here are four things to consider when attempting to connect your Mesh system to your Starlink.
If you are having trouble connecting to the Mesh network, make sure you are not adding Mesh nodes to an existing third-party Mesh system.
Avoid connecting to the Mesh network directly and instead wait for the app to connect.
Also, make sure you rename your Mesh system a different name than your primary Starlink so you can differentiate it from your base Starlink network.
If you are having trouble connecting to the Mesh system using your Starlink app, try moving the Mesh nodes closer to the router to achieve optimum strength.
Following these simple steps and remembering the precautions will assist you in connecting your Starlink to a Mesh system. This will not only assist you in establishing a consistent and fast connection, but it will also resolve your range issues. Adding Mesh nodes to your Starlink network significantly increases its capacity.