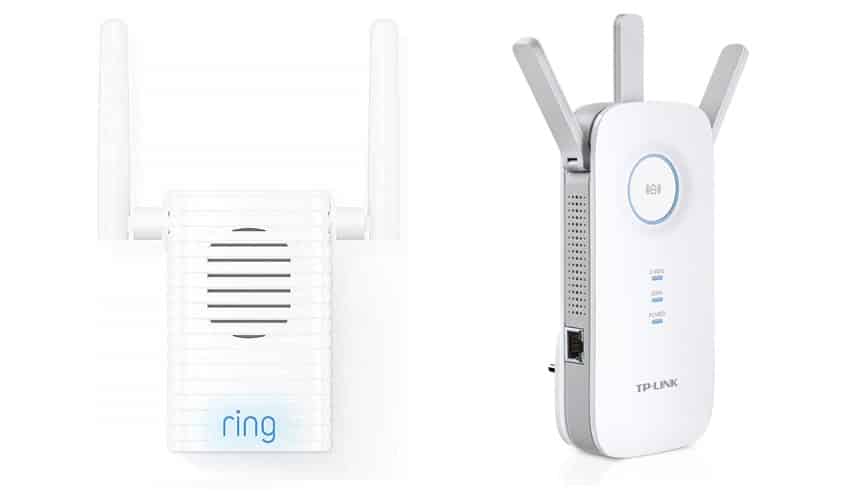 Ring Chime Pro vs WiFi Extenders
Today's IAG sortie looks at the Ring Chime Pro vs. WiFi extenders. "Wait!" you say. "Isn't Chime? Pro a WiFi extender?" According to our definition of an "extender," no—it's a repeater, meaning that Chime Pro uses WiFi, not cable (e.g., copper or coax), to connect to a router.
Chime Pro "repeats" a WiFi signal emanating from a router to reach distant Ring (i.e., end-user) devices such as the Ring Video Doorbell cam. Alas, Chime Pro only works with Ring devices. Techies who prefer mixing and matching IoT gear from various manufacturers need to look elsewhere.
If you think Ring Chime Pro will help boost WiFi signal to your laptop, TV or game console, think again. We repeat: Chime Pro only works with Ring IoT devices. Hence, its functionality is limited by comparison to a full-blown WiFi extender or repeater.
Bear that in mind when perusing hyperbolic Chime Pro marketing typical for tech products. For example, Home Depot advertises that the Ring Chime Pro "connects to an unlimited amount of Ring Video Doorbells, Ring Security Cameras and Ring Chimes."
But what data speeds will all these devices receive? Who knows? And good luck determining Chime Pro's data speed throughput. An exhaustive search of vendors and support.ring.com yielded no answers. If Ring doesn't trumpet Chime Pro's throughput as a selling point (as many wireless routers do), it's probably far from, um, prepossessing.
Apparently, Chime Pro repeaters frequently overheat and quit working, sometimes even before the warranty expires. See this YouTube vid from Paleo Postman aka "Mr. Hands." His Ring Chime Pro quit working and he'd like your feedback on your Chime Pro experience: 
Chime Pro and Windows OS
Ring Chime Pro plugs into any standard power outlet (110-240 AC) and "extends [sic] a WiFi signal to Ring devices (emphasis added) and increases the signal strength and coverage area of your network, improving the signal received by your Ring device and overall device performance." Ring devices include wireless video doorbells, surveillance cameras and even solar panels.
Chime Pro and its IoT devices are Apple-friendly. We encourage Ring users to acquire an iCloud account and download the Ring app to their iPhone or iPad. The app is also available for Android users with a Google Play account.
"Wait!" you say. "Can I use a desktop PC or laptop to configure and manage Ring app settings?" According to support.ring.com, no. However, retailer Kohl's advertises that the Chime Pro "works with any iOS (9.3+), Android (5.0+) and Windows 10 device." The Apple desktop app version requires macOS 10.11+.
Searching deeper, one finds that after Amazon acquired Ring maker Doorbot, it discontinued Ring App functionality for Windows Mobile devices on 10 April 2018. But the app (supposedly) works on Windows desktops, laptops and tablets running Windows 10 Fall Creators Update (v. 1709) or newer.
However, device setup must be performed using an iOS or Android device. Note that "ring alarm content will not appear on the Ring app running on a Windows desktop, laptop or tablet. Alarm functions can only be controlled through an Android or iOS device." To us, this statement doesn't inspire confidence in using the Ring app on an MS Surface Go tablet.
We much prefer a "real" WiFi hardwired extender with greater functionality and the option to use a PC or laptop to manage IoT device functions. Or at least a Windows-friendly WiFi repeater that works with other devices besides those made by Ring.
Chime Pro and WiFi
Chime Pro deploys 802.11b/g/n WiFi. "Wait!" you say. "It doesn't work with 5 GHz (802.11ac/ax)?" Nope, but remember Chime Pro connects to IoT devices.
Home security devices are designed for intermittent use. Many are installed outdoors and thus need the "attenuation value" of 2.4 GHz to permeate walls between a Chime Pro host and an outdoors Ring device. Reserve 5 GHz's greater data capacity for entertainment video/audio streaming and gaming.
Chime Pro cams claim to transmit HD quality (1080p resolution) images. "Wait!" you say. "Chime Pro cams don't stream 24/7 since HD quality images generate data streams needing lots of bandwidth?" Yep, Ring cam video recording is "event-based," meaning that it works only when activated by motion or alarm.
Support.ring.com advises users to "ensure (that their) WiFi can provide adequate upload speeds for (their) Ring devices through the Chime Pro, (which) requires 4 Mbps for all 1080p Ring devices, or 2 Mbps for 720p Ring devices."
"Wait!" you say. "Does that mean that I only need 4 Mbps for all my Ring cams?" Recall that Netflix recommends 5 Mbps download speeds per data stream (emphasis added) for HD quality images and 3 Mbps for SD quality images.
Likely, you'll want multiple Ring cams connected to your Chime Pro. Since Chime Pro is a WiFi repeater, it only "repeats" the speed provided by a router. Do the math—ensure that your ISP provides sufficient bandwidth for all your WiFi gizmos, Ring devices included.
This Amazon review from "SMD" illustrates: "Our Ring Pro doorbell gets 20 Mbps down and 10 Mbps up speeds. That speed causes enough lag that the app opens slowly and there's about a 4 or 5-second delay between the video feed and realtime."
Does Your WiFi Repeater "Chime"?
The Chime Pro is a WiFi repeater delivering audible alerts from Ring doorbell and surveillance cameras. Users can choose from a variety of "customizable" alert tones and volume levels as well as a "Do Not Disturb" mode should one want to ignore any unwelcome callers.
Naturally, Chime Pro offers separate chimes for doorbell and motion sensor alerts, and users can assign different chimes to identify alerts from various Ring devices.
To its credit, Chime Pro is very easy to setup. Merely plug the device into an electrical outlet. Once the Ring logo starts flashing blue, open the Ring app. Then select "Add device" to begin startup. The app painlessly walks the user through the entire process. Since Chime Pro is now owned by Amazon (which paid $1 bn for the company), its functionality has been integrated into Amazon's virtual assistant Alexa.
But Chime Pro isn't the only company hawking WiFi repeaters that send audible alerts. Google Nest WiFi points do too, and at faster data speeds and throughputs since it has 5 GHz capability.
Chime Pro Data Security
Do you stay current with the news? Did you notice that Amazon is taking heat from privacy advocates because of Ring's data security flaws and practices?
For example, last Christmas a hacker broke into a Ring network and posed as "Santa Claus" to a family's 8-year old daughter. Similar incidents were reported in at least five other American states. Significantly, victims claimed they created "unique and complex passwords" for their Ring networks.
As a result, the family of the girl taunted by "Santa Claus" filed a lawsuit against Amazon. They claim the retailing behemoth doesn't adequately protect consumers and their private data.
Also, in November 2019, cnet.com reported that researchers discovered a Ring security flaw that allowed potential black hats to purloin owners' WiFi user names and passwords. Earlier, in 2016 researchers hacked a Ring doorbell in realtime, demonstrating how to tap into a Ring device's video feed.
Privacy advocates are incensed by Amazon partnering with over 600 police forces, allowing authorities to request and download footage from Ring cams, including images recorded inside homes. Police authorities can keep these images in perpetuity and share them without offering any evidence of criminal activity.
Amazon makes Ring software available to authorities, who can "request up to 12 hours of video from anyone within a half square mile of a suspected crime scene, covering a 45-day time span," according to the Washington Post. Amazon requires police to provide them only a case number, not a court order or evidence of the crime investigation.
Coming soon to a Ring cam near you—facial-recognition capabilities, courtesy of Ring firmware updates. Remember that when you're walking your dog on a sidewalk in your neighborhood and you see a webcam mounted above a house's doorway pointed directly at the street.
Chime Pro Social Commentary
We couldn't resist adding comments from a Washington Post reader who "translate(d)" this "Orwellian monster's self-serving BS":
"Ring's terms of service (ToS) state that users must install the cameras so they do not 'take any recordings beyond the boundary' of a user's property, such as a public road or sidewalk—and that Ring does not 'view users' videos to verify compliance.'
"Yet… footage from (Ring cams) clearly show it recording the public sidewalk or roadway in front of the home. TRANSLATION: We tell customers not to spy on public spaces (wink, wink) but if they do, we don't really check or even care.
"Ring 'does not own or otherwise control users' videos and we intentionally designed the Neighbors Portal to ensure that users get to decide whether to voluntarily provide their videos to the police.' TRANSLATION: We designed this so we can avoid all legal responsibility, even if you intentionally violate the ToS.
"Ring's privacy policy states that it does not 'knowingly collect personal information online from children under the age of 13' (but) no oversight system exists. Its customers 'own and control their video recordings' and 'similar to any security camera, Ring has no way to know or verify that a child has come within range of a device.'
"Yet Ring's massive reserve of videos of children at doorsteps — shared by homeowners to Ring's "Neighbors" social network — has become an unmistakable signature of its holiday advertising campaigns.
TRANSLATION: Don't… but if you do, let us use it for advertising.
"Finally, Facial Recognition was a 'contemplated but unreleased feature' that would be made available to the public only with 'thoughtful design including privacy, security and user control.' TRANSLATION: As soon as we can figure out how to do it while avoiding any corporate responsibility for its misuse."
Coda
"Wait!" you say. "Do I really want to buy a WiFi repeater of questionable quality, with limited functionality and sold by a company that doesn't respect my privacy and abuses my personal data?" That's a question you'll have to answer for yourself when comparing Chime Pro vs. WiFi extenders.