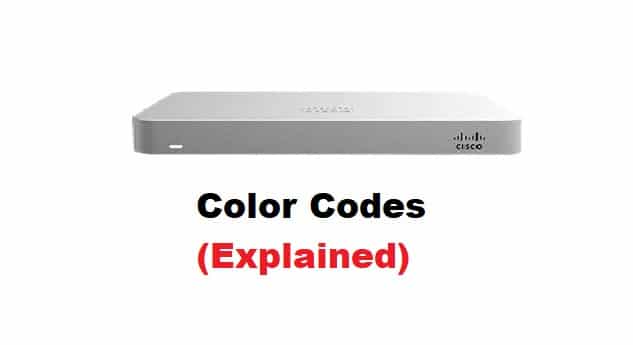 LED panels are extremely important when it comes to understanding the state of your device, whether it is a router, modem, gateway, or switch. When your Cisco Meraki fails to function or has connection issues, you can always tell the cause by looking at the LED codes on your device.
Having said that, it is critical to comprehend what a color code means. This can assist you in narrowing down the possibilities for the issue to one or two, increasing the efficiency of your work. Therefore if you are looking for the Cisco Meraki MX64 color codes, this article will help you.
Cisco Meraki MX64 Color Codes:
When the lights on your Cisco Meraki MX64 are illuminated, you can demonstrate what they mean. For example, suppose you have no LEDs illuminated on your MX64. This indicates that your device is not turned on. You have either connected the device with a faulty AC adapter or the cabling between the units is faulty.
If you see a solid orange light on your MX64 device and all other LEDs are turned off, it means your device is turned on. The device is operational, but it has yet to be linked to the Meraki dashboard. If you're wondering what a Meraki dashboard is, it's a web application that allows you to monitor and configure Meraki devices. If you see a solid orange light, you should log into your Meraki dashboard.
The device is attempting to connect to the network by illuminating a rainbow color on your LED. You don't want to do anything else until the LED lights have stabilized to a single color. The color of your LED can then be matched to its code. Your Meraki device is currently connected to the dashboard. You can easily configure and manage your Meraki network once it is connected to the dashboard.
This indication is quite verbose in and of itself. Since this indicated firmware update, you will begin to notice signs that your device requires a minor software update, even if your LED light is operational. In that regard, connection issues, range issues, or the device not working at all are all indicators that a software update is needed. When you see a blinking white light on your Meraki device, it means that the device is uploading the latest firmware. However, if you see the white light blinking for an extended period, you should consider upgrading your firmware manually
Regardless of color, the dynamics of the LED light are critical. However, a flashing white light indicated a problem, whereas a static white light indicates that your device is fully operational. If you see a static white light, the Meraki MX64 is up and running and connected to the network. This ensures that the device can be identified by the devices.