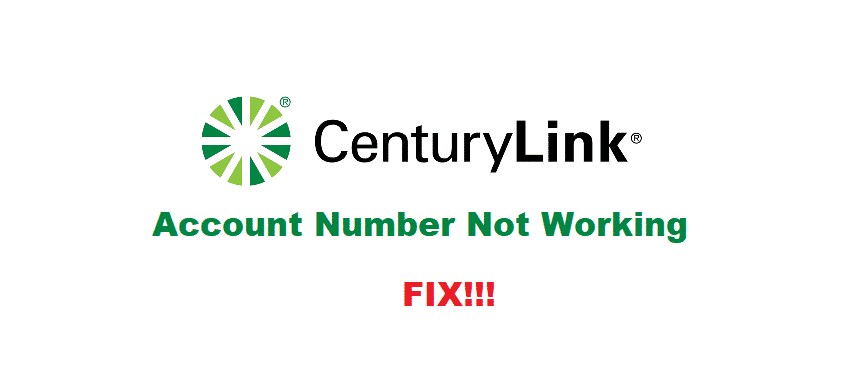 CenturyLink is one of the major telecommunication services providers in the Northern American region. They are known for a wide range of services to fit the needs of all sorts of customers and subscribers. Moving forward, their services are also pretty great in terms of reliability, affordability and the quality that is being offered by them.
That includes the right edge of customer support, better speeds, and stable connectivity with no major issues that one might have to face. They provide you with an account number to manage your account and all the subscriptions. If it is not working out for you due to some reasons. Here is what you need to do.
CenturyLink Account Number Not Working
1) Double Check
Well, human error is entirely possible and since the number is pretty long, you need to double check it if you are getting any sort of errors on it. It won't take you long and you should simply keep it safely written in a place where you can access it if needed.
The number can also be found on the billing or other correspondence emails that you get from CenturyLink. Just double check once and make sure that you are typing the account number correctly in order to make it work for you.
2) Change the browser
Another thing that can possibly cause you to face this issue is the browser problems. You might be having the issue with cache/cookies or it can simply be the problem with your browser settings or history and it might be using some number that you have previously used with a minor typo on it.
If clearing the cache/cookies have not worked for you and you are still facing the same error, you should try changing your browser and try some browser that you have not used before. That is going to help you out perfectly and you will be able to use the account number without any issues.
3) Get rid of VPN
Well, it might not be the issue but the VPN can cause your ISP to believe that you might be at a location that you have never logged in before, or you can be at some place geographically far away from your previous login. This will cause you to have login issues and your account number will cease to work. No matter what error that you are facing, disable the VPN once and that should be doing the trick for you to have all such issues fixed in no time at all.
4) Contact Support
If you are unable to make it work and you have exhausted all the efforts that you could. You should be contacting support and ask their assistance. They will be able to confirm if your account number is activated at their end or if there is some sort of issue that might be causing you to face the problem. Whatever the case maybe. They will be able to fix it up for good so you don't have to face such problems again on your account number and login.