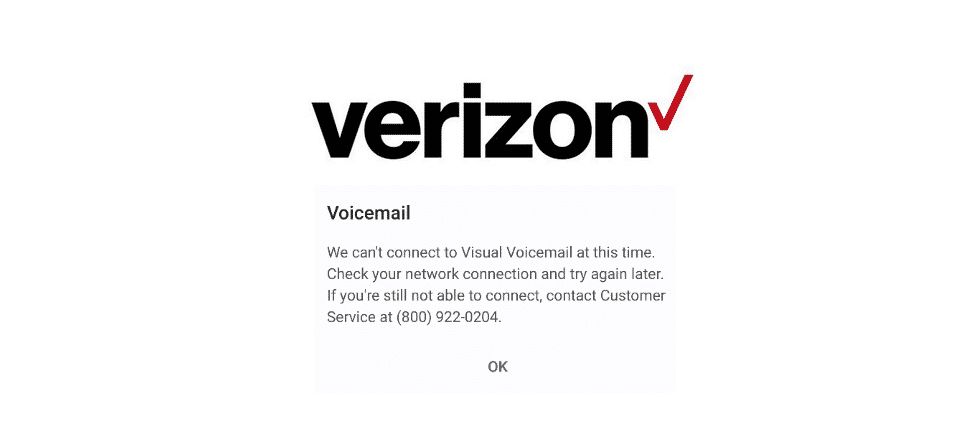 Visual Voicemail is a great feature that allows the users to be able to read their voicemails without having to listen to them. While most of the Verizon customers are quite happy with Verizon's visual voicemail services, a few users have reported issues with it.
One of the most common complaints related to visual voicemail is that the users cannot connect to visual voicemail on Verizon. There are a few things that you can do for troubleshooting the issue. They are listed below.
Can't Connect To Visual Voicemail Verizon
1 – Check Your Mobile Data Connection
If you are having problems accessing your visual voicemail messages or if you are not getting the notifications for your visual voicemails then the first thing that you should check is the mobile data connection. Unlike the text messages, the visual voicemail messages are transmitted via the Internet and they require a connection to Verizon's data network. So make sure that you have your mobile data turned on and you can access the data without Wi-Fi.
In case you are not inside the data coverage area or if you have disabled mobile data on your phone, you will neither be able to receive the visual voicemail nor will you get the notifications. If you have a working mobile data connection and are still having issues with visual voicemail on Verizon then proceed with the following steps.
2 – Restart Your Device
Sometimes simply powering off the device and then turning it back on again fixes temporary issues that may be causing issues with visual voice mail. So turn off your device and restart it after a minute. It will take care of temporary issues.
3 – Reset Your Visual Voicemail App
There may be a case of the visual voicemail app malfunctioning or encountering some error while receiving or showing your visual voicemails. So reset the visual voicemail application on your phone. This will reset the app only and your visual voicemails won't be deleted. Just in case you are not able to reset the app, try clearing the app cache.
4 – Check If You Have Call Forwarding Enabled
If you have tried all the steps mentioned above and are still facing issues while receiving visual voice mails then there is a possibility that you may have call forwarding enabled on your line. If you have call forwarding active then the calls are forwarded before they are sent to your voice mail. You can dial *73 send to cancel the call forwarding. In case you are not able to take care of call forwarding you can contact the customer support helpline and talk to a representative. They will be able to guide you as to how you can stop call forwarding for your line.
If you have tried all the steps mentioned above and you are still not receiving visual voicemail or if you are receiving visual voicemail but have other videos related to it, you can contact the Verizon customer support helpline and register your complaint. If it is a minor issue you can expect it to be resolved immediately and if it is a major issue, you can expect it to be resolved within a few business days.