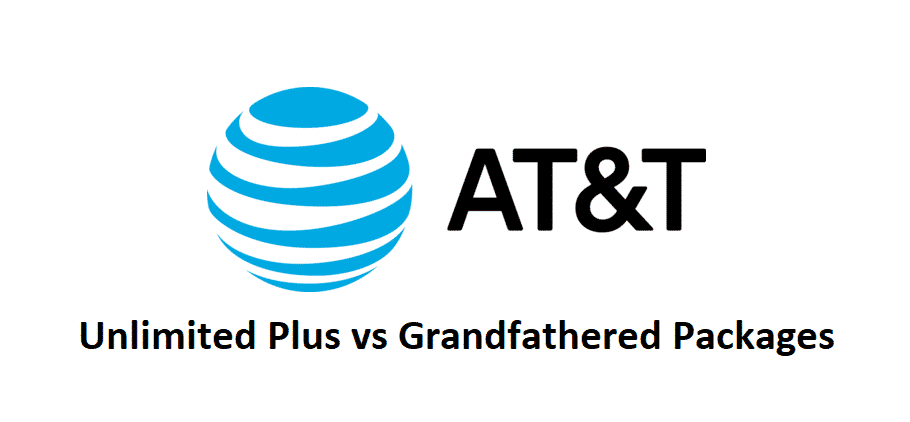 AT&T has managed to devise a wide range of packaging and plans that caters to the different needs of its consumer base. Ranging from text message plans to voice calling minutes and internet data, AT&T has something for everyone. This is the prime reason that some people are confused with AT&T Unlimited Plus Vs. Grandfathered packages. So, let's see how these plans differ from each other!
AT&T Unlimited Plus vs Grandfathered
Grandfathered
First things first, grandfathered is not a plan but it's rather how AT&T gives you a sort of badge. Usually, the people who have been using the old unlimited plans that were grandfathered with the initiation in the early 2000s. For instance, the users were getting 450 rollover minutes, along with $20 data unlimited. In addition, there was $40 unlimited text and $45 VVM that was around $101 monthly.
However, there were some perks adhered to when the plan gets grandfathered. For instance, the roaming will be free for Canada and Mexico and you will also get the premium 15GB hotspot with each line. In addition, there is a TV or premium music service. However, it's not only all roses since AT&T has been imposing the additional $5 in the bills for people who have grandfathered plans.
Back in 2016 and 2017, AT&T imposed this addition of $5. However, this is the third price hike of $5 after all these years. According to AT&T, the customers will readily receive the notification of price increase. It wouldn't be wrong to say that this is not such an amazing offer to continue with. Also, the price increase is only applicable to wireless data.
In addition, there will be additional fees for the text messages and calling minutes which will conveniently double up the price. To be honest, AT&T could just eliminate the grandfathering and market new plans. However, they tried the other approach by developing and launching price hikes which is the "masked" way of asking customers to switch to a newer plan.
For instance, AT&T said that they want the customers to explore more about the current and new unlimited plans. However, they have also notified the customers that once they switch to a new plan, they won't be able to subscribe to the grandfathered plan again. As for now, AT&T has designed multiple unlimited plans, such as $65 and $80 plan.
As far as price hike in grandfathered plans is concerned, according to AT&T, this is just to ensure that customers gain high-end services and performance since the data usage is increasing.
Unlimited Plus Plan
So, other than the grandfathered plan, there is obviously the unlimited plan and multiple variants of it. The Unlimited Plus Plan is starting out at $90 (in case you want a single line). However, if you want two lines, the cost will increase to $145 which is pretty cost-efficient. In case you need up to eight lines, just keep adding $20 with each line.
If you are the Unlimited Plus Plan subscriber, you can get around a $25 discount while subscribing to the DirecTV Now Service, U-Verse TV, and DirecTV but they don't measure the services with a data cap. According to AT&T, this additional discount on the services is the marketing tactic (obviously for a limited time). Also, the users will need to pay the $25 credit after three billing cycles.
In case you want to add the wearable or tablet, you will be costed an additional $10 and $20, respectively. As far as the plan contents are concerned, the users will get 10GB hotspot data, so you can share the internet with others. However, once the limit is hit, the speed will be capped down to 2G speed. To be honest, this is a new addition because the mobile hotspot wasn't added at all to the plans.
In addition, the subscribers will get video streaming (yes, the high-definition one!). In case you use more than 22GB data in one billing cycle, the connectivity speed will be reduced in the congested areas. In addition, there is an Unlimited Plus Enhanced plan through which users get unlimited texts and calls, while the data is capped at 22GBs. As for the price, the single line will cost around $80 on a monthly basis but there is no contract, so that's a plus!