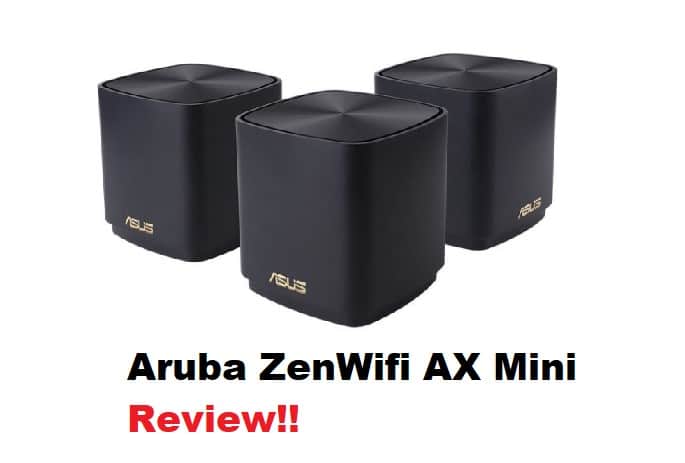 It's needless to say that wireless internet connections have become a necessity, and there are hundreds of devices relaying reliable and strong signals from one room to another. The mesh routers are being used to improve the wireless internet experience, and there are advanced options that support Wi-Fi 6 technology to help users enjoy a fast and reliable wireless connection. Having said that, Asus ZenWiFi AX Mini is one of the most attractive and compact systems with top-notch networking. So, let's check out the device's review to see if it's worth your money or not!
Asus ZenWiFi AX Mini Review:
The Brief
This is a compact yet reliable Wi-Fi 6 mesh router that's designed to speed up the internet network without consuming too much space on the shelf. The router is available in a woodgrain design as well as black and white colors. It has a unique cube shape and a minimal design, which looks appealing and is available at an affordable price. It has a high-quality build that also promises quality connections – it's a reliable choice for people who want a reliable yet simple router.
It is a dual-band router that helps achieve 1800Mbps collective internet speed through both wireless bands. In addition, it supports Wi-Fi 6 connection. When it comes down to internet speed, the 5GHz band is better as it can achieve an internet speed of over 1200Mbps. In addition, there are internal antennas that help improve the internet signal reception. In fact, there is 256MB of RAM as well as 256MB of flash memory, which promises efficient performance and enough space to download the firmware updates.
Setup
This router has been integrated with the Ethernet WAN port that allows the users to connect to the modem, and there is an Ethernet LAN port to create a wired connection. There is no confusion as there is a plastic band with "start to setup" label as well as a QR code, which makes it easy to link the Wi-Fi network. For this purpose, you have to connect the router to the modem and into the power source and let them boot up. After this, just scan the QR code to connect to the network.
The next step is to open the Asus smartphone app, which is available for iOS as well as Android devices. The smartphone app can be used to finish the configuration, so just select the network username and password. In addition, you can create your own credentials, and the network will be optimized. As far as the nodes are concerned, you can plug these nodes, and they will automatically connect to the mesh. All in all, the setup is easy, but the app could be better.
Performance
This router is enough for people who want regular internet usage, such as browsing the internet, scrolling through social media, streaming, and sending emails. However, it's recommended that you place it closer to the devices that you want to use the internet on. This is because there are chances of internet dropouts at time. As far as the internet performance is concerned, it offers 1800Mbps internet speed while the 5GHz band offers 1200Mbps maximum internet speed.
However, many users have been complaining about internet dropouts, and it's recommended that you connect a satellite node with the main router to clear out the dead zones in the home. For the most part, the router is suitable for medium-scale homes, particularly if the space is not more than 600 sq./ft.
Features
We have already shared information about the internet throughput speed and overall internet performance. However, when it comes down to the features, many people feel that the parental controls could be improved as you only have the option to schedule the internet cutoff. In particular, there are no filtration options available. In addition, it has been integrated with the QoS feature that helps prioritize the internet traffic for different devices or apps and activities.
The Bottom Line
The bottom line is that this router is only suitable for home use as the functionality and internet throughput aren't good enough for advanced usage. It has 256MB of storage to make sure the firmware upgrades are installed properly. All in all, it's a reliable choice for people who want a beginner-friendly and affordable choice!