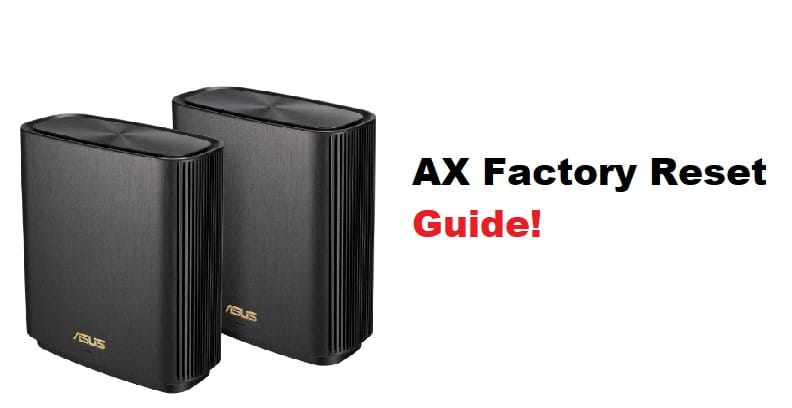 Factory resets are a convenient way to resolve configuration, connection, and other technical issues. Your device may start to behave abruptly which can be a cause of multiple issues so resetting your router back to its factory settings can help you fix errors with network credentials, signal strength, band customization, etc.
Factory resetting the ASUS ZenWiFi AX is pretty simple. Though many users have asked for a proper way to hard reset their ASUS router we will go over a general procedure to do so. Therefore if ASUS ZenWiFi AX factory reset is your area of concern too we have got you covered.
ASUS ZenWiFi AX Factory Reset Fix:
Sometimes resetting a networking device to factory settings is the simplest and most efficient way to resolve performance issues. Your router may not be performing as expected, you may have forgotten your network credentials, or you wish to configure the network settings; whatever the reason, a reset is always the best way to get things working again. Because a factory reset deletes initially configured settings, it is recommended that you have a settings-only backup of your router so that you do not have to redo the configuration, or you may skip this step if it is the other way around.
To reset your router from the reset button you should perform the following steps.
Make sure your router is turned on.
Go to the back of your router and look for the reset button. The location of the buttons on your ASUS router may differ depending on the model.
Press the reset button with a paperclip or other sharp object.
Continue to hold the button for 15-20 seconds, or until the router reboots. This will reset your router to factory settings.
This reset is however not guaranteed to provide you with a full factory reset so you can always opt for a hard reset to your router. The following procedure is a more appropriate way to make your route return to its factory version. You can then configure your router the way you want.
Here is a step-by-step procedure to hard reset your ASUS ZenWiFi AX;
First, turn off your router by unplugging it from the power supply.
Find the WPS button on the back of your router. Turn on your router by pressing and holding the button.
Check that the power light is turned on. You are still holding the button at this point.
Take note of how the LED power light behaves now. Allow it to illuminate white.
The LED will then turn off and begin to flicker in a green color after a few seconds.
Wait for the LED light to turn off for the second time before releasing the WPS button.
Reboot your router by pressing the power button.
The router has been reset.