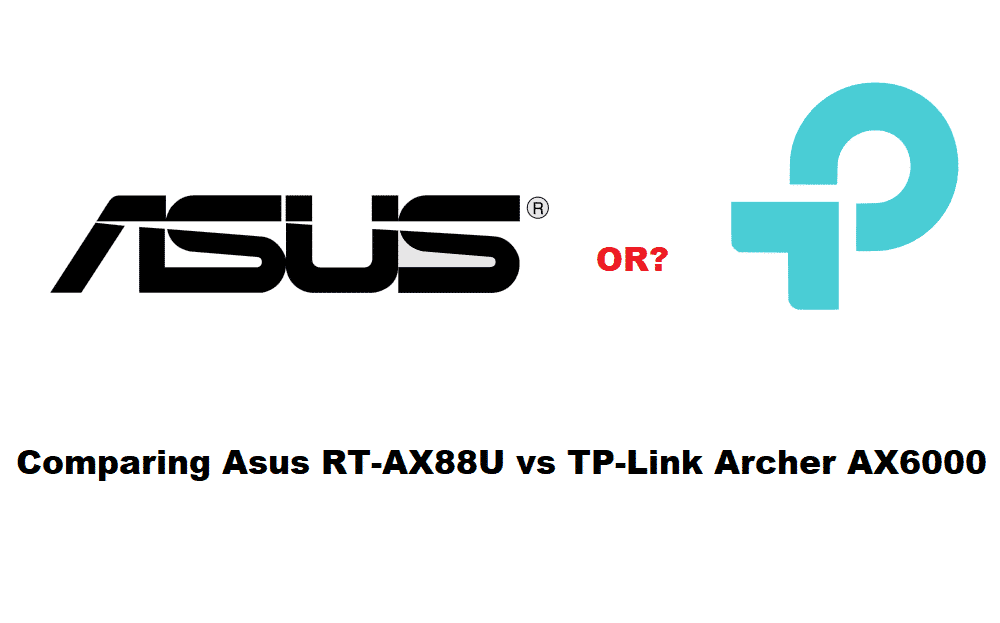 Be it TP-Link or Asus; it is needless to say that they have high-end routers available for cutting-edge internet features to make sure your internet connectivity needs are catered to perfection. However, both of them have an extensive range of routers. But, Asus RT-AX88U and TP-Link Archer AX6000 are the two most popular devices launched by the brands, and we are comparing them both to help you make the right decision!
Asus RT-AX88U vs TP-Link Archer AX6000 Comparison
Asus RT-AX88U
To begin with, this router is Asus is one the most advanced routers with Wi-Fi 6 internet configuration and is loaded with advanced features as well as a management software to keep an eye on the router's function. The router supports high-speed internet connections and has an extremely convenient setup available. It has been designed with 802.11ax technology to improve the stability and consistency of the internet connection.
There are eight LAN ports integrated into the router, with which you can establish a wired internet connection and connect it to the smart TVs and gaming consoles. There are QoS settings integrated into the router, which helps establish a robust connection. The best thing about the Asus RT-AX88U router is that it has a malware protection feature of its own, which promises ultimate protection from cyber threats, and your data transmission will be secure.
The Wi-Fi 6 configuration of this router promises an increase in the internet throughput speed and reduces the network congestion to a minimum. In addition, the router can support higher client capacity, and the internet performance range will be enhanced. There are multiple LED indicators designed on the router to help you keep an eye on WAN and LAN activity, WPS and USB activity, and the current internet band activity, be it 2.4GHz or 5GHz.
There is also a WAN port available to extend the internet connectivity, and there is a reset button to push the router to factory default settings. It has been integrated with a 1.8GHz quad-core processor along with 256MB flash memory and 1GB RAM, which helps optimize internet performance and supports the internet bandwidths. With the integration of Mu-MIMO data streaming, the internet connection will be consistent on all the connected devices. Last but not least, it has a Smart Connect feature with which the router will automatically select the internet band with the highest internet throughput, and you can use the parental controls to block the malicious websites and apps.
TP-Link Archer AX6000
TP-Link has designed this router to be a next-generation wireless internet router, which is a combination of a full-range gaming router and a basic internet router. In simpler words, this router is designed to take a middle road with eight antennas and eight Ethernet ports to extend the internet signal connectivity and establish a wired internet connection. The router also has a Wi-Fi configuration which increases the reliability of the internet speed, increases the internet coverage, and promises faster internet speed, irrespective of the network congestion.
It has a horizontal design with eight attached antennae to improve its appearance. In addition, the router has a plastic construction in black color, which looks very corporate. There is an LED button on the top, which glows in blue color when the router is operational and glows red when the internet is not working. On the other hand, you need to keep in mind that the antennae are shorted as compared to antennae on other routers, so it's best to keep them straight to maximize the internet reception.
It wouldn't be wrong to say that this router has all the features of a high-end router since there is a 1.8GHz quad-core processor along with two coprocessors to keep the router functioning well and not causing any performance errors. As far as the ports are concerned, they are ample enough, as there are eight LAN ports to create wired connections. In addition, you can extend the bandwidth for one device with this router.
There are two USB 3.0 ports designed in the router, so you can improve the external storage on your internet network. If you are concerned about the setup, it won't take more than ten minutes because the antennae are already attached, so you can rotate them in a vertical position to start using the internet. Lastly, it has a malicious content filter to keep the malicious content at bay.