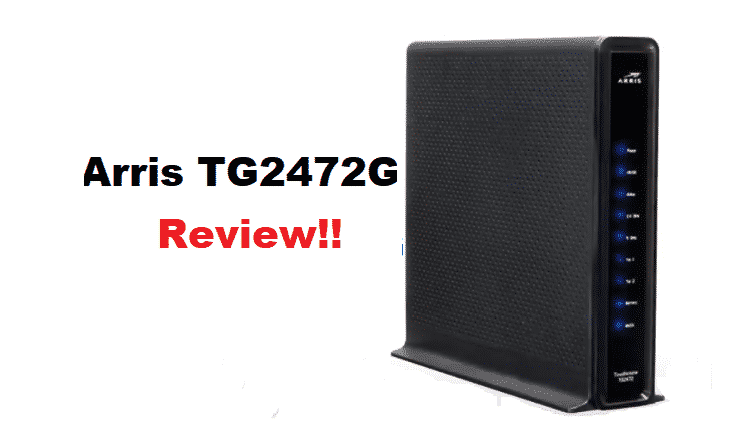 Arris is one of the largest manufacturers of communication equipment for a lot of service providers out there. They are offering some of those coolest modems, routers, and more for the network services provider.
This allows subscribers and consumers to have the best edge of networking and they can use all the services flawlessly that are being offered by their services providers.
Not only that, but there is a lot more to them, and Arris has a quite wide range of this equipment. They have basically tons of models that have different feature combinations and that makes it a whole lot easier for subscribers to get the service of their choice for themselves.
Arris TG2472G is one such model that is router/modem and comes with a lot of features that are going to come in handy if you are using a service over Cox.
While it is easier to find the routers out there that can work with the ethernet, this one is among the very few that are designed to offer Wi-Fi connectivity over Coaxial cable as well. A few notable features and aspects of this router that you should know about are:
Arris TG2472 Review
Features
While choosing any router or modem for your home or office, features are the first thing that you might need to take a look at. While talking about Arris TG2472G, there is not much that you will have to worry about. It is one of those fully loaded routers that has a lot to offer to support all sorts of needs and applications.
It comes with a multiprocessor technology and has a 1.2 GHz Intel Atom Core Application Processor on it, which makes data processing a whole lot faster and more efficient for all sorts of needs that you might have.
In addition to that, this is a Gigabit ethernet router that is able to support 1000 Mbps speed pretty easily and there are no issues or problems that one might have to face there. There are also four ethernet ports on the back that are used for connecting other ethernet devices on the same network.
Not only that, but it also supports Dual-band Wi-Fi connectivity. That means you can run it on both 2.4 GHz and 5 GHz according to the needs that you might have.
Connectivity
Connectivity and compatibility is another thing that you must consider while choosing a router and there are lots of options on it. The modem is basically a cable voice gateway modem that can help you connect all your TVs and Phones as well over the same coaxial connection.
It was basically designed for Cox subscriptions that are offering all these services over a single coaxial connection and people love to have them for their domestic applications.
The router comes with DOCSIS 3.0 gateway and is equipped with Wi-Fi MoCA 2.0.  All that is pretty convenient to have and you will be able to run the modem/router at its best and connect it with all sorts of devices that you need to without having any issues or problems at that part.
Looks
The looks of the router are pretty basic and it looks like any old-school modem would. However, it is quite sleek in dimensions and has a stand. The vertical shape of the router allows you to have aesthetics on your desk and the intelligent design makes cable management easier for you.
This will help you reduce the mess of these cables at your table and you will be able to have the best looks from the router. In addition to that, it has pretty fascinating lights on the front and all that makes up for the aesthetics part of this router.
Durability
When it comes to durability, there is not much to compare these Arris routers and modems with. Arris is simply the best choice that you can get off the market and that is why it is trusted by the service providers. Arris TG2472G is one such router that will last you for years without causing you any problems at all.
The rigid casing can easily take a few feet to drop and some wear and tear over time. Overall, you will not have much to worry about on the router for normal usage.