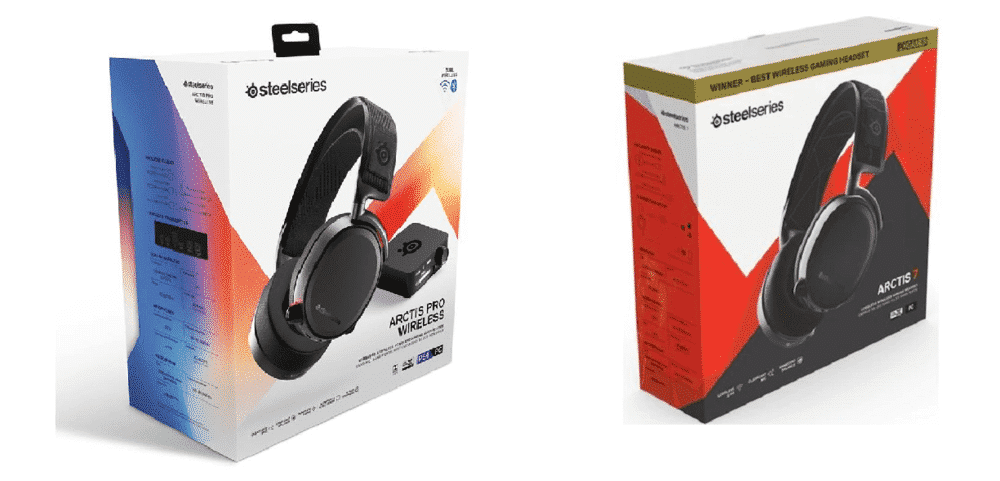 Arctis Pro Wireless vs Arctis 7
Is Arctis Pro Wireless worth your money when Arctis 7 is available at a much lower price? While Arctis 7 is cheaper, is it as good as numerous reviews claim? Let's view the comparison and compare these two amazing gaming headphones!
Steelseries Arctis 7
The aim of Arctis 7 is to provide the user with extreme comfort with wireless functionality and zero to none sound leakage. The mechanics of the headphones are designed perfectly for gamers. It performs marvelously with PC, Playstation, and Nintendo Switch. (It does work with Xbox 1 but the quality isn't as crisp as compared to the others.)
Indeed, Arctis 7 is the older model, but there isn't a massive difference as they look quite similar style-wise. The headband is lightly padded to support your head with its figure-hugging material. There are straps on the side to adjust the band accordingly. The headband struggles with glasses, though. Using Arctis 7 with spectacles isn't as cushy as expected. You can easily wear them for 4-5 hours without feeling any discomfort. The snug band allows you to move your head freely without any disturbance or interference in the quality.
Unlike most gaming headsets, Arctis 7 isn't designed to appear as aesthetically pleasing with LED strips or neon lighting. The only light available is the one that blinks when you mute the microphone. It is primarily a wireless headphone set although it is presented with an option; via a simple 3.5mm audio cable. Arctic 7 is equipped with the clearest microphone in the market (right now) as it provides noise cancellation with voice clarity.
Arctic 7's battery life is splendid. It can last nearly 24 hours per charge but if your headset does run out of battery then you can just attach the audio cable and enjoy better audio quality without the worry of charging it immediately. When SteelSeries launched Arctis 7, they claimed the battery would last 15 hours. Afterward, the updates improved battery life to 24 hours.
The headset is adaptable to SteelSeries GameDAC. It is a perk that you need to spend money on separately. If you're in favor of the GameDAC then you should definitely opt for the Arctis 7. In fact, even if you don't invest in the GameDAC, Arctis 7 provides top-notch audio quality. Without the GameDAC, Arctis 7 already delivers accurate, detailed sounds. It helps differentiate between mixed sounds. Although, with the GameDAC, the sounds become even more precise and uncomplicated.
When used for gaming, the surround sound is pretty convenient. You can easily hear footsteps and where they are coming from. The bass performance is exceptional. You will relish in the powerful imaging and immersive sounds. he sounds quality is also great for music. The bass is well functioning, but it is still controlled. Meanwhile, the range is so clear that you can distinguish different instruments. Vocally, the performance is quite beautiful.
Another advantage that you immediately take note of is that Arctis 7's sound system is much powerful as compared to Arctis Pro Wireless. It doesn't require you to turn the volume way up with its excellent delivery of sound.
 Arctis Wireless Pro
Arctis Wireless Pro is compatible with PC, and Playstation. A connection to Xbox is impossible as SteelSeries is wireless and is not on board with Microsoft.
At first look, these two headsets look extremely similar since the almost identical design since they share has the same padded headband and the versatile strap. Just like the Arctis 7, it retains from the gamer aesthetic and presents with an elegant look. With zero lights and a streamlined feature. The breathable padded earpieces that provide comfort and an opportunity to use them continuously for several hours without the usual fatigue.
While they are almost identical with their versatile headphone strap which sits in a figure-hugging shape, the performance may vary. Since Arctis Pro Wireless' shape allows the headphone pieces to be closer together due to the slightly curved strap allowing it to be pressed tighter against the head which many do not prefer as it results in fatigue and headaches after continuous use of several hours.
The comfort of the SteelSeries Arctis Pro Wireless is extraordinary for sports and fitness. As for gaming, the headset is exceptional. The sound isolation makes your experience worthwhile. Similar to Arctis 7, it has zero to none sound leakage. Arctis Pro Wireless has an excellent noise-canceling feature which is a triumph for gamers and active TV consumers. As the name suggests, the wireless design provides uttermost comfort.
Unlike Arctis 7, Arctis Pro Wireless is equipped with a Bluetooth option to connect with mobile phones. There is a button available on the headset to turn Bluetooth ON or OFF.
The swappable batteries are an interesting twist. Supposedly, you can use one battery while the other one is charging. You can swap them when the one that was in current use dies. Since the headset doesn't have an audio jack, the swappable battery is the alternative. Each battery lasts about 20 hours but again, it isn't as convenient as plugging in a wire immediately so your experience wouldn't be disturbed.
Indeed, Arctis Pro Wireless has outstanding sound quality. The bass performance is great. It helps you concentrate through the realistic pulsating sounds and ignition. The headset is excellent for music as well as TV. The microphone, however, isn't that great. During gaming, receivers usually complain about unfiltered background noise.
However, compared to Arctis 7, there isn't a significant difference. While Arctis Pro Wireless does come with a handful amount of upgrades, the performance does not vary.
Conclusion
Arctis Pro Wireless is more expensive with the same specs and features with a few disadvantages such as the swapping battery and curved head strap. While Arctis 7 is cheaper along with the option of an audio cable with a comfortable design. In addition, Arctis 7 is more worthwhile for your money. It already retains the excellent, powerful sound and a noise-canceling mic. Generally, the battery also lasts longer. Arctic 7 is the optimal answer.