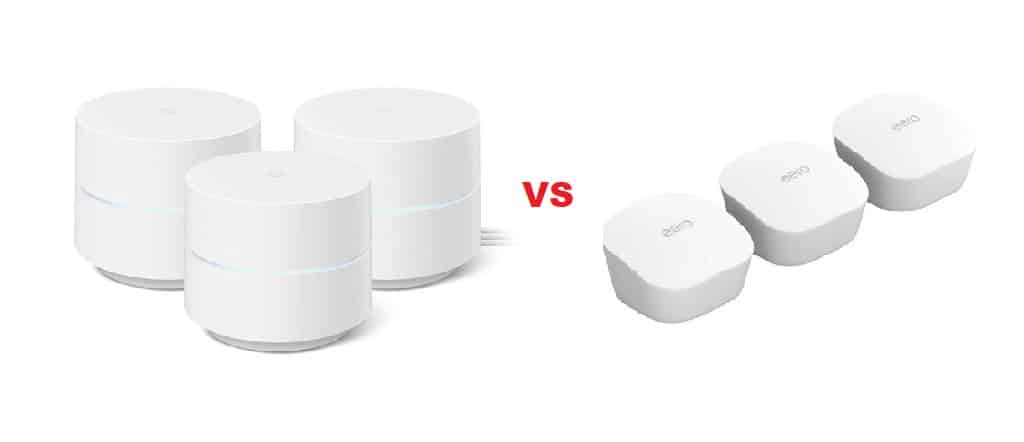 In the past few years, mesh Wi-Fi connections have become popular because mesh routers promise a high-speed internet connection and less network congestion. In addition, the mesh routers offer reliable connections and the network coverage is more than regular routers. For this reason, we are sharing Amazon Vs. Google Mesh Wi-Fi comparison because these two tech giants have launched their own mesh routers. So, with this article, we are sharing the differences between the two to help you understand which one is better!
Amazon vs Google Mesh Wi-Fi
Google Mesh Wi-Fi
The mesh Wi-Fi router designed by Google is known as Nest Wi-Fi and it's been designed with advanced aesthetics. It is available in three different colors to make sure there is something for everyone. It promises top-notch internet speed and every Wi-Fi point is designed with speakers and microphones. The audio hardware of this device allows the users to control the internet connection through Google voice commands.
For instance, the users can command the router to run the internet speed test or pause the wireless connection for the specific devices on the network. It supports an internet speed of over 2200Mbps, which is exceptional for medium-scale homes and offices. In addition, there is an 802.11ac technology, which supports the Wi-Fi 5 internet technology. What we like about this router is that Google has increased the number of antennas in the router to improve the internet signal reception.
In particular, there are four internal antennas and they support four-by-four MIMO connections, especially if you are connected to the 5GHz wireless band. When connected to the local server, it promises 612Mbps internet speed on one band. According to Google, the final internet throughput depends on the home layout, the wireless devices you are connected to, and the speed of your internet connection. It is available for $169, which is quite affordable.
When you order this mesh router, you will get the full kit, which has a router as well as the Wi-Fi point, which makes it suitable to create an error-free connection in 3800 sq./ft. The router can be controlled with the help of an app, and since there is Google Assistant and a speaker on each unit, controlling the network connection won't be an issue. Overall, the maintenance and setup are beginner-friendly and the network coverage is pretty great.
Amazon Mesh Wi-Fi
Amazon is another company that has launched the mesh Wi-Fi router and it's known as Eero. It wouldn't be wrong to say that Eero is the pioneer in the mesh networking industry but you need to remember that they are a bit experience. It is designed with a three-piece setup, which makes it easier to establish the mesh network. This is a dual-band mesh router, which means you can connect to the 2.4GHz or 5GHz band, depending on your personal preferences.
While the internet throughput hasn't been specified by Amazon, many users say that this mesh router is suitable for internet connections with 350Mbps internet speed. It has been integrated with the TrueMesh technology, which promises a robust connection and you don't have to worry about internet dropouts. The best thing about this mesh router is that it offers automatic firmware and software updates to keep the internet connection running securely and smoothly.
It has been designed with two LAN ports with a Gigabit configuration, which means you can create a wired connection for two devices at once. However, you must remember that the wireless points don't have LAN ports. It is supported by Alexa, which is a well-known voice assistant of Amazon, so you can pause the wireless connection and check the internet speed. As far as the setup is concerned, you can use the Eero app to complete the setup process within minutes.
The starter kit is designed with three units, which are sufficient to cover over 5000 sq./ft. space. All in all, if your space is more than 3000 sq./ft., this mesh router is a promising choice. As far as the appearance is concerned, it has a minimal yet alluring design that blends into your room without creating a clash. In fact, it has a portable size, which makes it easy to set it up on a shelf.
So, which one of these will you choose to create a mesh network?