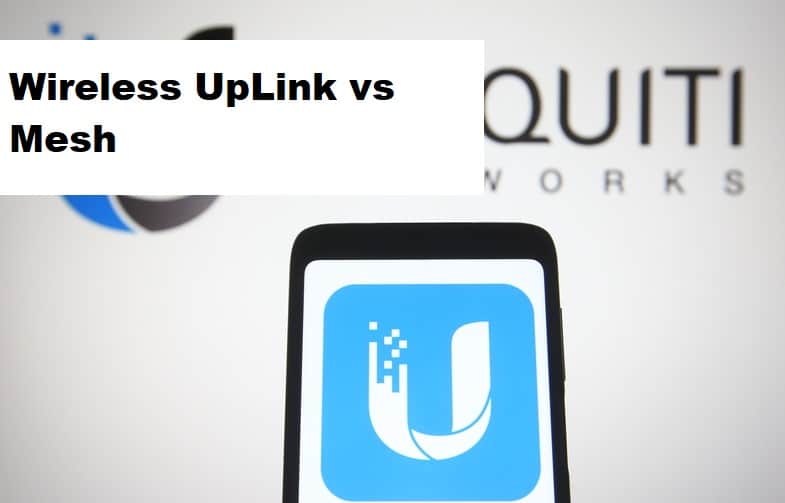 When it comes to wireless networks, one of the most important concerns for users is network speed, range, and capacity. Many products have emerged in the networking industry to fulfill either of these functions, but the Unifi Mesh network and Wireless Uplinks have earned a place among the other options
Having said that, many users have expressed concerns about which option to choose when looking for great network speeds and coverage. To break up this conundrum, we've discussed Unifi Wireless Uplink vs Mesh network and how to set them up to achieve great range coverage.
Unifi Wireless Uplink vs Mesh: What's The Difference?
Unifi Wireless Uplink:
The Unifi Wireless Uplink is an excellent way to make your Unifi deployments more flexible and user-friendly. Because many users are perplexed by the operation of the Wireless Uplink, maximizing the coverage of your Unifi network requires a rather straightforward approach using the Wireless Uplink. Unifi access points can be wired together, so the Wireless Uplink uses the wired AP connection as a base station (Uplink AP) to connect other APs on the 5GHz band, greatly increasing your Wi-Fi range and capability.
Wired connections are always preferred over wireless connections because they provide faster speeds, but they are not always respected when it comes to outdoor coverage. If you want to extend network coverage into the outdoors, Wireless Uplink can save you a lot of time and effort in connecting each AP to your switch. As a result, wirelessly connecting one access point to another is what makes Wireless Uplink a dependable and convenient option.
The most recent Unifi access points can be used to create a Wireless Uplink. However, certain factors must be taken into account. You should first connect your access point to the switch via a wired connection, which is a more convenient connection to make than wireless. Enable Meshing on the newly adopted base station (Uplink AP). Allow other access points to connect to the base station by enabling the downlink. Your Wireless Uplink is now configured. You can connect the APs by placing them near the uplink AP after disconnecting the base station from the switch. This will all be set up with a PoE adapter. Though the process of creating a Wireless Uplink is simple, there is one disadvantage to doing so. The Wi-Fi link's throughput is cut in half. However, it does provide excellent coverage to areas that were previously inaccessible to your network.
Unifi Mesh Network:
An Unifi Mesh network is similar to a Wireless Uplink. That is, once the Wireless Uplink from the base station to another access point is established, a Mesh network is formed. Only to mention that this network topology outperforms the Wireless Uplink. It is because, when properly configured, it operates on a separate channel and Wi-Fi radio. So, before Meshing your APs, investigate what network order would be best for you. The Mesh network allows you to access dead zones and maintain a consistent and strong connection.
However, it should be noted that both the Wireless Uplink and the Mesh network should only be configured as an alternative to the wired connection. When you have the option of connecting your APs wired, nothing works better than a wired connection. Moving on to the main operation of the Mesh network, it can be configured in the same way as the Wireless Uplink, with a few changes. Take a topology that suits your network and make sure that your wireless APs have at least -60dBm of signal strength a poor signal can cause stability issues. Also make sure that you don't connect too many downlink APs to the same uplink AP, as this can slow down your network.
The Final Verdict:
Unifi Wireless Uplink and Mesh network is an excellent way to extend the range of your Unifi network, but it reduces total throughput through the link. Therefore, if a wired connection via APs is not a problem for you, you should stick with the wired connection; however, if eliminating dead zones is your main concern, then the Mesh Wireless Uplink is the way to go.