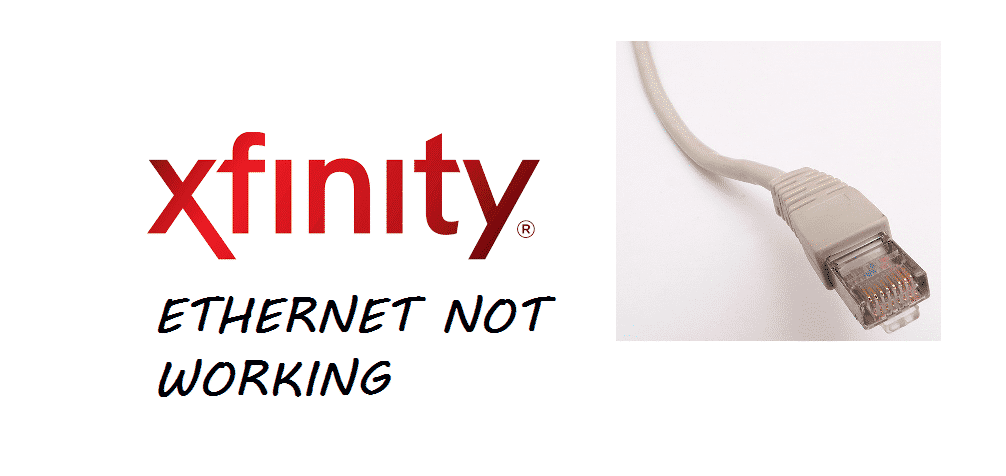 Internet is becoming or we can say that it has already peaked the topmost needs of humans in the current technology-oriented era. People these days have fair access to each service available for running a decent internet. Most of the people prefer Wi-Fi over Ethernet as the Wi-Fi lets them enjoy the internet remotely. However, wired internet or Ethernet gives the best speed results when you are working on your important project.
Speaking of Xfinity Internet, it has both of the options; the wired internet and the wireless one. Unfortunately, Xfinity users have been having a hard time with their Ethernet connection. Despite being solely wired and direct, it has been giving full outages and sudden slowdowns.
While on the contrary, the Wi-Fi works perfectly fine. What could be the reason? Well, there are several factors for it as well as the troubleshooting solutions. In this article, we have listed some efficient troubleshooting steps for the Xfinity users to use their Ethernet connection without having to struggle anymore.
Xfinity WiFi:
Xfinity Wi-Fi is powered by Comcast which is offering numerous wireless internet services at several hotspots. The Xfinity Wi-Fi users can enjoy the fastest hotspots with the robust and the most stable Internet, that too on the Go coverage.
Xfinity Ethernet:
Xfinity is qualified to provide some top-notch Ethernet home connection that delivers best speeds. They provide the manual for establishing the robust connection within your house using the Xfinity router.
Xfinity Ethernet Connection Failed:
Many users that have opted on Xfinity Wired Connections are facing major outbreaks and slowdowns on their Ethernet while their Wi-Fi connections remain unbothered. There are several factors for the Ethernet users to face such awful internet. Here are some:
Outdated hardware.
Expired versions of various programs.
Lousy connection of devices within the network.
Wrong placement of Xfinity router.
Use of incompatible devices.
Non-configured or improperly configured devices.
Invalid ISP address, so on.
The above-mentioned factors are the most common ones likely to occur to take over your peace. Although you are fortunate enough to have some quick and excellent troubleshooting steps that would possibly help you to gain your Ethernet connection while using Xfinity.
How To Troubleshoot The Xfinity Wifi Works But No Ethernet?
With the following efficient troubleshooting steps, it has become quite easier to fight the outage of an Ethernet connection.
Disconnect Your Wi-Fi:
You might be puzzled right now to learn this fact. Believe it or not, turning or disconnecting your Wi-Fi connection while you have both Ethernet and Wi-Fi functional on your Xfinity would possibly solve your problem. How? Upon having access to both of the options, your PC or another device would eventually choose an Ethernet connection over your Wi-Fi. However, it would still display the Wi-Fi icon. If you are longing to work on your Ethernet; here is how you disconnect your Wi-Fi:
Right-click on the Wi-Fi icon.
Select the "Open Network & Internet Settings".
Click on the "Wi-Fi" Tab.
Now toggle it off.
This would possibly help you to run your Ethernet connection smoothly. However, if it didn't work out, keep proceeding to the solutions. You are recommended to recheck your settings to reassure yourself that you have enabled the Ethernet connection wisely. Why so? Because sometimes users forget to turn on the Ethernet.
Run Speed Tests:
Sometimes your internet speeds provided by your service provider are not sufficient enough to make your wired connections run smoothly. While keeping your Wi-Fi toggled off, run speed tests of your Ethernet connection. Immediately contact your Xfinity customer care if your resulted speeds didn't match to the speeds you opted for.
Plug Your Ethernet Cable To Another Port:
Switching ports is always helpful. It makes you save you much trouble and hassle. Plug your cable into another Ethernet port in your router. If it works out, you are likely to have a detective router now. Although, you can always check the Xfinity users' manual.
Tighten Your Connection:
It is one precautionary step as well to properly connect all the hardware of the network.
Replace Outdated Devices And Expired Versions:
Sometimes your connected devices or the Xfinity router have damaged due to which you are facing the total internet outage with Xfinity Ethernet. Make sure to replace the incompatible devices as well as the expired versions.