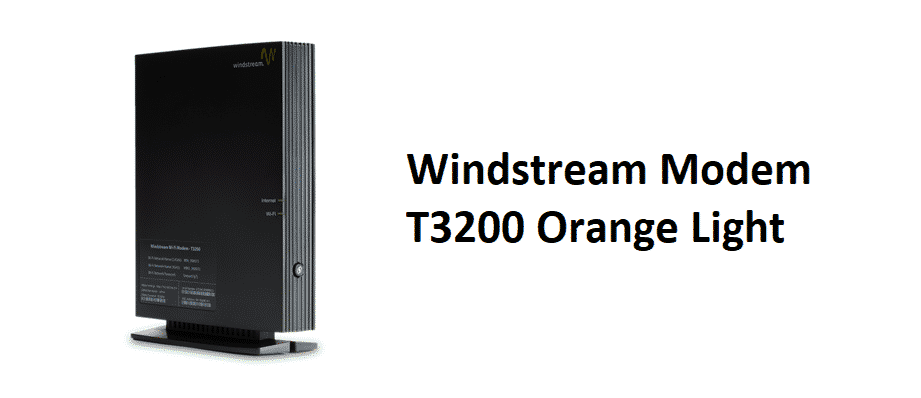 Windstream Modem t3200 is one of the best things that you can get to have a better experience over the Windstream networks. It allows you to choose between 2.4Ghz Frequency and 5Ghz Frequency which is something new for the Windstream Modems and you can enjoy faster speeds and connectivity over it.
The modem has also extended support for speed and now you can enjoy up to 1GB of data transfer rate wirelessly or over the Ethernet connection that will change the way you look at Windstream internet connection. If you are seeing an orange or amber light blinking on your t3200 Modem, here is what it would mean.
Windstream Modem T3200 Orange Light: The Reason?
There are only two lights on the modem, and one is for power so it should be green at all times. The other light is for the connectivity and it should be a solid green when you have the right connectivity that you need.
If the light is red, that would mean that there is no connection with the server at all and you need to check on that. However, a flashing amber or orange light is the sign that your modem is having limited connectivity and it is trying to connect with the server.
1) Restart the Modem
In some cases, the issue is only with the modem due to some sort of minor bug or error and it should be fixed easily with a simple restart. Once you reboot the modem, it will trigger an attempt to be reconnected over the network with the server. This will make sure that the orange light that is flashing is gone and you will be able to see a green stable light on your modem with optimal connectivity and stabilization that will ensure a smooth operating internet connection for you.
2) Reset the Modem
Another thing that you will need to try if the restart is not working out for you is to reset the modem. There is a button right beside the port where you plug-in the power chord but it is not accessible and a bit below the surface of your modem casing to ensure that it is not touched accidentally.
You will need to click this button with a pointy tool like a needle and keep it pressed for 10-15 seconds until both lights on your modem start flashing green. Leave it after that, and the modem will reset to its default settings, restart once and update the firmware as well.
This whole process can take a few minutes and you need to sit back patiently for that. After a successful restart, you will be able to make it work without getting any sorts of errors.
3) Contact Windstream
If you are still unable to make it work, there are high chances that it might be caused due to some sort of error on the Windstream network, and the best way to get this resolved is by contacting them and ask them to help you with the troubleshooting.